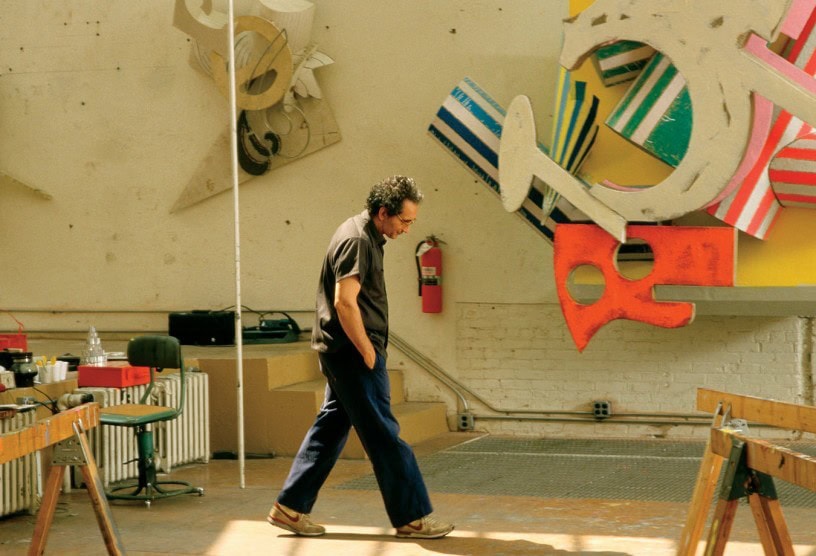 Frank Stella Shards Series, 1982, is comprised of five lithographs and four variants. Frank Stella created these works using the leftover elements of his earlier Circuits Series prints and paintings as well as his Polar Coordinates for Ronnie Peterson, 1980 series. The fascinating grid systems that make up the backdrop of Shards were adapted from the plates of Polar Coordinates, and the various french curves and undulating lines echo the forms seen in Circuits. The use of "shards" of previous works to create a series in its own right would become an increasingly employed technique for Stella, and here we can see why. There is a magnificent richness of texture and an immense depth in the prints, showcasing Stella's creative force.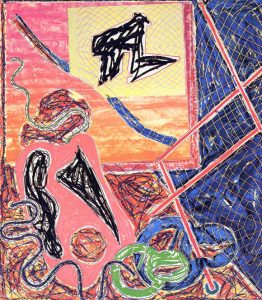 Shards I.
The piece incorporates serpentine and french curves, borrowed from Stella's previous works. But here we see a new element: the silhouette of a pantograph, a drafting tool used to copy drawings on a different scale. The tool was often used by Stella and its appearance here echoes the criss-cross of the background grid.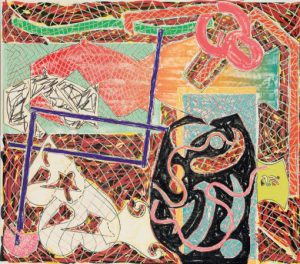 Shards II
Beautifully employing negative space, this piece truly showcases the scraps of previous projects, transforming them into powerful and dynamic forms in their own right.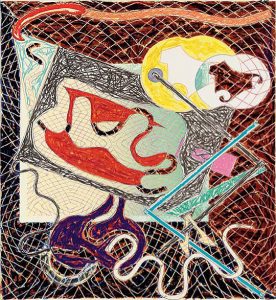 Shards III
Here the criss-cross of the pantograph is deconstructed, and we're presented with a sharp turquoise angle that both challenges and supports the white serpentine curve below it.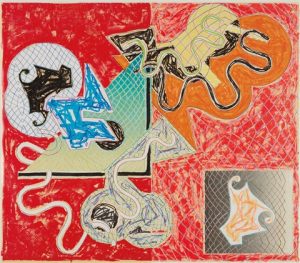 Shards IV
The least complex of the series, the work is endowed with a crisp beauty granted by the contrasting colors of shapes and backgrounds. From the dancing curve of black on orange in the upper right to the half-obscured black circle floating on a gradient of yellow to turquoise in the middle, the piece retains the organic playfulness of the rest of the series, while showcasing clean geometric lines.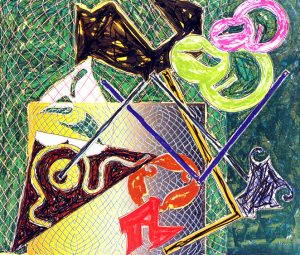 Shards V
The final print of the series is a beautiful horizontal composition ruled by a green color palette. The lines of pantograph create a wonderful depth as they intersect , giving us a sense of viewing an entire three-dimensional work.