Your fine art purchase is always accompanied by our Certificate of Authenticity, historical documentation, and museum-archival framing. We not only guarantee the authenticity of the work, but we also allow you to return or exchange the work if you decide you are not completely happy with it. Let's go into the details of everything we offer:
Attentive Customer Service
Our attentive customer service and in-depth knowledge of our inventory helps you narrow down what you are looking for in your fine art acquisition. Whether it's a specific artist, time period, style, or investment value, we are here to answer all of your questions. Please do understand that from time to time a typo or mispelling can occur on our website. We are dealing with hundreds of fine art artworks and we are human after all.
Certificate of Authenticity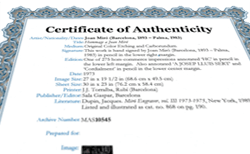 The Certificate of Authenticity (COA) accompanies every work of art and guarantees the authenticity of the piece for as long as you own it.
This original document protects the security and genuineness of your purchase and provides detailed information regarding your work of art. Following the State of California Civil Code 1744 COA requirements, the Certificate of Authenticity fully and accurately describes the work of art, including but not limited to the title, artist, date, medium, edition, signature, dimensions, and catalogue raisonne references. The Certificate of Authenticity only contains factual information that can be verified by outside sources, further attesting to its value and validity as a guaranty of authenticity.

Historical Documentation
Historical documentation from all cited catalogue references accompany your purchase, further verifying the scholarship and authenticity of your work. These documents contain detailed and valuable information that can help you further understand your piece while showing it to friends and family!
Historical documentation from all cited catalogue references accompanies your purchase, further verifying the scholarship and authenticity of your work. These documents contain detailed and valuable information that can help you further understand your piece while showing it to friends and family. An authentic original work corresponds to the printed documentation in a catalogue raisonne of the artist, publisher, or printer's work. A catalogue raisonne typically includes a comprehensive list of artworks by an artist and their descriptions to further verify the authenticity of a work. In addition, historical documentation can offer insight into the background of the work and the context of its creation through art historical explanations and scholarly comments.
About 95% of our inventory has historical documentation, but some works do not.

Refund Policy: No-Hassle 100% Moneyback Guarantee
Our no-hassle 100% moneyback guarantee is part of every purchase you make, because your satisfaction is of the utmost importance. We always want to be your #1 resource for purchasing fine art.
If for any reason you are not 100% satisfied with your purchase within 60-days of receipt of art, we will issue a full refund. If the work arrives and there is any damage please contact us right away. Or if you decide that you prefer another work of equal value in our gallery, we will exchange your purchase and credit you dollar for dollar toward the other work or issue gallery credit for the amount of the purchased piece. Returned or exchanged items must be in the same condition as when they were purchased from Masterworks Fine Art Gallery as stated on the Certificate of Authenticity and should be returned via FedEx. Will will make any of the above as simple as possible. Please contact the gallery representative whom you spoke with.

Museum-Archival Framing
Our museum-archival framing ensures the conservation and security of your work for a lifetime of ownership.
We only deal with works in excellent condition, and our museum-archival framing provides the long-term protection necessary for your work to maintain its value and remain in pristine condition for years to come. Each work is custom framed by our master framer, whose expert knowledge of framing materials, technical craftsmanship, and framing aesthetics guarantees that your work will be skillfully framed to the highest museum-grade standards.

Our Competitive Pricing
Our competitive pricing further adds value to your investment. We are able to forego the usual overhead and expensive operating costs that you will find in retail art galleries. There is no buyer's premium, commercial rent, or commissioned salesmen here. We can set up flexible payment options, too. At Masterworks, you deal directly with the owner.
Every authentic work of fine art has a fair market value. This value is contingent upon a variety of factors, which include but are not limited to the following:
Demand and popularity of the artist.
Involvement of the artist in the creation of the piece.
Connoisseurship of both the artist and the piece.
Condition of the piece.
For prints, the rarity of the edition.
Payment

Payment for your purchase is simple and secure. We accept American Express, MasterCard, Visa, Discover, wire transfers, money orders, checks, and Paypal.
We reserve to the right to refuse credit card shipments to foreign addresses if they do not go to the verified billing address. No art can be shipped until it is paid in full, although short-term financing is available by special arrangement.

Custom Packing and Insured Shipping
Expert custom packaging and insured shipping guarantees the safety of your work and the security of your investment while in transit.
We typically ship using FedEx, as they assume full insurance for door-to-door transit of your artwork. We charge actual shipping and insurance costs, plus the cost of the packing materials. We never charge a handling fee. Feel free to contact us for shipping quotes. Should you opt to use a shipper other than FedEx, we ask that you please notify us prior to shipping. Please note: shipments to California residents are subject to local sales tax.
Masterworks Fine Art Gallery schedules shipping for our clients. Works can be shipped via FedEx Ground (3-5 business days), 3-Day, 2-Day, Standard Overnight or Priority Overnight shipping. Purchases typically ship within 3 days of payment clearance. We ship daily, Monday – Friday. Special delivery arrangements can be made, if needed.
Free Annual Insurance Appraisal
We offer free annual insurance appraisals to all of our customer, year after year, for as long as you own the piece. Please contact usfor more information.