The Museum of Solidarity, established by president Salvador Allende in 1971, had the mission of educating the people of Chile about fine art. Its collection was amassed through donations from many internationally known artists. One such donation was Frank Stella's Isfahan III, which he created in 1968 and donated to the Museum of Solidary in 1972. Isfahan III—which measures more than 10 feet tall and 21 feet across—is part of Stella's Protractor series, a series of irregularly shaped canvases each named after locations in the Middle East.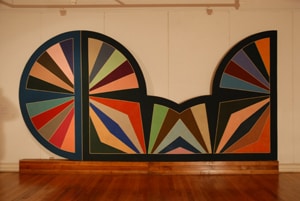 The work arrived in Chile and was exhibited for the first time in 1973. That same year, however, a military coup overthrew Allende's government, forcing the museum to scatter its collection to a number of temporary storage locations.The majority of these works would remain in storage for years to come or go missing altogether. Isfahan III found its way to a storage facility belonging to the Museum of Contemporary Art in Santiago, where it would stay for almost two decades.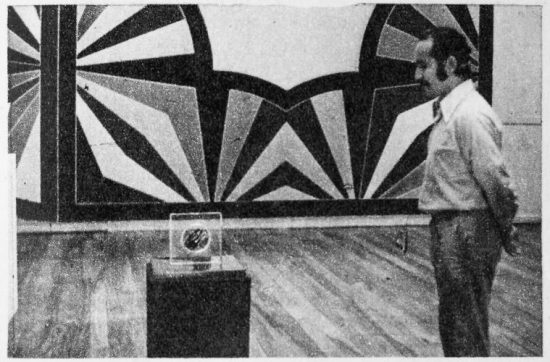 In 1991, the Museum of Solidarity re-opened as the Salvador Allende Solidarity Museum and the process of recovering the donated works began. When Stella's Isfahan III was discovered in the Museum of Contemporary Art's storage facility, it was discovered that the canvas had spent years folded up and abandoned on the warehouse floor. Even worse, museum workers had been completely unaware of its importance and value. For decades, workers had been using the Stella masterpiece as a table for lunch breaks, eating on the painted surface. The canvas was creased and the painted surface was damaged. In addition, its frame and support structure were not saved, creating difficulty for its potential exhibition and conservation efforts.
Nonetheless, Isfahan III was the centerpiece of the Salvador Allende Solidarity Museum's revival exhibition in 1991. The museum sent the artwork for minor restorations and it traveled to exhibitions around the world on a temporary stretcher. In 2019, the painting went under a second round of restorations through the Getty Foundation's "Conserving Canvas" initiative, which would allow the painting to go through a year-long restoration process and for a new, permanent stretcher to be created for the work, increasing its longevity and continued travel all over the globe.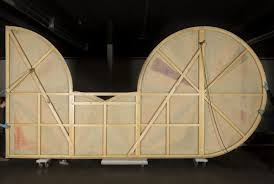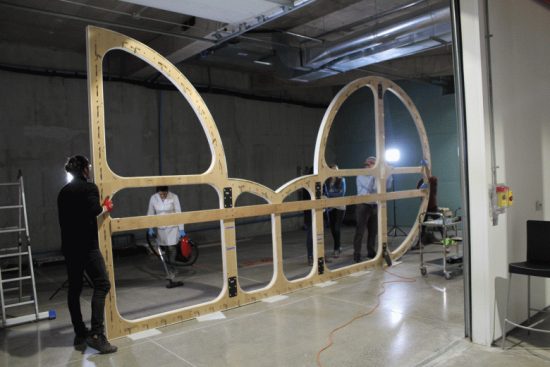 Stella himself has remained close with the museum, visiting on multiple occasions and collaborating with a team to create an oral history project regarding the famous painting's unique journey. In its current restored state, Isfahan III is one of the Salvador Allende Solidarity Museum's collection highlights.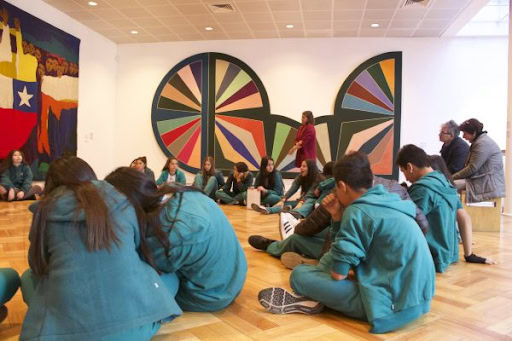 Frank Stella Sale
By Rod Ubillus on 30 Mar 2021
Frank Stella is one of the greatest living American artists, playing an integral role in pushing the art world forward since his first exhibitions in the late 1950s. His quick rise to the top of the Abstract Expressionist movement and to great success was unprecedented, and his long-lasting career is a testament to the continued strength of his art practice even over a half-century later. This selection of available works from the 1980s and 1990s exemplifies the kind of innovative work that Stella is known for and his strength in a wide range of mediums, including lithograph, screen printing, silkscreen, etching, collage, and acrylic.
This Frank Stella Sale Online Exhibition features works from some of his most iconic series—including his Imaginary Places, Moby Dick (and the Waves series), Had Gadya, and Shards series—these works all exemplify Stella's remarkable penchant for storytelling. This Frank Stella sale references other works of art (even his own) in these series, using them as a jumping-off point for inventing new ways of portraying movement and time, furthering the lifetime of the originating works of art as they live on through his interpretations of them. Taking inspiration from literature (in the case of Imaginary Places, Moby Dick, and Had Gadya) and from his own extensive career (the Shards series grew out of scraps from his earlier Circuits series), Stella puts his investment in the history of art and knowledge of all forms of art on display, situating these works firmly within a strong history of art appreciation. The works available from each of these series are not only prime examples of the power of these historic series, but epitomize Stella's importance as an artist who artfully combines influences and mediums together to create something entirely new.
One of the trademarks of Stella's career is his ability to play with space. At the point of his career, Stella's interest in three-dimensionality came into full swing. This is beautifully represented by the works in this selection of available works. Multiple works involve Stella's shapes pushing against the boundaries of the page, with cones and cylinders escaping beyond their pages' rectangular confines in his collage, mixed media, and even in his print work. Breaking the traditional shape of those mediums allowed Stella to give shapes a life that existed off the page. Even when he adheres to the page's confines, the artist's carefully layered balance of geometric and abstract forms are playfully laid out, creating space for them to still transcend the two-dimensionality of the page and to illusionistically jump out at the viewer. The rhythm between free-moving forms, opaque coloring, and texture give these Stella works a truly unique vivacity.
The interplay between unrestrained possibilities of shape and color and careful composition has come to define Stella's work, and these available Stella works are remarkable examples of Stella's advancement in form. His works are at once stable and wavering, both overwhelming and controlled. The advancements that Stella pioneered are unparalleled, even today, making Frank Stella a one-of-a-kind artist and making this selection of works a wonderful addition to any art collection.
Please browse thru our Frank Stella Sale Online Exhibition and let us know if you have any questions!
Frank Stella Imaginary Places Series 1994-1999
By Admin A on 02 Apr 2018
[caption id="attachment_111446" align="aligncenter" width="850"]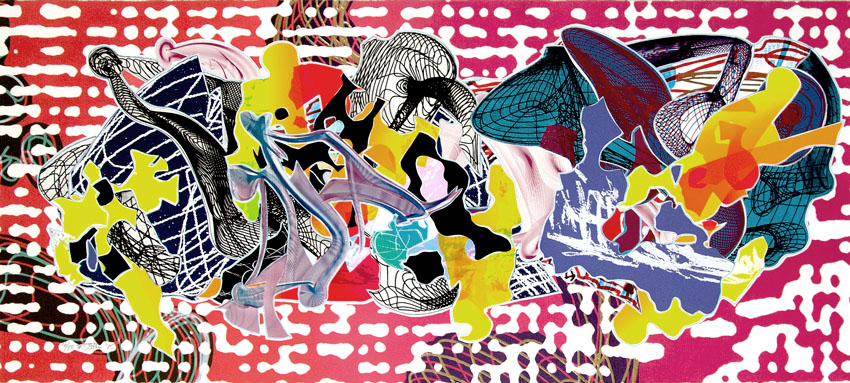 Frank Stella Relief, Screenprint Libertina from Imaginary Places, 1995 for sale[/caption]
The works from this series, Imaginary Places 1994-1999, depict fictional locations taken from the book The Dictionary of Imaginary Places by Alberto Manguel and Gianni Guadalupi. Drawing upon world literature, the titles themselves are incredibly imaginative and captivating. Some examples are, Figlefia, Limanora, Swoonarie, Spectralia, or East Euralia.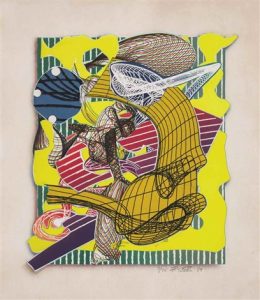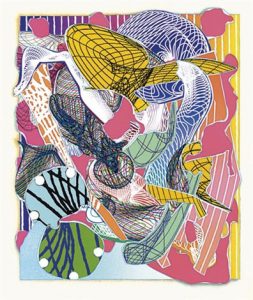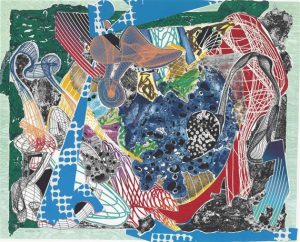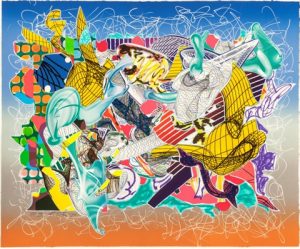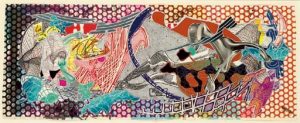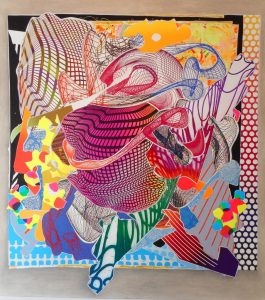 As creative as the entire series and the titles are, the physicality of the works are equally as inventive. The compositions come in all different forms: rectangular, squared, circular, or even elliptical. The color palette he uses per piece is electric and playful while the shapes incorporated are increasingly graphic and distorted. For an artist incredibly gifted in innovations in terms of technique in his print making process, he adds the use of Bronze. Imaginary Places proves to be a later body of complex work where Frank Stella incorporates spontaneity and innovation.
[caption id="attachment_112360" align="alignnone" width="300"]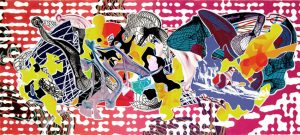 Frank Stella, Libertinia, Imaginary Places 1994-1999[/caption]