Frank Stella

Biography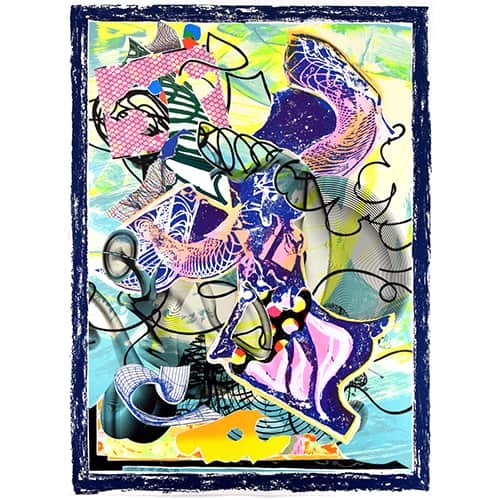 An American painter and printmaker, Frank Stella was an innovator. Born in 1936 in Malden, Massachusetts Frank Stella attended Princeton University, where he majored in history. It was during this time that he painted loose, gestural abstractions in the tradition of the New York School, but did not seriously entertain the idea of a career in the arts. With constant visits to New York however, a Jasper John's exhibition changed his mind as he was impressed by the factuality of the work and the geometric patterns of the rings and stripes that formed the images. After graduating, Stella moved to New York where he took up painting seriously and it was after two accidental paintings that he found his success. Known as The Black Paintings they were penciled lines drawn on raw canvases where the open spaces were partially filled with black house-paint. It was from that time on that Stella consistently developed his increasingly complex variations on selected themes in a highly organized, cyclical manner that for many years allowed little room for spontaneity; one such famous example being Newstead Abbey (1960). Stella constantly challenged himself and his first radical shift came in 1966, with the Irregular Polygon series in which he employed interlocking geometric shapes that were bordered by the familiar bands. It was around this time as well that he created his first abstract prints in lithography, screenprinting, etching and offset lithography which had a strong impact upon printmaking as an art and is a medium of which he became an acknowledged master. During the following decade, Stella introduced relief into his art, which he came to call "maximalist" painting for its sculptural qualities. From the mid-1980's to the mid-1990's, Stella created a large body of work that responded in a general way to Herman Melville's Moby Dick. During this time, the increasingly deep relief of Stella's paintings gave way to full three-dimensionality, with sculptural forms derived from cones, pillars, French curves, waves, and decorative architectural elements. To create these works, the artist used collages or maquettes that were then enlarged and re-created with the aid of assistants, industrial metal cutters, and digital technologies.
In the 1990's, Stella began making freestanding sculptures for public spaces and developing architectural projects. Still residing in New York today with his many accolades, Frank Stella prints and paintings are most famous for his work in the areas of minimalism and post-painterly abstraction.
FRANK STELLA PAINTINGS
Frank Stella's artistic range is incredible, spanning from the monochromatic Black Paintings to multi-colored mixed media works. Between 1958 and 1965, Stella experimented mainly with abstract painting. One example are the Black Paintings which he created in the late 1950s. Black Paintings consisted of bands of black paint being carefully separated by thin, white lines. In every way, these paintings are a rebellion against the expressive colors popularized by abstract expressionism. In the year following the Black Paintings, Stella decided to produce paintings with aluminium as his base material. The Aluminum Paintings retain the thin stripes of their counterparts, yet appear more fragile due to the material. The result is a geometric illusion in which lines and planes seem to unfold infinitely on the aluminum canvas. The painting blurs the line between art object and an industrial metal.
In the mid-1960s, Stella departed from his stark, minimalist works to create the Irregular Polygon paintings. Stella's Irregular Polygons are large, asymmetrical canvases composed of bold lines and colorful geometric forms. Their visual impact is dramatic yet minimal, foreshadowing Stella's eventual fascination with geometry, colorful abstraction and the shaped canvas. In 2015, Stella's painting Delware Crossing, 1961 fetched $13.7 million at Sotheby's, setting an auction record for Stella.
FRANK STELLA PRINTS
After establishing himself as a painter, Frank Stella began making prints in 1967. Stella initially worked mainly with lithography, though screen prints and intaglio prints have also shaped his artistic development. His prints are a continuation of the aesthetic he brought to his paintings. Like his paintings, Stella's prints were also created in series. As such, the prints also corresponded to the imagery found in his paintings.
This connection between the two mediums is intentional. Stella explains " What I like in the paintings I try to get in the prints. And then, what I like in the prints I try to get in the paintings. It works both ways." A comprehensive survey of Stella's prints can be found in the catalogue raisonne The Prints of Frank Stella: A Catalogue Raisonné 1967-1982 by Richard H. Axsom.
FRANK STELLA LITHOGRAPHS
In 1967, Frank Stella partnered with Kenneth Tyler, the owner of Gemini G.E.L. to work on his first lithographs, Star of Persia I and Star of Persia II. During this time, Stella also made a series of lithographic drawings which reexamined his Black Paintings.
Stella assembled these lithographic drawings into an album to create an intimate look at his earlier work. This album project encompassed 9 lithographic series (63 prints) and the lithographs are remarkable for their hand-drawn geometric symmetry and commitment to pure form. He is also credited with inventing offset lithography. Stella's immediate success in printmaking was honored in 1970 with his first print retrospective Frank Stella: Prinzip Seriell, Grafik 1967-1970 at the Kunstmuseum in Dusseldorf, Germany.
FRANK STELLA COLLAGES
Frank Stella began began executing collage works in 1970, the same year in which the Museum of Modern Art in New York gave him a solo retrospective. The first series in collage was Stella's Polish Village Series (1970-73) which was made with Stella's desire to bring three-dimensionality and form-building to his works. These 130 large-scale constructions feature angles and lines which intersect and weave into one another.The collage was made of paper and felt pasted onto the canvas, seamlessly turning into a low-relief sculpture.
Stella continued to expand with the Exotic Bird collage sculptures from the late 1970s which layered aluminum shapes that were also smeared with color. In 1984, Stella created the Illustrations after El Lissitzky's 'Had Gadya' series, a blend of hand colouring collaged with lithographic, linoleum block and silkscreen prints. Many of these collage works were recently featured in Frank Stella:A Retrospective at the Whitney Museum. This marks Stella as the first artist to exhibit in the museum's new building.
FRANK STELLA SCREENPRINTS
The flat, opaque coloring from screenprinting proves to be a perfect medium for Stella's geometric style. Almost all of his screenprints were created in the early 1970s with the collaboration of the Gemini G.E.L. studio. A smaller body of work than the lithographs, Stella's screenprints are easily recognized for their sumptuous colors and luxuriant texture.
The artist was fascinated with screen printing for several reasons. For one, screenprinting allowed him to add varied color resolution to his images. Additionally, through this medium he was able to explore the decorative possibilities of unrestrained color. It is during this time he coined the term "maximialist"painting to describe his style. An important work from this medium is the Race Track Series, 1972. Currently, many of his screenprints are held within the permanent collection of the Museum of Modern Art in New York.
FRANK STELLA MIXED MEDIA
From the late 1970s to early 1980s Stella dedicated his attention to mixed media works at a grand scale. In every way, this period of his career represents Stella's full plunge into three-dimensional works. To create these works, the artist used collages that were enlarged with the help of assistants and industrial metal cutters. Made with enamel paint, etched magnesium, aluminum and fiberglass, La scienza della pigrizia (The Science of Laziness), 1984 epitomizes works from this period. Stella's mixed-media works were immediately well-received.
In 1981, a Christie's auction sold Stella's Laysan Millerbird, 1977, a wall relief of oil, sand and oil sticks on metal, to a private collector for $180,000. It was a groundbreaking sale considering the work had been completed only 4 years prior.