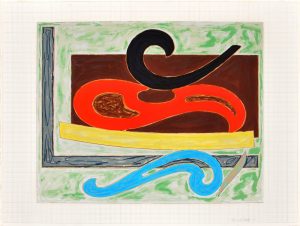 This six print series by Frank Stella is based off of the configurations of the  metal-relief paintings. In all six of these prints, you can the graph paper in the background is visible.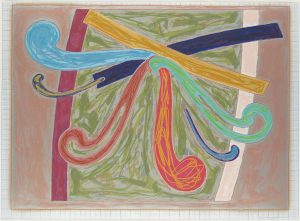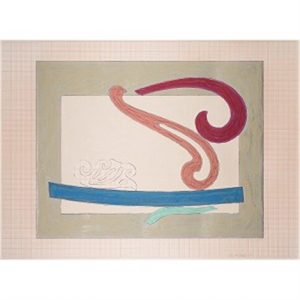 Each print's name corresponds to the names of endangered and extinct birds such as: Puerto Rican Blue Pigeon and the Okinawa Woodpecker. Due to the subdued colors and graph patterns, the prints have an active working quality to them. Made concurrently along with the metal relief paintings, these have diverse alterations in color and finish.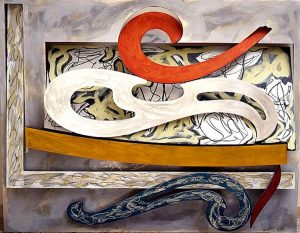 Compared to the Eskimo Curfew, 1977 in the print series, his metal relief painting is much more three dimensional. Not only are the colors different in scheme and tone, but the impression of the art itself is much more tactile.  Interesting enough, the prints did not serve as preparatory sketches. Stella's Exotic Bird Series alternated between prints and paintings around the same time where one can see the similarities and differences reflect each other.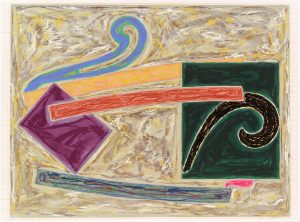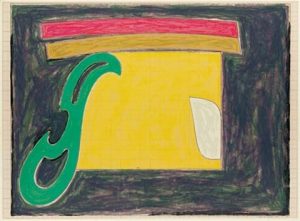 Furthermore, Stella incorporates motifs such as: French curves, ship curves, and straightedges, all of which are draftman's tools. Although his paintings contain brighter and more saturated colors, this series was one of the first to incorporate the merging of lithography and screenprinting.
Sources:
Axsom, Richard H., with Leah Kolb. Frank Stella Prints: A Catalogue Raisonné. New York: Jordan Schnitzer Family Foundation, 2016.