Andy Warhol and Mick Jagger met in 1964 in New York when Jagger and the Rolling Stones were still relatively unknown in the United States. In 1971, this friendship evolved artistically when Warhol was invited to design the band's album cover for Sticky Fingers. The image chosen was provocative, showcasing a man's crotch and a zipper that opened. Despite its taboo quality, the album cover became an iconic art piece, arguably a contributing factor to the album's successful sales. Warhol was fascinated by Jagger's celebrity status and decided to create a portfolio of ten screenprints featuring Jagger titled Andy Warhol Mick Jagger, 1975.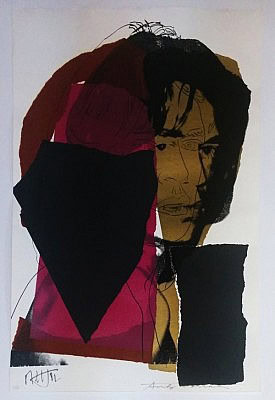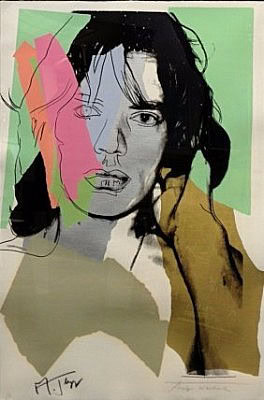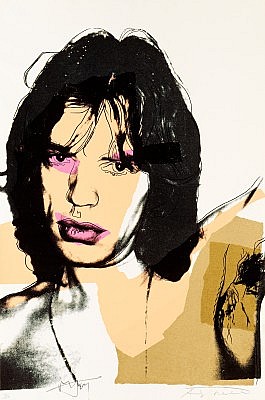 Creating the Mick Jagger Screen Print Portfolio, 1975
In the summer of 1975, Jagger and his wife Bianca rented Warhol's house in Long Island. There, with a new superstar in proximity, Warhol took many snapshots of Jagger, all of which show the musician bare chested and fiercely expressive. In the shots, Jagger showcases a variety of moods, from sultry to carefree to defiant. Warhol later projected the photographs and used the images to trace his stylized line drawings. Thereafter, he combined these images with screened areas of solid color, allowing the photograph, lines and color to intersect dramatically. The colors have an evocative effect, highlighting Jagger's portrait in an evocative manner. For instance, the blocks of color placed over Jagger's eyes intensify his gaze into a sultry and confrontational glare. From the beginning, Warhol has understood Jagger's appeal. Regarding Jagger, he has said:
He's androgynous enough for almost anyone. That's always been his basic appeal, mixed with the facts that: 1) He's very talented; 2) He's very intelligent; 3) He's very handsome; 4) He's very adorable; 5) He's a great business person; 6) He's a great movie star; 7) I like his fake cockney accent… Image is so important to rock stars. Mick Jagger is the rock star with the longest running image. He's the one all the young white kids copy. That's why every detail of his appearance is important.

(Warhol, 1979).[1]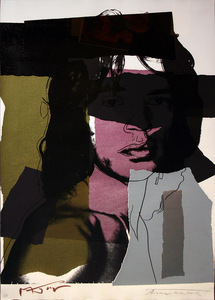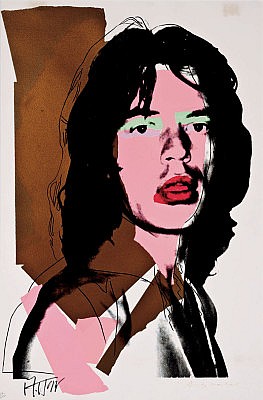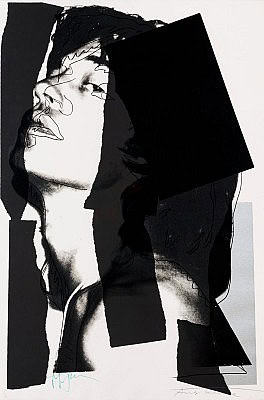 Imagery and Icon Status
Warhol and Jagger were also shrewd businessmen who increased the value of each screenprint by both autographing the prints, bolstering the cultural significance of this portfolio. Using the dual public images of an iconic rock star and the king of Pop art, the portfolio pays homage to the explosive counterculture and sexual liberation movements of the 70s. With the Mick Jagger portfolio, Warhol creates a powerful statement regarding the commercialization of fame and mass idolization of the era.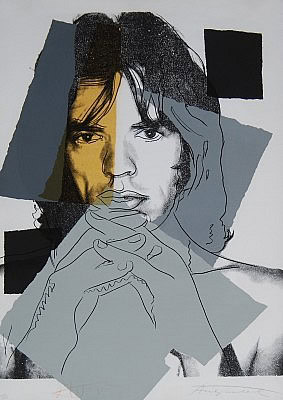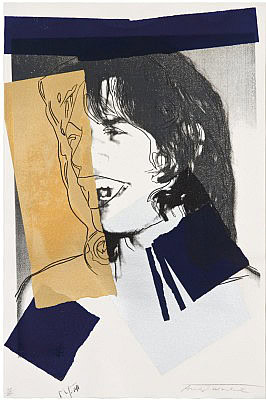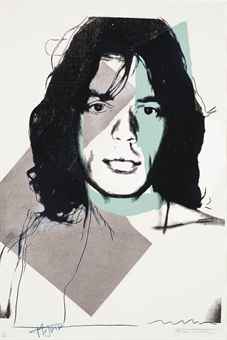 Andy Warhol, Andy Warhol's Exposures, New York, 1979, p.29 & p.196