Ingrid Bergman (1915-1982) was an award winning Swedish actress who starred in many European and American films. Her roles have won three Academy Awards and two Emmy Awards, among others. She is best known for her leading role in Casablanca (1942). Arguably one of the leading international actresses in the world, Bergman is also a massively recognizable pop icon.  It seems only natural that Andy Warhol was commissioned by a Swedish art gallery in the 1980's to create a suite of images featuring the beautiful actress in Andy Warhol's Ingrid Bergman Series, 1983.
Herself
The first screenprint of the series is an elegant image of Bergman's side profile. The source image of this work comes from a publicity photo. Soft shadows highlight her high cheekbones. The variety of colors add intrigue to her beautiful face.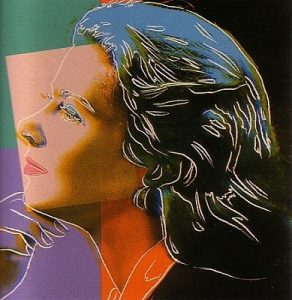 The Nun
This image was taken from a movie still from the 1945 film The Bell of St. Mary's (The Nun). In the film is an American drama that tells the story of a nun who tries to save her school from shutting down. It is considered one of Bergman's most severe roles. The film was incredibly popular and was the highest grossing movie that year. Warhol uses large, rectangular blocks of color to create strong symmetry and guide the viewers' eyes to the very center of the actress's face, emphasizing her strength of character.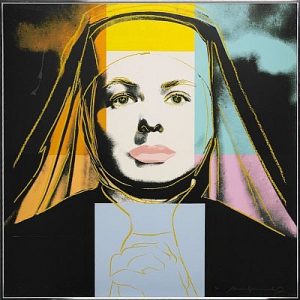 The source image of this screenprint was taken from the American romantic drama Casablanca. The film starred Humphrey Bogart as well and is set during World War II. The plot focuses on an American man who is stuck between his love for Bergman's character and the fight against the Nazis. Her role as the female protagonist is one of the most iconic performances in American film history. The film won three Academy Awards and consistently scores as one of the best films ever created. In his screenprint, Warhol portrays the actress with large, bright eyes and emphasizes her red lips by contrasting it against a deep blue background.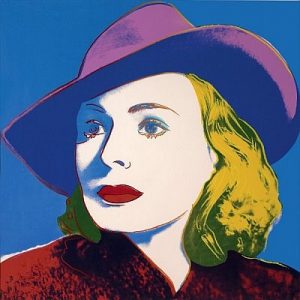 Browser our collection of fine art Andy Warhol's Ingrid Bergman Series, 1983 .