The Creation of Andy Warhol's Cow Series
The whimsical series came to fruition under the guidance of Pop art dealer Ivan Karp and printmaker Gerard Malanga. This series is one of the first edition print series Andy Warhol created. In 1966, he deliberately took a stand against traditional painting, boldly claiming painting was "dead" and that he was at the forefront of creating a new art form. He entered into printmaking by establishing his company, Factory Additions. The project commenced when Karp told Warhol "Why don't you paint some cows, they're so wonderfully pastoral and such a durable image in the history of the arts." Printer Gerard Malanga subsequently chose the photograph which was then given to Warhol.  The resulting screenprints were of vividly colored images of cows against equally dramatic backgrounds. Interestingly, all the screenprints were printed on wallpaper, lending them a decorative quality.
Screenprints from the Cow Series
The four screenprints from this series transcended expectations of printmaking and artistic practice. They were created from 1966 - 1976.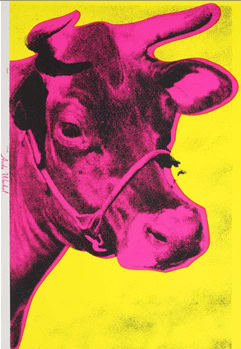 The first of the series, Cow, 1966, was published as a wallpaper for an exhibition at the Leo Castelli Gallery. The repeated imagery of cows on the wall surrounded visitors with Warhol's unique vision through mass imagery and commercial production.
The second screenprint of the series features an orange cow against a lilac background. This image was published for a 1971 Warhol exhibition at the Whitney Museum in New York. Approximately 100 copies were signed by Warhol.
The third screenprint from the series shows a cow that is colored in bright yellow against a blue background. Only 150 copies of this work have been hand-signed, however the unsigned versions are still valuable because they have been authenticated by the Andy Warhol Art Authentication Board.
The last screenprint of the series shows the cow in light pink against a purple background. This work was published for an exhibition at the Modern Art Pavilion in Seattle, Washington, from November, 1976-January 9, 1977.