Keith Haring's Pop Shop screenprints consist of 6 separate sets of works, each comprising four 11 x 14 inch screenprints. Each print was made in editions of 200.
(Keith Haring's Pop Shop NYC was the artist's famed not-a-gallery shop in Soho neighborhood of Manhattan, New York City.)
Together, they comprise a set of Haring's most iconic and important imagery. All done in Haring's recognizable graphic style, the Pop Shop screenprints are often thought of as a series of glyphs that represent Haring's classic and unique visual language. All of the artist's trademark stylistic choices are on full display in these sets of prints. The use of thick black graphic lines to outline the simplified, highly geometric figures of both humans and animals is paired with Haring's frequent use of short lines coming out of his figures that suggest movement or radiance. The flat, punchy color choices that are an important feature of Haring's practice can be seen in all of the Pop Shop screenprints and are truly an exemplary set of works that showcase the best of the best when it comes to Haring's artistic style.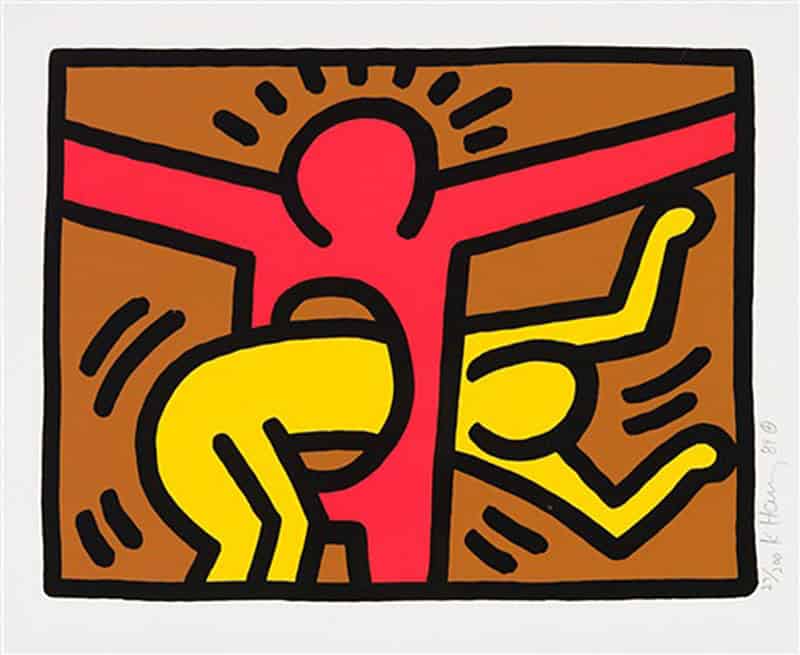 Each suite of prints has its own theme that explores an aspect of the artist's style and technique. Pop Shop I contains images of three human figures lifting each other up, embracing, and touching hands through a hole in one of the figure's torsos. Pop Shop II shows Haring's figures in impossible positions or combinations—one does a backbend while another dances on water, a pair of them are combined at the neck, and another is splitting down the middle, with two sets of legs. Pop Shop III tackles the theme of technology, with depictions of an unknown machine. Multiple of the prints show Haring's figures seemingly battling with the machine of ambiguous purpose, pulling other figures out of the machine's mouth or punching its side. One print contains no figures at all, just a pair of scissors cutting a wire or string. Nonhumans begin to make an appearance in Pop Shop IV, which includes barking dogs—one of Haring's most well-known animal figures—and a winged human figure. Haring's famous "radiant baby" figure is held aloft in one of the prints in Pop Shop IV, a symbol that would come to define Haring's artistic output as the years would go on. Animals continue to appear in Pop Shop V, which incorporates dolphins interacting with Haring's humans, as well as one winged mermaid figure. Pop Shop VI does not include these fantastical animalesque elements, but does feature whimsical joinings of human figures. Melded into a cross-shape at the abdomens, joined at the wrists, or showing five humans making up a single hand, each figure acting as a finger, this final set of prints pushes the boundaries of the possibilities of the human figure.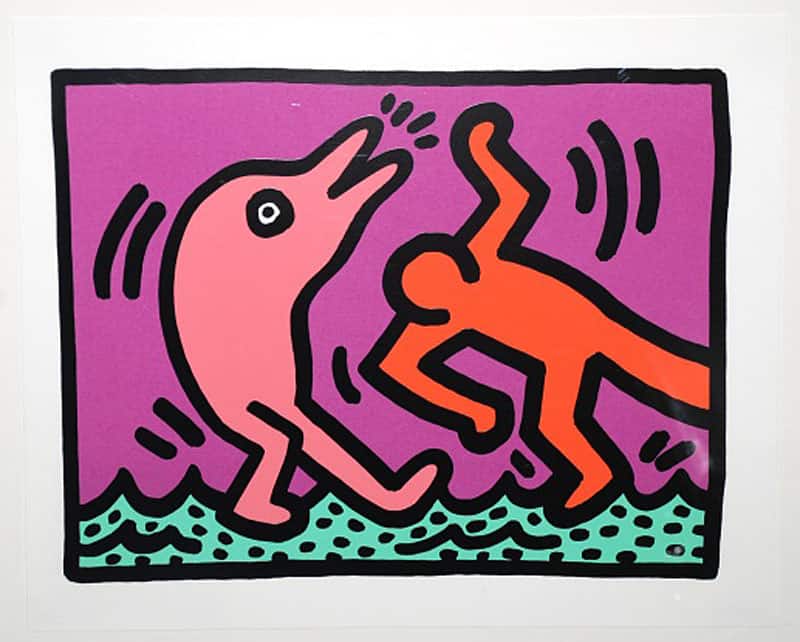 These prints are all named for the Pop Shop, a physical storefront that the artist opened and ran in New York City. Haring's Pop Shop opened in 1986 at 292 Lafayette Street. The walls, ceiling, and floors of the Pop Shop were painted by Haring himself, covered in black outlines of Haring's famous aesthetic. Selling novelty items and merchandise—things like t-shirts, pins, and more— with Haring's iconic imagery, as well as items with imagery from his contemporaries, like Jean-Michel Basquiat and Kenny Scharf, the Pop Shop was an extension of Haring's art practice and his goal of merging high and low art. As Haring's work became increasingly popular, the cost of owning his work increased significantly, as did the number of reproductions. Haring's response to this was to open his own small storefront and sell memorabilia that would make his work more accessible, and to assert his own art in the wake of many copies. Making his work more accessible was an important aspect of Haring's work.
The Pop Shop makes my work accessible. It's about participation on a big level.

Keith Haring, about the Pop Shop
Aiming to attract a wide audience that ranged from collectors to kids who would usually not be able to see or own a piece of his art to those who might just be curious about his work, the Pop Shop allowed Haring to extend his reach into the public in a way that mirrored his initial foray into the art world through street art in the New York City subways. The success of the flagship store prompted the artist to open a second location in Tokyo, but the Japanese location was short-lived, only running from 1987-1988. Though Haring passed away in 1990, the original Pop Shop stayed for another 15 years, eventually closing its doors in 2005. Though there is no longer a physical store, items can still be purchased today through an online Pop Shop.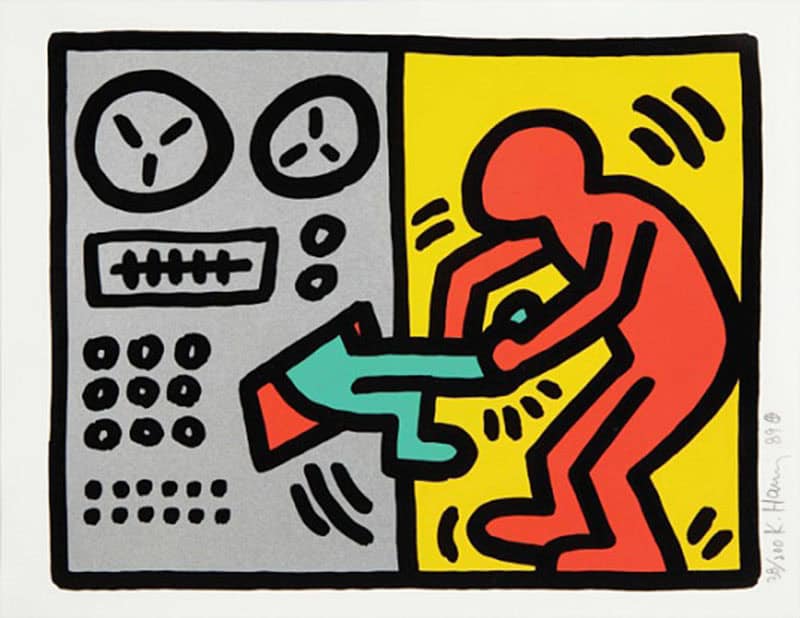 The Pop shop also allowed Haring to solidify some of his now most well-known imagery. One of Haring's most well-known symbols, the radiant baby, was featured on much of the merchandise that was available at the Pop Shop. Always shown in motion, crawling, and surrounded by lines that emanate outward to suggest that the baby is glowing or radiating energy, the radiant baby makes frequent appearances in Haring's art. Drawing from a history of babies being used as symbols of purity throughout the history of art, the symbol of the radiant baby continues this art historical trend and represents innocence, potential, and goodness.
Babies represent the possibility of the future, the understanding of perfection, how perfect we could be. There is nothing negative about a baby, ever... The reason that the "baby" has become my logo or signature is that it is the purest and most positive experience of human existence.

Keith Haring in conversation with Robert Farris Thompson in a wine bar on West Broadway in SoHo, 14 August 1985, cited in Artforum, May 1990
The radiant baby became the artist's main tag, the image from his oeuvre that was most associated with him and even appearing at the top of his artist letterhead.
Is Keith Haring Pop Shop still open?
Sadly, Haring's Pop Shop closed its doors to the public in September 2005 due to rent increasing and as the store wasn't generating enough income to cover the expenses. However, the Keith Haring Foundation continues to offer Haring memorabilia through an online Pop Shop.
What did Keith Haring sell in his Pop Shop?
Haring saw the Pop Shop as an extension of his work, a fun boutique where his art could be accessible to everyone. The Shop sold T-shirts and novelty items with Keith's imagery as well as some of his contemporaries, like Kenny Scharf and Jean Michel Basquiat. Haring later opened a Pop Shop in Tokyo in 1987.
Who owns Keith Haring?
The Keith Haring Studio owns the international copyright to all artwork created by Keith Haring, and his artwork may not be reproduced in any way without express written permission from the Haring Studio.
Is Keith Haring alive?
At 31, Keith Haring passed away on February 16, 1990 due to AIDS related complications. A memorial service was held on May 4, 1990 at the Cathedral of St. John the Divine in New York City, with over 1,000 people in attendance.
Who Made the Best Buddies logo?
Keith Haring created the iconic Best Buddies logo. It features two individuals in an embrace, and was donated to a charity that assists people living with developmental disabilities also titled Best Buddies in the late 1980s.