Joan Miró

Biography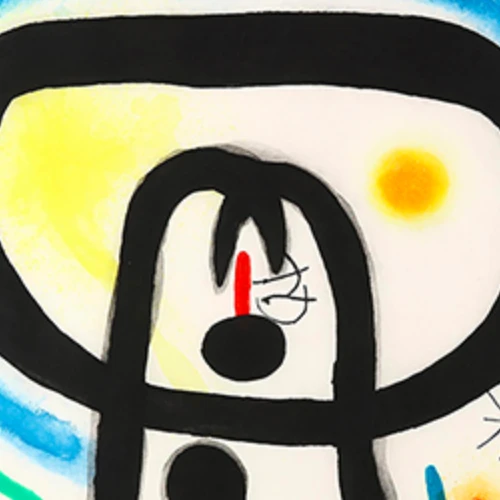 Combining Abstract Art with Surrealism, Joan Miró's oeuvre is internationally respected. Born April 20, 1893, in Barcelona, Spain, Joan Miró Ferra was exposed to art at an early age through his watchmaker father. At the age of 14, he went to business school in Barcelona while also attending La Lonja's Escuela Superior de Artes Industriales y Bellas Artes. Choosing business over art, he took a position as a clerk, but suffered a nervous breakdown. Abandoning business, he resumed his art studies and attended Francesc Galí's Escola d'Art in Barcelona from 1912 to 1915. Receiving early encouragement from the dealer José Dalmau, Miró's first show occurred at his gallery in 1918 where his work was ridiculed and defaced. His works during this time reflected the influence of Fauvism and folkloric Catalan art as is seen in Chapel of Sant Joan d'Horta (1917), but he was also drawn to Cubism and Surrealism.
Those artistic interests led Miró to move to Paris in 1920, but he continued to spend his summers in Catalonia. In Paris, Miró met Pablo Picasso, and other important emerging artists and poets, encircling himself with creative types. Dalmau organized Miró's first solo show in Paris, at the Galerie la Licorne in 1921 and his work was included in the Salon d'Automne of 1923. Strongly symbolic and poetic in nature, Miró's art fit well within the context of the dream-like erratic tendencies espoused by Surrealism and in 1924 he joined the Surrealist group, though always remained on the periphery of Surrealism. Such works included Catalan Landscape (The Hunter) (1923) and the Tilled Field (1924).
This is around the time Miró began to develop an antagonistic attitude towards painting, and started to explore other techniques and mediums. In 1926, while collaborating with Max Ernst on designs for a ballet they pioneered the technique of grattage, in which pigment is troweled onto the canvas and in 1928 Miró began executing his first papiers collés and collages. During the early 1930s, Miró would delve into sculpture, incorporating painted stones and found objects into his three-dimensional works. This was also the time when he started his experiments in lithography, and his first etchings date to 1933, both mediums of which would comprise a majority of his oeuvre.
JOAN MIRÓ ETCHINGS:
By 1930, Miró had developed his own unique style of imagery derived from elements of Catalan folk art and the art of children and this was suited wonderfully for the etching medium as the fluid line work and fanciful figures enabled him to create crisp details. A constant experimenter however, the etchings are a wonderful precursor of what was to come for his printmaking skills later in his life.
Finding international success, with the opening of the Pierre Matisse Gallery in New York, Miró became an influential part of the Modern Art Movement in America. With the outbreak of the Spanish Civil War however in 1936, Miró had to flee Spain and remained in France where he was commissioned to create a monumental work for the Paris World's Fair. Then World War II broke out and he was forced to relocate to Normandy, then fled back to Spain in 1940. During this time, Miró created his famous twenty-three gouache series Constellations (1940).
The Museum of Modern Art, New York held Miró's first major museum retrospective in 1941, and that same year Miró began working in ceramics with Josep Lloréns y Artigas. Always trying to find new ways to express himself, it was during 1948–49 when Miró lived in Barcelona, and made frequent visits to Paris that he began to experiment with his printmaking techniques at the Mourlot Studios and the Atelier Lacourière. Such printmaking techniques would result in his later mastering of aquatints and carborundum, some of the most difficult graphic works to create.
JOAN MIRÓ LITHOGRAPHS:
The close relationship with Fernand Mourlot resulted in the creation of over one thousand Joan Miró lithographic print editions. His process of automatic drawing, allowing the hand to move randomly on the surface, leaving the artwork to chance, enabled him to create works that were genuine reflections of himself, an integral part of his popularity. A popularity that still remains today as they make for 91% of all of his works bought on the market, with a complete set of Le lézard aux Plumes d'Or (1971) selling for over $147, 510 in 2002 from Christie's.
A true master of the printmaking medium, Miró received the Grand Prize for Graphic Work at the Venice Biennale in 1954, and his work was included in the first Documenta exhibition in Kassel the following year. In 1958, he was given a Guggenheim International Award for murals for the UNESCO building in Paris and the following year he resumed painting, initiating a series of mural-sized canvases. During the 1960s, he began to work intensively in sculpture and was particularly captivated by glass as is evidenced in his commissioned mural Personnage Oiseaux (1972-1978) which combines one million pieces of marble and Venetian glass. A man whose art rose to international acclaim with the help of the Surrealist movement, Miró was honored with many retrospectives during his lifetime and worked until he passed away of heart disease in December 25, 1983, in Palma de Mallorca, Spain.
JOAN MIRÓ AQUATINTS:
With his most coveted etching and aquatint Équinoxe (1967) selling for $74,000 in 2007 and the series Michel Leiris, Fissures (1969) that sold for $92,500 in 2001 at Christies, Miró's aquatints are quite valuable. In the experimentation that followed his lithographs, Miró produced hundreds of aquatints, a process that presents variations of darkness on the paper. These experiments allowed for him to better represent the dualities and contradictions within his artwork.
JOAN MIRÓ CARBORUNDUM:
A method of printmaking that produces variations of dotted effects, Miró embraced this medium as it allowed him to create works that were rich in texture and variety. Trying not to adhere to any artistic movement during the 1970s, this method proved diverse as it gave him an artistic range when combined with the etching and aquatint. With the series such as Barcelona (1972-1973) selling for over $72,500 in 2005 and the work Les grandes manoeuvres (1973) selling for over $52,000 in 2010, this medium makes for some of his most valuable in printmaking.