We Buy and Sell Frank Stella Prints and Paintings!
Insured, Private and Fully Guaranteed
Simple Process
1. Call or email Masterworks Fine Art.
2. Email us a photo of your Stella.
3. Following evaluation of your artwork, MFA will contact you promptly.
You want to Sell Frank Stella? We Buy and Sell Frank Stella Screen Prints and Paintings.
Our Gallery Will Meet The World's Best Response Time
Masterworks Fine Art Gallery will contact you promptly within two hours of your inquiry to gather information about your artwork and to assist you.
Your Security and Insurance
Masterworks Fine Art Gallery is a fully-insured gallery. A multi-milliondollar
policy guarantees that you Sell Frank Stella 100% secure and insured during transportation. Our insurance provider will issue you a Certificate of Insurance prior to shipping, directly naming you as the insured with full benefits.
A Process You Can Trust
We Buy and Sell Frank Stella, Lichtenstein, Picasso, Chagall and
other Masters for over 30 years. With Masterworks Fine Art, you speak
directly and only to the owners.
We Make It Easy
We Buy and Sell Frank Stella Screenprints and Paintings. Get a Hassle Free
immediate quote and earn cash for your Stella. Masterworks Fine Art
offers the Easiest, Most Upfront, and Protected Way to Sell Frank Stella's.
The artists we represent and their pieces in our inventory change frequently. If
MFA is interested in your artwork, we will undertake a complete evaluation.
Should the piece be a good fit for our Gallery, we will offer cash up front.
Please understand that from time to time, our evaluation process may be delayed, for example, when we exhibit at art fairs or work with out-of-state collectors. Don't hesitate to call us or send another email, referencing the initial date you sent the photos.
As a Fine Art Gallery, we prefer to purchase from private collections. MFA is
committed to educating you and offering our services free of charge. This service is right for you if:
Masterworks Fine Art carries your artist in its inventory.
You personally own the work of art.
You have decided to sell the art or would like to learn more about it.In order to partake of this service, you must meet submission processing
requirements and provide all necessary information.
Submissions that do not meet the stated requirements will not be reviewed.
Sell Frank Stella Selling Guide
You will be paid immediately!
Email photos of your artwork to Masterworks Fine Art Gallery at sell@masterworksfineart.com to determine whether your piece is appropriate for our collection.
The Masterworks Fine Art Gallery Curator will contact with you within 2
hours to follow up on your inquiry and provide you with more details.
If your artwork is appropriate for our gallery, we will provide you with a
market report and an estimate of its value.
Once an agreement is made, we will provide you with a Certificate of
Insurance for the retail value of the artwork.
Our Curator will arrange for art handlers to pick up and pack your artwork.
You will be given tracking information so you can follow your artwork
during its shipment to our gallery.
Masterworks Fine Art offers the Easiest, Most Upfront, and Protected Way
to Sell Frank Stella. Our Gallery has been buying and selling works by Stella, Lichtenstein and other Masters for decades. With Masterworks Fine Art, you speak directly and only to the owners.
Payment process
Upon agreement, Masterworks Fine Arts pays you immediately in accordance with your preferred payment option: cash, wire transfer, or cashier's check.
Masterworks Fine Art will contact you within two hours and provide an
immediate quote. The consultation is Free.
Discover the market value of your artwork. Free evaluation. No obligation.
Sell Frank Stella's for the Highest Price.
Works by Frank Stella, Roy Lichtenstein, Keith Haring, and other Pop
Artists are selling for more than ever before. These are the best prices in
decades. Sell Frank Stella artwork at its high.
MFA offers the Most Secure and Simple Process – Guaranteed.
Masterworks Fine Art will offer you the best price. We will also provide a
market analysis of your work at no cost to you.
Call us immediately for a quote! The service and the report are free.
Shipping
Your artwork will be fully insured under your name as the recipient for its full
retail value.
We purchase artworks from all over the country as well as internationally.
No matter where you are located, we will help you get your art safely packed and shipped to us.
The Masterworks Fine Art Gallery Curator will arrange a pickup time for a shipper to collect, pack, and ship your artwork, a process that requires 1-2 days. The work will be shipped under our shipping account.
Transit time can be from 1-5 days, depending on the value of the work. You will
be given a shipping tracking number to monitor your artwork as it proceeds to our Gallery.
Selling with US vs an Auction House
Unlike traditional auction houses, Masterworks Fine Art Gallery buys Frank Stella's today. Sell Frank Stella's immidiately with us!

You don't have to wait months for the auction and eventual payment.
Our price will be the fair market value of your Stella.
And best yet, your transaction will be fully insured throughout the process.
Masterworks Fine Art will contact you within two hours and provide an
immediate quote.
We will offer you the best price and provide a market analysis for you at no
cost to you.
Call us immediately for a quote! The service and the report are free.
Frank Stella's Isfahan III's Eventful Journey
By Claire Nichols on 30 Mar 2021
The Museum of Solidarity, established by president Salvador Allende in 1971, had the mission of educating the people of Chile about fine art. Its collection was amassed through donations from many internationally known artists. One such donation was Frank Stella's Isfahan III, which he created in 1968 and donated to the Museum of Solidary in 1972. Isfahan III—which measures more than 10 feet tall and 21 feet across—is part of Stella's Protractor series, a series of irregularly shaped canvases each named after locations in the Middle East.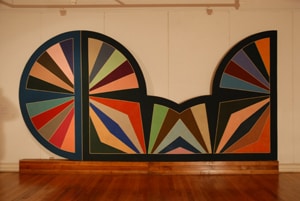 The work arrived in Chile and was exhibited for the first time in 1973. That same year, however, a military coup overthrew Allende's government, forcing the museum to scatter its collection to a number of temporary storage locations.The majority of these works would remain in storage for years to come or go missing altogether. Isfahan III found its way to a storage facility belonging to the Museum of Contemporary Art in Santiago, where it would stay for almost two decades.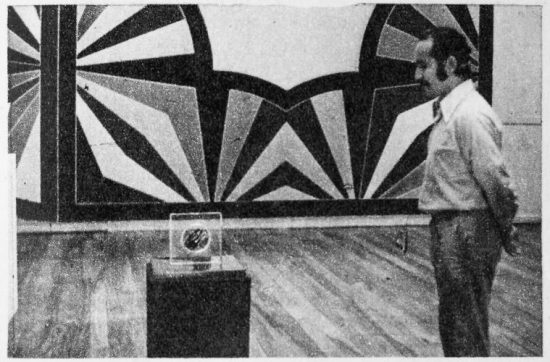 In 1991, the Museum of Solidarity re-opened as the Salvador Allende Solidarity Museum and the process of recovering the donated works began. When Stella's Isfahan III was discovered in the Museum of Contemporary Art's storage facility, it was discovered that the canvas had spent years folded up and abandoned on the warehouse floor. Even worse, museum workers had been completely unaware of its importance and value. For decades, workers had been using the Stella masterpiece as a table for lunch breaks, eating on the painted surface. The canvas was creased and the painted surface was damaged. In addition, its frame and support structure were not saved, creating difficulty for its potential exhibition and conservation efforts.
Nonetheless, Isfahan III was the centerpiece of the Salvador Allende Solidarity Museum's revival exhibition in 1991. The museum sent the artwork for minor restorations and it traveled to exhibitions around the world on a temporary stretcher. In 2019, the painting went under a second round of restorations through the Getty Foundation's "Conserving Canvas" initiative, which would allow the painting to go through a year-long restoration process and for a new, permanent stretcher to be created for the work, increasing its longevity and continued travel all over the globe.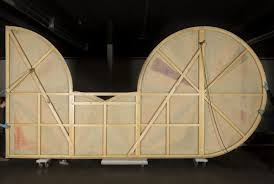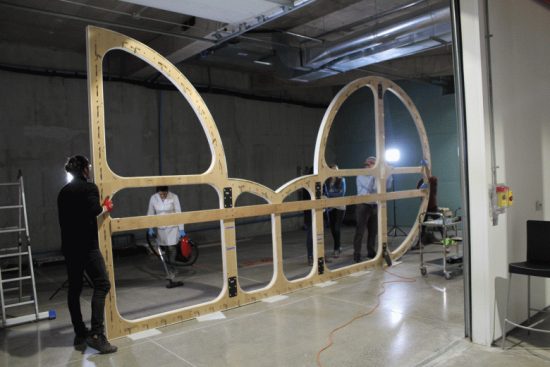 Stella himself has remained close with the museum, visiting on multiple occasions and collaborating with a team to create an oral history project regarding the famous painting's unique journey. In its current restored state, Isfahan III is one of the Salvador Allende Solidarity Museum's collection highlights.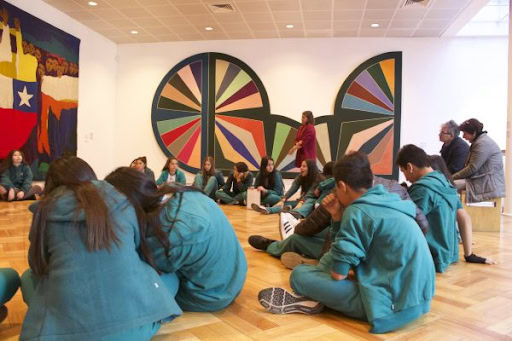 Frank Stella Sale
By Rod Ubillus on 30 Mar 2021
Frank Stella is one of the greatest living American artists, playing an integral role in pushing the art world forward since his first exhibitions in the late 1950s. His quick rise to the top of the Abstract Expressionist movement and to great success was unprecedented, and his long-lasting career is a testament to the continued strength of his art practice even over a half-century later. This selection of available works from the 1980s and 1990s exemplifies the kind of innovative work that Stella is known for and his strength in a wide range of mediums, including lithograph, screen printing, silkscreen, etching, collage, and acrylic.
This Frank Stella Sale Online Exhibition features works from some of his most iconic series—including his Imaginary Places, Moby Dick (and the Waves series), Had Gadya, and Shards series—these works all exemplify Stella's remarkable penchant for storytelling. This Frank Stella sale references other works of art (even his own) in these series, using them as a jumping-off point for inventing new ways of portraying movement and time, furthering the lifetime of the originating works of art as they live on through his interpretations of them. Taking inspiration from literature (in the case of Imaginary Places, Moby Dick, and Had Gadya) and from his own extensive career (the Shards series grew out of scraps from his earlier Circuits series), Stella puts his investment in the history of art and knowledge of all forms of art on display, situating these works firmly within a strong history of art appreciation. The works available from each of these series are not only prime examples of the power of these historic series, but epitomize Stella's importance as an artist who artfully combines influences and mediums together to create something entirely new.
One of the trademarks of Stella's career is his ability to play with space. At the point of his career, Stella's interest in three-dimensionality came into full swing. This is beautifully represented by the works in this selection of available works. Multiple works involve Stella's shapes pushing against the boundaries of the page, with cones and cylinders escaping beyond their pages' rectangular confines in his collage, mixed media, and even in his print work. Breaking the traditional shape of those mediums allowed Stella to give shapes a life that existed off the page. Even when he adheres to the page's confines, the artist's carefully layered balance of geometric and abstract forms are playfully laid out, creating space for them to still transcend the two-dimensionality of the page and to illusionistically jump out at the viewer. The rhythm between free-moving forms, opaque coloring, and texture give these Stella works a truly unique vivacity.
The interplay between unrestrained possibilities of shape and color and careful composition has come to define Stella's work, and these available Stella works are remarkable examples of Stella's advancement in form. His works are at once stable and wavering, both overwhelming and controlled. The advancements that Stella pioneered are unparalleled, even today, making Frank Stella a one-of-a-kind artist and making this selection of works a wonderful addition to any art collection.
Please browse thru our Frank Stella Sale Online Exhibition and let us know if you have any questions!
Frank Stella Exotic Bird Series 1977
By Admin A on 18 Apr 2018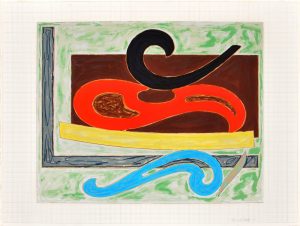 This six print series by Frank Stella is based off of the configurations of the  metal-relief paintings. In all six of these prints, you can the graph paper in the background is visible.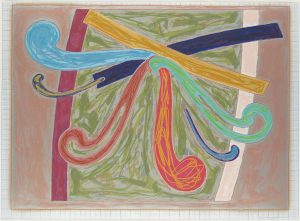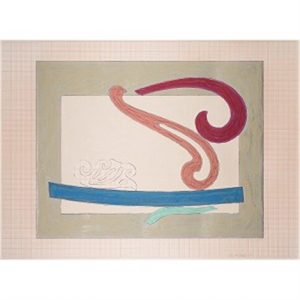 Each print's name corresponds to the names of endangered and extinct birds such as: Puerto Rican Blue Pigeon and the Okinawa Woodpecker. Due to the subdued colors and graph patterns, the prints have an active working quality to them. Made concurrently along with the metal relief paintings, these have diverse alterations in color and finish.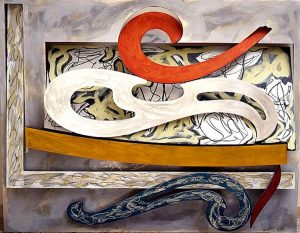 Compared to the Eskimo Curfew, 1977 in the print series, his metal relief painting is much more three dimensional. Not only are the colors different in scheme and tone, but the impression of the art itself is much more tactile.  Interesting enough, the prints did not serve as preparatory sketches. Stella's Exotic Bird Series alternated between prints and paintings around the same time where one can see the similarities and differences reflect each other.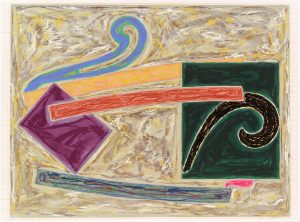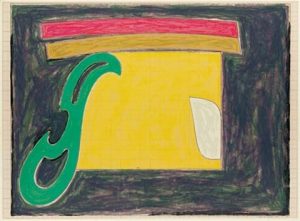 Furthermore, Stella incorporates motifs such as: French curves, ship curves, and straightedges, all of which are draftman's tools. Although his paintings contain brighter and more saturated colors, this series was one of the first to incorporate the merging of lithography and screenprinting.
Sources:
Axsom, Richard H., with Leah Kolb. Frank Stella Prints: A Catalogue Raisonné. New York: Jordan Schnitzer Family Foundation, 2016.