Andy Warhol's famous imagery of the electric chair was first created in 1964 as a silkscreen painting. Andy Warhol Electric Chair Series, 1971 was created on a medium sized canvas and was part of Warhol's renowned Death and Disasters series that the artist started in 1962. The electric chair was originally a form of capital punishment created to replace hanging. The condemned were strapped to the chair and subjected to varying sequence of electric currents until fatal damage was done.  The source image for the chair was from a press photograph of the death chamber at the Sing Sing Correctional Facility in New York in 1963. That year, American citizens Julius and Ethel Rosenberg were executed for passing confidential information about the atomic bomb to Russian during World War II. They were also the last two executions at the correctional facility, and therefore dominated news headlines.  In 1971, Warhol created a series of colorful screenprints which replicated the initial image. The screenprints however were cropped to focus more on the chair itself, almost removing it from its true context. The majority of the electric chair depictions are kept in major collections such as the Centre Georges Pompidou in Paris.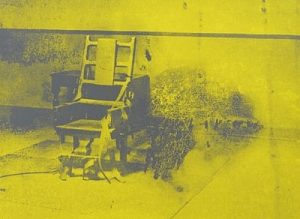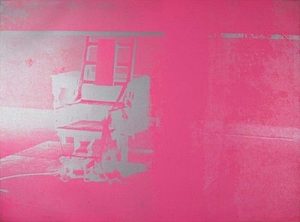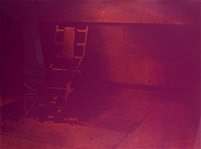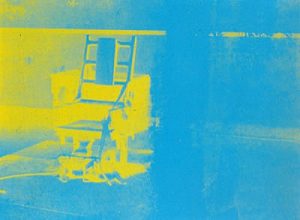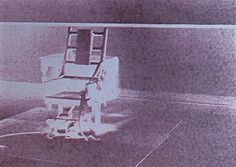 The Visual Impact of the Screenprints
The appearance of the Warhol's Electric Chair, 1971, screenprint portfolio is strikingly different from the black and white appearance of the original painting. The vibrant colors create a dramatic juxtaposition against the somber image.  By centering the chair, Warhol forces the viewers to confront this grizzly image of death head on. Warhol doubling the silkscreen within the same image renders a slightly off-register visual effect which adds a haunting contour to the image. The visible strips of color and grainy texture create a vibrating effect, transporting viewers to the moment of electrocution.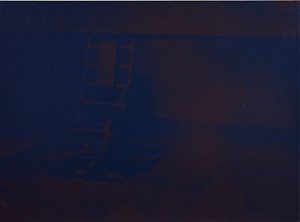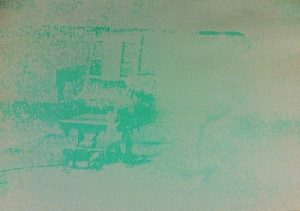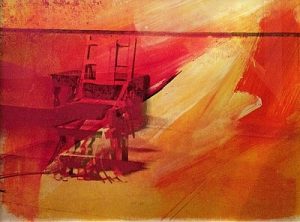 Interpretation and Analysis of the Electric Chair Series, 1971
In every way, the Electric Chair Series is a manifestation of the mass public fascination with death and violence. Warhol employs the repetition in a powerful way as the multiplicity invariably desensitizes the viewer against the symbol of death and corporal punishment. Above all, the imagery instills a sense of unsettling dread in the viewer who is confronted with tragedy and human transcience. This is undoubtedly why the image is so powerful and the reason this portfolio is the best known from the Death and Disasters series.