When Pablo Picasso passed away without a will, he left behind more than 45,000 works which have become the center of personal and financial struggle between his heirs. The artist was survived by 4 children from 3 different women. They are as follows: Paulo (with Olga Khokhlova), Maya (with Marie-Thérèse Walter), and Claude and Paloma (with Francoise Gilot). Paulo, the artist's only legitimate son, passed away in 1975. His children Marina and Bernard Picasso now join Claude, Paloma and Maya as official heirs to the estate.
The heirs at the center of the estate negotiations are Claude and Paloma. The relationship between them with their father has been challenging. Their mother, Francoise Gilot, left Picasso after a ten year affair, and is the only lover to ever leave the artist. In 1964, she published a book titled Life with Picasso which infuriated Picasso and led him to bar Paloma and Claude from his home. Despite this severed relationship, the two children were eventually able to gain shares of the estate through a 1972 law which protected illegitimate offspring.
Since then, Claude Picasso has been named legal administrator of Picasso's estate and is now the head of the Picasso Administration, an organization that manages the licensing of Picasso's name. The administration oversees a huge variety of legal concerns. Each year, an annual report is largely dedicated to court cases that have been settled or are pending.  Given the wide variety of objects (automobiles, pens, lingerie) which have acquired Picasso's name, it is not surprising that the administration is constantly enmeshed in legal battles. Despite their persistence in protecting the artist's name, there still remain hundreds of illegal brands titled "Picasso" around the world. In regards to Picasso's artworks, Claude remains the official authenticator and receives on average almost 1000 requests for authentication annually. The verification process can be complicated, given the scholarship required and the necessity for Claude to view the works in person.
We can only imagine the Picasso Administration will strengthen its authority as the market for Picasso works continues to soar. The range of Picasso collectors has grown exponentially to include regions such as Asia and the Middle East. Just last year, there were 34 Picasso exhibitions in total around the globe. One recent exhibition which generated great excitement was MOMA's Picasso Sculpture. The exhibition was well received for revealing the lesser known aspects of the artist's expansive oeuvre. As such, Picasso's name also retains its value in the commercial art market.  In May, 2015 Picasso's 1955 painting Les Femmes d'Alger (Version "O") was sold by Christie's for the astounding price of $179 million. This marked the record as the most expensive artwork ever sold at auction.
Evidenced by the popular museum exhibitions and the high auction prices, the wealth and renown of Picasso and his family will continue to grow. Given their status within the art world, the family has been incredibly philanthropic. For instance, the majority of the heirs have donated Picasso's works to museums. Several works have also been auctioned in order to support various charities. Recently, it was announced that Picasso's studio in Paris would be transformed into a research and educational center of the arts. This project is headed by the Maya Picasso Foundation for Arts Education and you may find more information here:
http://observer.com/2015/07/picassos-parisian-studio-becomes-a-monument-at-long-last/
Without a doubt, the heirs place their father's legacy and career above personal conflicts. Their contributions will surely provide for the next generation of artists and scholars who will continue to expand our knowledge of the modern master.
More on Pablo Picasso:
Pablo Picasso and his Women, Picasso's artistic style thru the years
Marie-Thérèse Walter Biography
By on 14 Oct 2018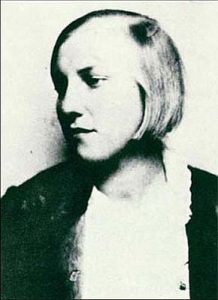 Not much is known about the early years of Marie-Thérèse Walter's life.  With an age gap of 28 years between her and Pablo Picasso, many wonder about the life and experience she had with her lover until her tragic death.
At the age of 17, Walter met then 45 year old Pablo Picasso outside of the Paris department store Galeries Lafayette in January of 1927. Married to Olga Khokhlova at the time, the two began an scandalously intimate relationship almost immediately. Because of the highly questionable nature of their relationship, it was kept secret from most of Picasso's friends and family.
As Walter began to spend every day in Paris with Picasso, she told her family that she had taken a job in the city. Eventually her mother and sisters discovered the couple, and though resistant at first, quickly opened up to Walter's relationship with Picasso. They would even spend time together in her mother's garden where Picasso would occasionally paint. Olga, already reasonably jealous and cautious due to Picasso's many previous indiscretions, was not aware of Walter until very late in the infidelity. This period became a balancing act for Picasso between his wife and son, and his blossoming romance with the teenage Walter. During the summer of 1928 Picasso rented a house for his family in Breton and arranged for Walter to be housed at a girls camp in the area. Every morning he would pick her up and they would spend the day together in his cabana. The deception continued in 1930 when Picasso bought Chateau de Boisgeloup – telling both Olga and Walter separately that he had bought it for her. Olga was mistress of the house on the weekdays, but after returning to Paris for the weekends, Walter arrived. Because Picasso had been trying to keep his affair secret, Walter often came into his art in unexpected and coded ways. It was in 1932 during the first full Picasso retrospective at the Galerie Georges Petit that portraits of Walter were shown.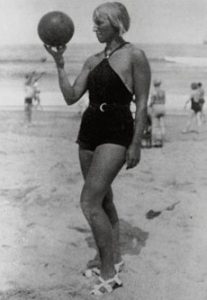 Walter almost drowned in 1933 on the river Marne. This was traumatic for Picasso and resulted in a series of paintings referencing water nymphs. Then in 1934, Walter became pregnant with their child, and after Olga discovered this, divorce proceedings began. Walter and Picasso were still not allowed to live together, but she moved into an apartment a few doors down from him. Their daughter Maria de la Concepcion "Maya" was born on September 5th, 1935. She was named for Picasso's late and beloved sister, Conchita. The new family lived together for a short while, with Picasso playing father. However, the personality of Walter, though welcoming in comparison to his fraught marriage to Olga, was rather uninteresting to him on its own. Two months after Maya's birth, Picasso met Dora Maar and soon embarked on a relationship with her.
Walter and Maya moved into Le Tremblay-sur-Mauldre, where for the next three years, Picasso would spend weekends with them, while spending the weeks in Paris with Dora who he considered more of his intellectual equal. When Olga died, Picasso called up Walter and asked her to marry him. Walter declined and the two never saw each other again, but were forever linked through their daughter Maya. Walter interacted with the greater Picasso family at the time of Picasso's death and in 1977, she committed suicide which some have linked to the loss of Picasso.
References
Freeman, Judi. Picasso and the Weeping Women: The Years of Marie-Thérèse & Dora Maar. Los Angeles: Los Angeles County Museum of Art, 1994.
Richardson, John. 'Picasso's Erotic Code, Vanity Fair. May 2011. Accessed November 11th, 2016. http://www.vanityfair.com/news/2011/05/picasso-mistress-201105