When Pablo Picasso passed away without a will, he left behind more than 45,000 works which have become the center of personal and financial struggle between his heirs. The artist was survived by 4 children from 3 different women. They are as follows: Paulo (with Olga Khokhlova), Maya (with Marie-Thérèse Walter), and Claude and Paloma (with Francoise Gilot). Paulo, the artist's only legitimate son, passed away in 1975. His children Marina and Bernard Picasso now join Claude, Paloma and Maya as official heirs to the estate.
The heirs at the center of the estate negotiations are Claude and Paloma. The relationship between them with their father has been challenging. Their mother, Francoise Gilot, left Picasso after a ten year affair, and is the only lover to ever leave the artist. In 1964, she published a book titled Life with Picasso which infuriated Picasso and led him to bar Paloma and Claude from his home. Despite this severed relationship, the two children were eventually able to gain shares of the estate through a 1972 law which protected illegitimate offspring.
Since then, Claude Picasso has been named legal administrator of Picasso's estate and is now the head of the Picasso Administration, an organization that manages the licensing of Picasso's name. The administration oversees a huge variety of legal concerns. Each year, an annual report is largely dedicated to court cases that have been settled or are pending.  Given the wide variety of objects (automobiles, pens, lingerie) which have acquired Picasso's name, it is not surprising that the administration is constantly enmeshed in legal battles. Despite their persistence in protecting the artist's name, there still remain hundreds of illegal brands titled "Picasso" around the world. In regards to Picasso's artworks, Claude remains the official authenticator and receives on average almost 1000 requests for authentication annually. The verification process can be complicated, given the scholarship required and the necessity for Claude to view the works in person.
We can only imagine the Picasso Administration will strengthen its authority as the market for Picasso works continues to soar. The range of Picasso collectors has grown exponentially to include regions such as Asia and the Middle East. Just last year, there were 34 Picasso exhibitions in total around the globe. One recent exhibition which generated great excitement was MOMA's Picasso Sculpture. The exhibition was well received for revealing the lesser known aspects of the artist's expansive oeuvre. As such, Picasso's name also retains its value in the commercial art market.  In May, 2015 Picasso's 1955 painting Les Femmes d'Alger (Version "O") was sold by Christie's for the astounding price of $179 million. This marked the record as the most expensive artwork ever sold at auction.
Evidenced by the popular museum exhibitions and the high auction prices, the wealth and renown of Picasso and his family will continue to grow. Given their status within the art world, the family has been incredibly philanthropic. For instance, the majority of the heirs have donated Picasso's works to museums. Several works have also been auctioned in order to support various charities. Recently, it was announced that Picasso's studio in Paris would be transformed into a research and educational center of the arts. This project is headed by the Maya Picasso Foundation for Arts Education and you may find more information here:
http://observer.com/2015/07/picassos-parisian-studio-becomes-a-monument-at-long-last/
Without a doubt, the heirs place their father's legacy and career above personal conflicts. Their contributions will surely provide for the next generation of artists and scholars who will continue to expand our knowledge of the modern master.
More on Pablo Picasso:
Pablo Picasso and his Women, Picasso's artistic style thru the years
Olga Khokhlova Biography
By on 15 May 2018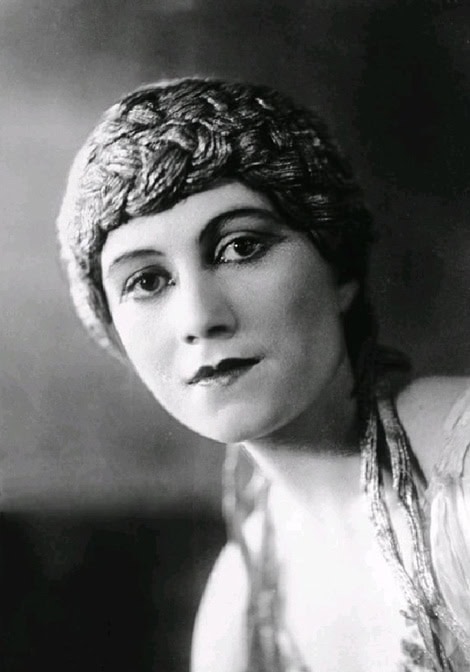 Olga Khokhlova was born in Ukraine in 1891. She became a ballet dancer in the Ballets Russes as a young woman. She was a dancer in Parade in 1917, which was a collaboration between Sergei Diaghilev and Jean Cocteau. With Cocteau's urging, Picasso became in charge of the costumes and set design for this production. Their romance was slow at first – she was chaste and required courting but Picasso was 35 and desperately wanted to start a family. When the ballet moved on to tour South America, Khokhlova ultimately stayed in Barcelona with Picasso.
They were finally married on July 12th, 1918 at a Russian Orthodox Church with Jean Cocteau serving as a witness. Back in Paris, the couple moved in next to Picasso's dealer Paul Rosenberg where the two slowly climbed up the ladder of society.
While summering in Dinard in 1922, Olga fell ill with "gynecological troubles".  She had to have surgery. She got ill again years later in 1928, which ended in a series of operations and periods of lengthy recovery. Marie-Thérèse Walter was a fixture in Picasso's life at this point. Khokhlova did not know about Walter for much of their affair, but she was aware of her husband's other indiscretions. She became – rightfully – jealous and resentful. Picasso fed off this negative energy in much of his art of Khokhlova at this time. Khokhlova finally left the clinic in 1929, and here proceeded a time of Picasso's double life between his wife and his mistress.
Like most of Picasso's women, Olga's life generates speculation and curiosity among many. Although she died in 1955 still legally married to Picasso, the idea of her being Picasso's first wife and mother to his first child resonates today.
References
Richardson,  John. 'Portraits of a Marriage,' Vanity Fair. December 2007. Accessed November 14, 2016. http://www.vanityfair.com/news/2007/12/picassos-wife-200712