The exhibition Calder-Picasso, curated by the two seminal artists' grandsons, Alexander S.C. Rower and Bernard Ruiz-Picasso, is the first major exhibition to put the relationship between these two master artists at the forefront by bringing together over 100 paintings, drawings, and sculptures. After a successful European tour with stops in Paris and Málaga, Calder-Picasso is making its United States debut at the de Young Museum in San Francisco. The exhibition revolves around the two artists' unique approaches to rendering space, or perhaps more accurately, non-space. Exploring themes such as line, volume, weight, and gravity, the exhibition investigates the ongoing impact of the interactions between these artists' distinct philosophies regarding the void, or empty space.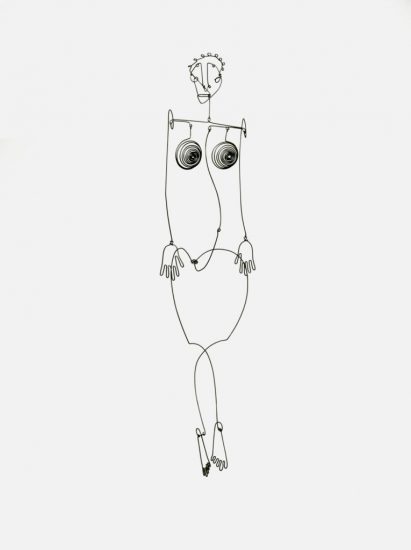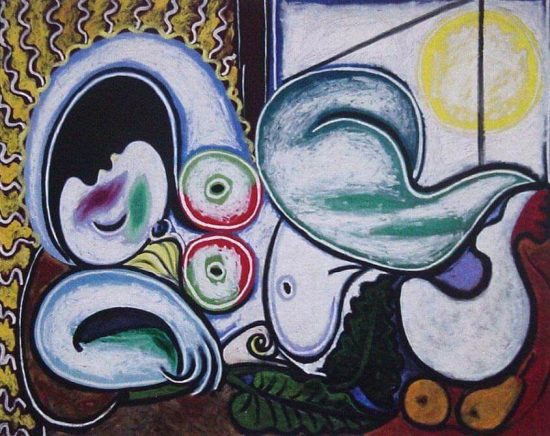 Calder and Picasso both worked and lived in Paris and even met in 1931, but the two could hardly be considered friends. The two did not even speak the same language (Calder knew little French, and Picasso did not speak English), but there is no doubt that their work was in conversation. The two often had pieces in the same shows, perhaps most notably at the 1937 World Fair held in Paris, where Picasso's Guernica and Calder's Mercury Fountain both resided in the Spanish Pavilion. It became apparent that the two artists, who would exhibit together multiple times in the future, were both wrestling with the same questions of abstraction, sparking a dialogue that would change the conception of art from that point forward. The exhibition is modeled to reflect this dialogue, designed as a sort of visual conversation between the two artists as they continually worked to represent the void in their artworks.
The two artists played with volume, dimensionality, and silhouettes, forming new ways to distort perceptions of reality. Calder's approach came readily in the form of sculpture, where he was clearly interested in understanding how space is occupied, a topic most frequently probed by connecting two and three dimensional forms through sculpture. His sculptures, such as his wire sculptures and famous mobiles, are composed solely of two-dimensional shapes that relate to each other just as much as they relate to the negative space around them. Included in the exhibition is Calder's iconic Aztec Josephine Baker, which exemplifies his interest in manifesting line drawing in three-dimensions. Picasso's approach to the void was both formal and emotional, coming through strongly in his paintings and drawings. The Picasso works chosen for the exhibition meditate on the friction between emptiness and fullness by skillfully abstracting figuration. This abstraction explores the tension between depth and geometry while also acting as a means of representing distortions of time and the emotional inner self. Though their approaches differed, Calder and Picasso shared core interests and their connection has had an indelible impact on art-making today.
Though an opening date has not yet been set for Calder-Picasso at the de Young, preparations for the show have been ongoing. Plans have been made to open the show as soon as February 26, pandemic restrictions allowing. It will be on view in San Francisco through May 23 before continuing its U.S. tour, traveling to Atlanta, then Houston. 
Pablo Picasso's Blue Period (1901-1904)
By Admin A on 19 May 2022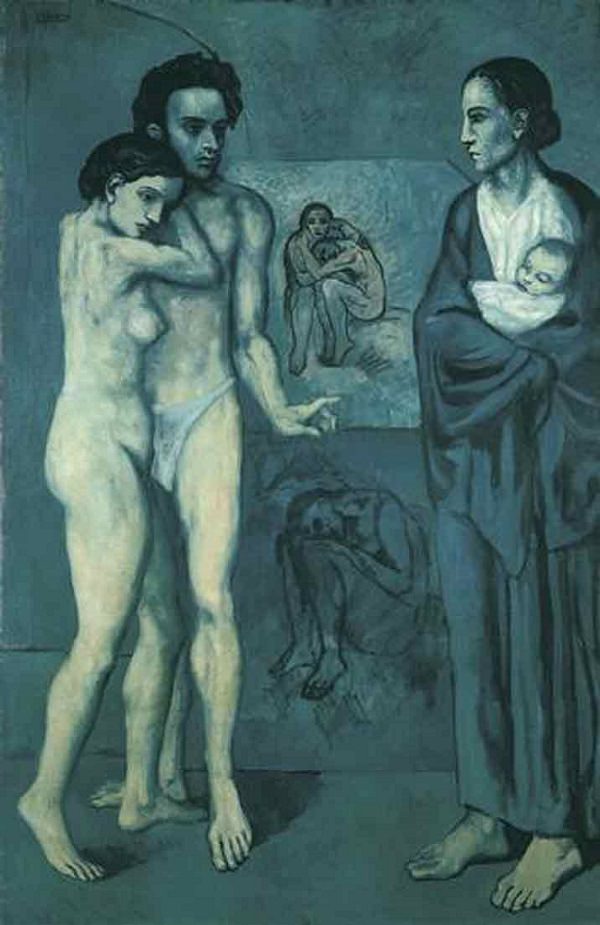 Pablo Picasso, La Vie, 1903.
Pablo Picasso Blue Period (1901-1904) and his Paintings:
Hailed as a defining moment in Pablo Picasso's artistic career, The Blue Period (1901-1904) was inspired by Picasso's own emotional turmoil and financial destitution. Following a journey through Spain and the suicide of his close friend and confidant Carlos Casagemas (1881-1901) in February 1901, Picasso's work took a dramatic turn. Casagemas, a poet, fell victim to unrequited love and ultimately took his own life after attempting to kill his scorned lover. His suicide had a deep and profound affect on Picasso, who was struggling as an unrecognized and poverty-stricken artist living in Paris at the time.
Beginning with several paintings memorializing Casagemas in late 1901, Pablo Picasso's themes grew solemn and dark. He adopted a nearly monochromatic palette of blues and blue greens and began to convey somber scenes of misery and misfortune. The monochromatic use of blue was commonly used in symbolist paintings in Spain and France, where it was often affiliated with the emotions of melancholy and despair, suggesting that Picasso drew inspiration for The Blue Period from his time spent in Spain observing these symbolist works.
"Picasso metaphorically allows his subjects to escape their fate and occupy a utopian state of grace. Some are afflicted with blindness, a physical condition that symbolically suggests the presence of spiritual inner vision."
The Blue Period also directed Picasso's attention to subjects of misfortune: beggars, drunks, prostitutes, and the crippled, hungry, sick, and destitute. However, rather than show the specific circumstances of their misfortune, Picasso elongated his subjects' forms, endowing them with a unique sense of haunting beauty and supernatural grace. As the National Gallery of Art (2014) suggests, by idealizing these figures, "Picasso metaphorically allows his subjects to escape their fate and occupy a utopian state of grace. Some are afflicted with blindness, a physical condition that symbolically suggests the presence of spiritual inner vision."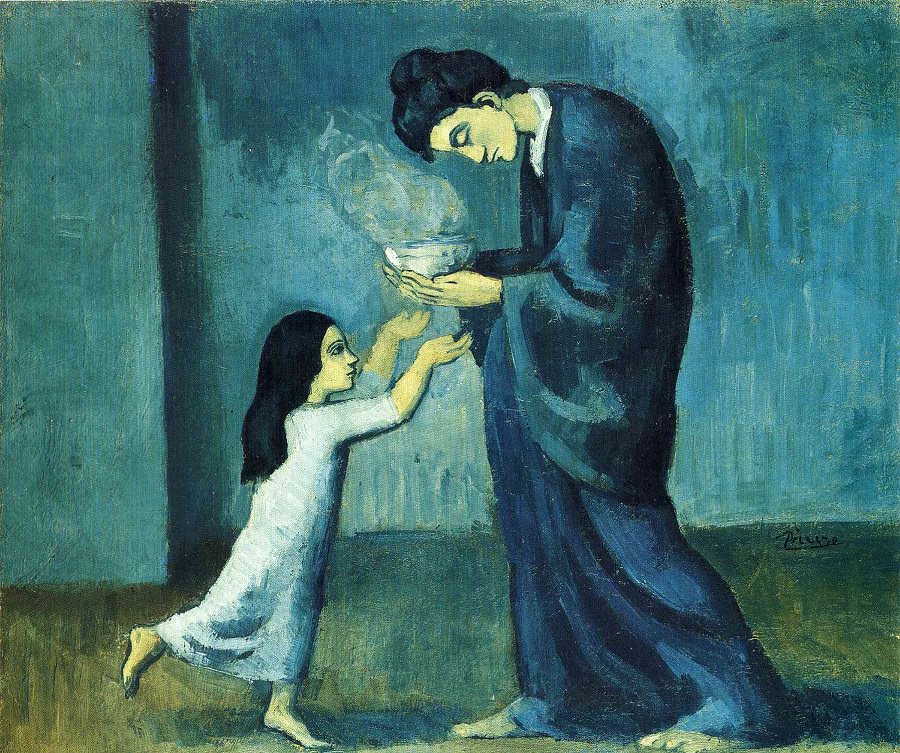 Pablo Picasso, The Soup, 1902.
Throughout the Blue Period, Pablo Picasso produced many works addressing symbolic, philosophical, and humanitarian themes. La Vie, one of Picasso's most iconic and mysterious works, has been interpreted (and disputed) by historians as an allegorical reference to birth, death, and redemption, the responsibilities of daily life, sexual incompatibility, and the struggles behind artistic creativity. A nude couple and a robed woman cradling a baby stand ominously before two paintings that depict figures crouched over in despair. The composition is stilted, the space compressed, the gestures stiff, and the tones predominantly blue – features characteristic of works from Picasso's Blue Period. La Vie began as a self-portrait, but Picasso soon found his own features transforming to those of his lost friend Casagemas (the male figure on the left), perhaps suggesting the very personal nature of this work.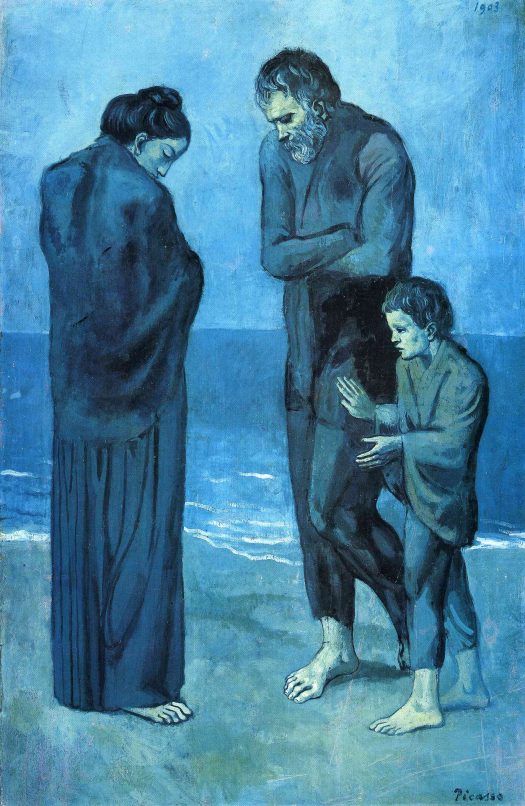 Pablo Picasso, The Tragedy, 1903.
While Picasso worked predominantly as a painter during The Blue Period, he also created phenomenal prints in the style of The Blue Period. These marvelous prints are often created after the image of renowned Picasso paintings, such as The Embrace and The Two Saltimbanques (Harlequin and his Companion). Picasso also incorporated pochoir, or hand-applied watercolor, to the majority of these prints, further contributing a sense of texture and emotion. Picasso's journey into the dark depths of The Blue Period transformed his career as an artist. As a result, these prints, created in the style of The Blue Period, are amongst Picasso's most valuable and desirable prints in today's market. While The Blue Period ultimately defined Picasso as a modern artist, it serves as a reflection of Picasso's own melancholy nature during a difficult period in his life. Furthermore, it highlights Picasso's immense ability as an artist to channel his own misery and hardship into a revolutionary form of artistic expression.
REFERENCES: