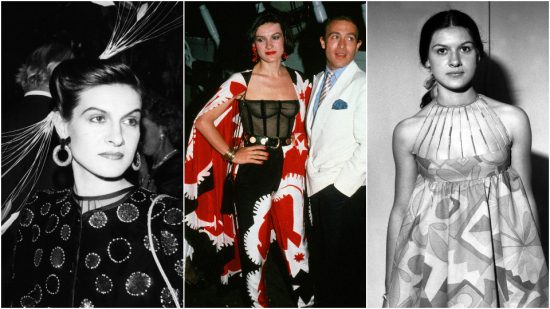 With Pablo Picasso as her father and Francoise Gilot, a talented artist of her own, as her mother, Paloma Picasso was surrounded by creatives her whole life.
Paloma Picasso is the daughter of Pablo Picasso and Francoise Gilot. She was born on April 19th, 1949, as Anne Paloma Ruiz-Picasso y Gilot in Vallauris, France. She is a successful fashion and jewelry designer, gaining notoriety for her designs for Tiffany & Co. of New York. Paloma began her career as a costume designer in Paris in 1968. Using rhinestones bought at local markets, Paloma fashioned her own original jewelry designs that drew critical attention. Following this success, Paloma attended formal design school for jewelry making. She began showing her friend her designs, fashion couturier Yves Saint Laurent, who immediately commissioned her work. By 1971, she was working for Zolotas, a Greek jewelry company.
With Pablo Picasso as her father and Francoise Gilot, a talented artist of her own, as her mother, Paloma was surrounded by creatives her whole life. As she became established within the art scene herself, she befriended many other artists, designers and socialites. She was a very close friend of Yves Saint Laurent, and was a muse to both him and artist Andy Warhol. Paloma was often seen at Factory parties and could often be found out on the town with Warhol and his entourage.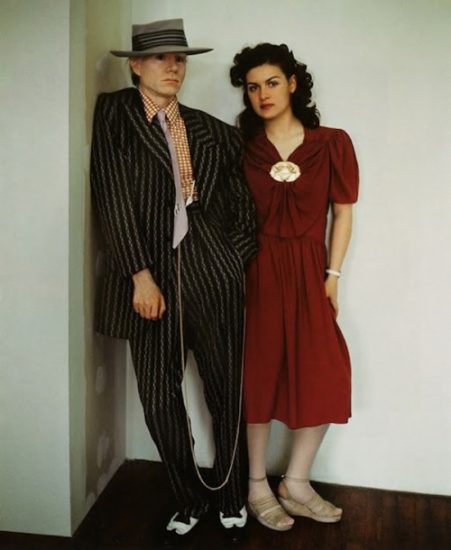 Paloma was also a muse to her father, who featured her in numerous paintings, such as Paloma with an Orange and Paloma in Blue. But while the designer clearly has artistic talent, when asked if she ever wanted to follow in her father's footsteps, her answer was always no. "Everyone thought I would become a painter but my mother said, 'All children paint, but if they keep painting after 14 then you know they'll become a painter'. And at the age of 14 I stopped doodling," she told Harper's Bazaar in an interview in 2018.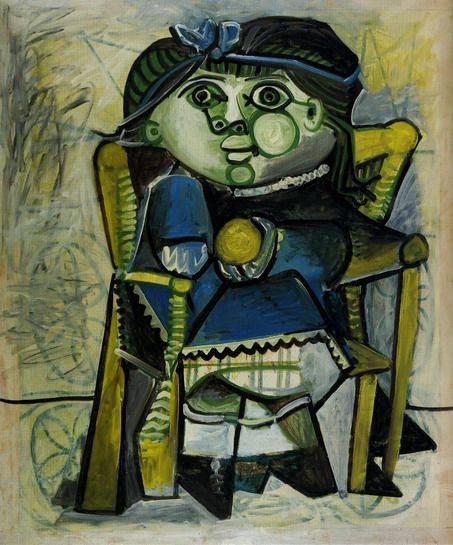 In the 1980s, Paloma began designing for Tiffany & Co and has been the company for over 40 years. Many of her designs are inspired by places around the world, like Marrakesh, Morocco and Venice, Italy. She thinks of herself as artistic, but not an artist, incorporating her client's desires into her work. 
"When you're an artist you have to ask and answer the question at the same time, whereas when I design, the question is to design for the person who's wearing my jewellery."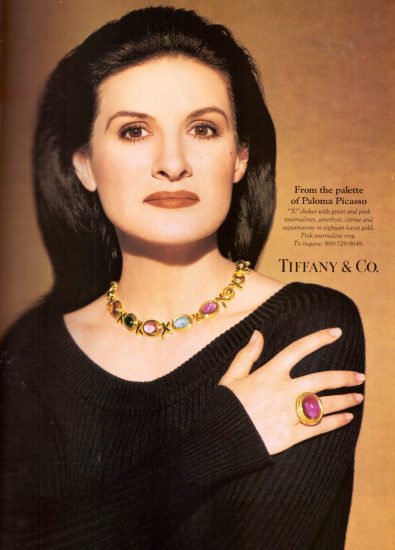 Since 1983, Paloma has been a member of the International Best Dressed List, and has also been known for her beauty and fashion sense. The color red has become her signature. She began wearing red lipstick at the age of six and the makeup choice became part of her look, calling the red lipstick her "calling cards." Her red lips combined with her angular beauty made her extremely recognizable, and she has been known to leave the red lipstick at home when she wants to be incognito in public. 
Paloma married playwright and director Rafael Lopez-Cambil (also known as Rafael Lopez-Sanchez) in 1978, but the couple later divorced. In 1999, Paloma Picasso married Dr. Eric Thévenet. They live together in Lausanne, Switzerland and in Marrakech, Morocco.
Paloma Picasso Artwork
The young artist's potential can be seen in childhood, nurtured by two parents' expertise, Pablo Picasso and Françoise Gilot. Paloma Picasso still never went beyond her small number of drawings from her childhood despite having access to other mediums. The drawings include line work and silk screen prints of bold neon colors reminiscent of tropical fish. Despite these few adolescent meanderings, Paloma was decidedly not a painter, but has been featured in her fathers paintings a time or two in retrospective situations sometimes alongside her sibling.
Paloma's only full brother, Claude Picasso, became a photojournalist, also foregoing their father's painting legacy in exchange for other artistic outlets. Claude did, however, bring into existence the Picasso Administration to assist in legal and copyright matters of Pablo's art, including those of his somewhat estranged children. The two full siblings are depicted playing together in a painting by Picasso made in 1950, titled "Claude at Paloma a joue" which features a red and black rug that Paloma says influences much of her artistic style, as well as "Claude et Paloma, " a duller composition. Not many other paintings of the same nature have been reported.