Recently, three Pablo Picasso drawings have come up for auction. The drawings are all figure drawings, featuring nude models in various poses. They are incredible examples of Picasso's more traditional naturalistic artwork, as opposed to his more famous cubist work. The artist had a strong artistic foundation in traditional art, with his early art education coming from his father who was a professor. 
The most recent drawing up for sale, titled Deux femmes nues se tenant, was created by Picasso in 1906 and shows two nude female models standing together. The drawing is quite simple and austere, highlighting Picasso's mastery of line and shape. The drawing went up for auction at Lempertz auction house, based in Germany, in their Modern and Contemporary Art Evening Sale on July 19, 2020. The work was estimated to sell for 400,000 ­- 500,000 EUR ($447,477 – $559,346 USD) and ended up selling for 325,000 EUR Premium ($363,575 USD). The hammer price was most likely lower than the estimate due to the economic hardship from the current COVID-19 pandemic affecting people everywhere.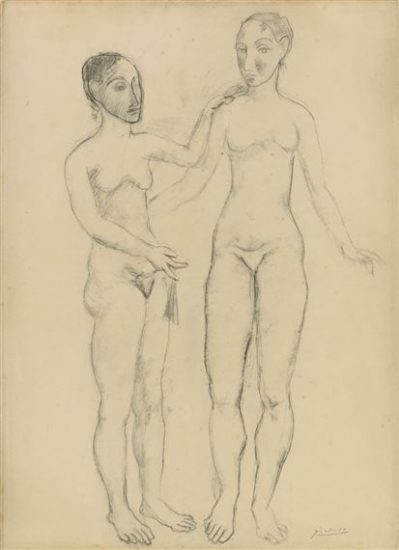 On June 14, 2019, the drawing La Source / Femme au chien, 1921 went to auction at Galerie Kornfeld Bern in Switzerland. The line drawing features a reclining female model in the nude holding a vase pouring water with a dog lapping it up at her side. The work clearly calls on ancient Greek imagery and motif, a constant source of inspiration for Picasso throughout his career. The composition is simple yet alluring and captures the viewer's attention despite the lack of any color or shading. The work was estimated to sell for 200,000 CHF ($200,160 USD) in their Art of the 19th to 21st Centuries: Part 1 auction. The hammer price exceeded the estimate at 210,000 CHF ($210,168 USD).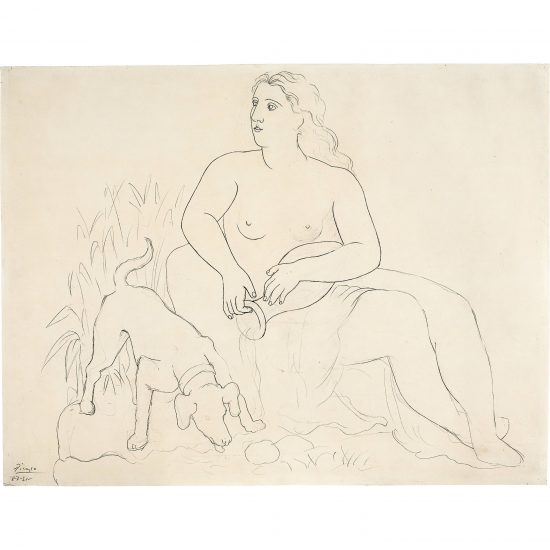 Picasso's Homme nu couché, 1967 went to auction on November 30, 2018, in Lempertz auction house's Modern Art sale. This drawing is the most abstracted out of the three with loops of colored lines supplementing the line drawing of a reclined nude model. The work showcases Picasso's artistic hand, as it's easy to see the artist's process and technique. It was estimated to sell for 360,000 -­ 400,000 EUR ($407,608 -­ $452,898 USD) at auction, and ended up with a hammer price of 688,000 EUR Premium ($778,985 USD), far surpassing the expected amount.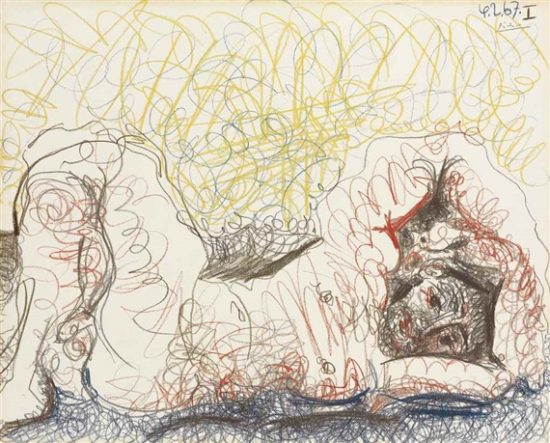 Qatar Museums Unveils "Picasso's Studios" Exhibition
By on 09 Jul 2020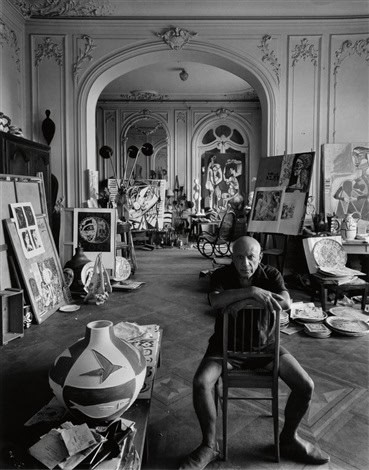 Throughout his long artistic career, Pablo Picasso worked in eight studio spaces around France: Le BateauLavoir, Studio at rue Schoelcher, Castle at Boisgeloup in Normandy, Studio at rue des Grands-Augustins, Fournas Studio, Studio of "La Californie," and Vauvenargues Castle to the Mas de Notre Dame de Vie in Provence. A new exhibition Picasso's Studios opened in the Fire Station: Artists in Residence space at Qatar Museums on July 1, 2020. The exhibition was curated by Virginie Perdrisot-Cassan, Curator of Paintings (1921-1973), Sculptures and Ceramics at the Musée national Picasso-Paris.
Picasso's Studios follows the artist's work chronologically through each of his studio spaces. It offers a new look into Picasso's art practice and the physical spaces he created in. The exhibition includes eight distinct galleries, each representing a studio and the subsequent period of his career that Picasso worked there.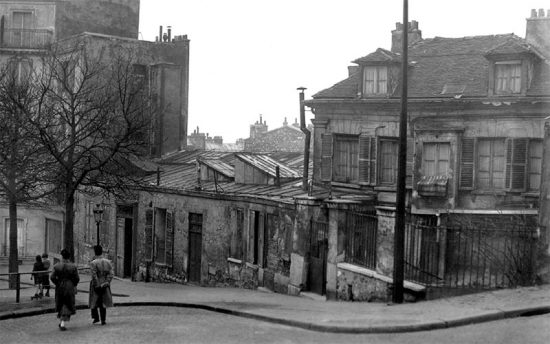 Sheikha Reem Al Thani, Director of Exhibitions at QM, said: "We are absolutely delighted to finally be able to share with the public this exceptional exhibition we have organised in collaboration with the Musée national Picasso in Paris. Picasso's Studios is a celebration of a great artist's career and gives us a unique view into his art practice. All the works at one time belonged to the artist's personal collection, and all are grouped within the exhibition to recall the places in which they were created. It is especially appropriate that we are presenting Picasso's Studios at the Fire Station: Artist in Residence, where outstanding contemporary Qatari artists produce and show their work in Doha today."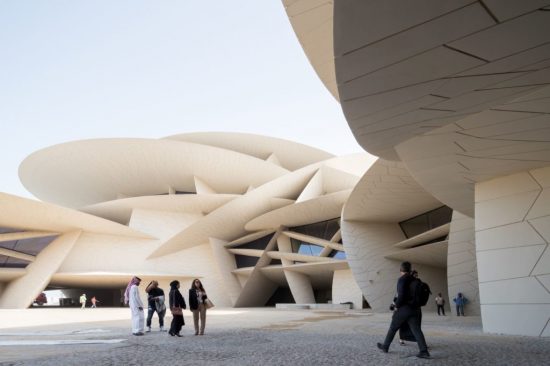 Starting with Picasso's arrival to Paris in 1900, the exhibition spans eight decades of the artist's life, ending with his final years in the 1970s on the Mediterranean. Picasso's Studios is part of the 2020 Qatar-France Year of Culture, a Qatar Museums initiative devoted to connecting the two countries' people and institutions through art and cultural exchanges.
"Pablo Picasso, one of the most influential artists of his generation, spent most of his adult life in France where he fell in love with the country and its riviera towns. We are pleased to bring this outstanding exhibition to Qatar as part of our Year of Culture programme, and introduce the collection of one of France's most iconic museums to our audiences," says Aisha Ghanem Al Attiya, Head of Years of Culture, QM of the exhibition.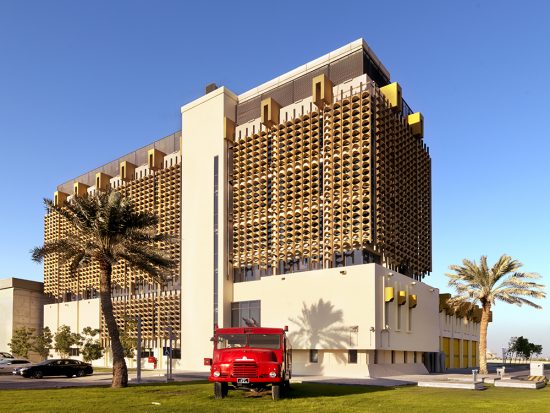 Visitors may reserve tickets in advance on the Qatar Museums website. The museum is following health and safety precautions as instructed by the government, including limiting the number of visitors, requiring a 'green' health status on the Ehteraz virustracing app, monitoring temperature of visitors upon arrival and requiring masks at all times for visitors over the age of 12 years old. 
$26 Million Picasso Vandalised at Tate Modern
By on 08 Jan 2020
On December 28th, a visitor at the Tate Modern attacked Pablo Picasso's original work Buste de Femme (Bust of a Woman), 1944, valued at $26 million. The 75-year-old oil painting, created by one of the most influential and prolific artists in history, has now been removed from public view and awaits word from conservation experts.
The Tate Modern in London is one of the most popular tourist destinations in the UK and one of the most influential art galleries in the world.  The gallery has an extensive collection of works, including several by Pablo Picasso. His Buste de Femme (Bust of a Woman), 1944 was created in the artist's studio at Rue des Grands-Augustins during the closing months of the Nazi occupation in Paris. The painting illustrates the artist's ex-lover, Dora Maar, the woman credited with documenting the process of Picasso's Guernica in 1937. Maar, a French photographer, painter and poet well-known is Surrealist circles, met Picasso in 1936 and is, to her dismay, famously depicted by him as a woman in perpetual sorrow.
In the work housed by the Tate Modern, Dora Maar is portrayed in a similar fashion in this work to that of another prominent representation of her entitled The Weeping Woman; pieces of color are juxtaposed together to create a scintillating portrait in an explicitly cubist manner. In Buste de Femme, 1944, the image that Picasso creates is one of both beauty and consternation. The composition is devised of geometric forms in purple, green, yellow, blue and red which collectively produce the portrayal of the artist's muse. The woman that Picasso illustrates is beautiful in her rendering, though she exhibits a morose fear in her expression. Despite her talent and success as an artist, Picasso has often regarded Maar as a sorrowful pitiful woman; this depiction of her reflects such sentiment. The woman sits wide-eyed in the center of the work with a fearful look on her face. Her gaze draws the viewer in to an intimate moment of vulnerability.
The celebrated work of art was tarnished on Saturday, December 28th by 20-year-old Shakeel Ryan Massey of North London. Museum security quickly apprehended him, but not before he managed to tear a rip in the $26 million canvas. Because of the damage, the work was removed from public view. Massey was taken into custody, though he denies any responsibility in damaging the painting. He has been denied bail and is being held in police custody until January 30th when his pre-trail hearing will take place.
Representatives of the Tate Modern have declined giving a statement on the severity of the damage inflicted on the work. However, the work is being assessed by conservation experts in an attempt to eventually restore the work to its former glory.
What was Picasso's inspiration?
By on 30 Dec 2019
Pablo Picasso, born in 1881 in Malaga, Spain, and died in 1973 in Mougins, France, was an active artist for most of his long life. His father was an artist himself, was Picasso's first and most formative art teacher. Picasso has one of the most prolific creative careers in history, and his work was not only loved by art lovers around the world, but it was also incredibly influential for artists everywhere. But what was Picasso's inspiration? What inspired these famous works? 
Picasso went through many creative phases in his career. These phases have been labeled as "periods" and show the different styles and mediums he was experimenting with during that time in his life. Picasso's "Blue Period" started in 1901 and lasted until 1904. During this period, Picasso painted mostly in cool blue and green tones, sometimes using a warmer color to accent his works. These pieces have a melancholy about them, and are quite somber, featuring scenes of poverty and desolation. What was Picasso's inspiration to start painting in this way? In the spring of 1901, one of Picasso's dear friends, a painter and poet named Carlos Casagemas, committed suicide in a cafe in Paris. Picasso was deeply affected by his death, and sank into a depression that lasted several years. Picasso's journey through his grief and depression is clearly reflected in his "Blue Period."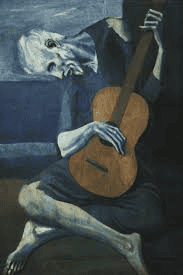 In 1904, Picasso moved to Montmartre in Paris, and settled into the community of bohemian artists and creators there. Coming out of his depression over his friend's death, Picasso moved on from dark and serious subjects in his paintings to more lighthearted compositions featuring harlequins, clowns and carnival performers. His color palette warmed up as well, with his paintings now bathed in reds, oranges, pinks and earth tones. This period would be known as Picasso's "Rose Period" and it lasted until 1906. So what can be credited with this major shift in his work? Picasso met a woman named Fernande Olivier in 1904 and they began a relationship that lasted seven years. Olivier would be the first of a long line of women who were muses and lovers to Picasso over the years. This relationship and the end of his bout of depression signaled a more positive phase of Picasso's life. The overall tone of his work during this period is much more carefree and less somber.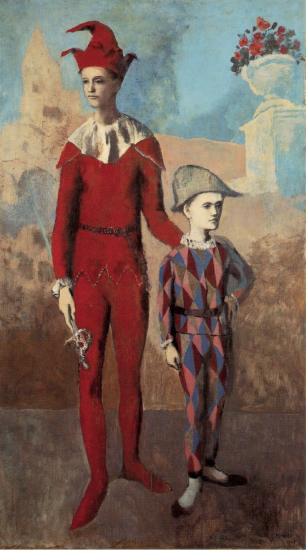 Citing beautiful women as inspiration would become a theme in Picasso's life, all the way up until his death. Picasso has been quoted saying: "For me there are only two kinds of women, goddesses and doormats." He often became obsessed with a young woman and she became an artistic muse for him, inspiring many works. All of the women Picasso took as either wives or lovers were painted by the artist. His second wife Jacqueline Roque was the subject of over 400 portraits by Picasso, and was a great source of inspiration to him.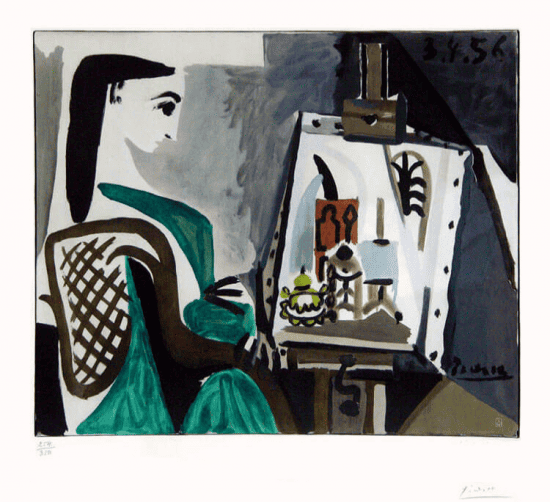 From 1906-1909 Picasso was heavily inspired by African art, after he was exposed to traditional African masks and other art objects coming from Africa into French museums in Paris. This phase has been called his "African Period," and was a precursor to his most famous period, "Cubism." Influenced by Paul Cezanne's experimentation with three-dimensional spacing and perspective, Picasso and Georges Braque pioneered the artistic movement known as Cubism. This way of breaking down a form to its most basic forms and reconstructing them in an abstracted way is what Picasso is most known for.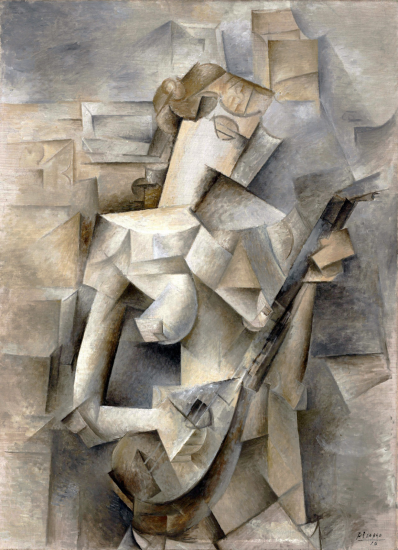 So what can we say was Picasso's inspiration?
Throughout his life, Picasso's inspiration came in many different forms. Whether it be working through his emotions, responding to a difficult life event, meeting a beautiful young woman, an intense love affair or the work of his fellow artists, Picasso took inspiration from everywhere in his life. In turn, his life's work has inspired and influenced millions of people around the world and forever changed the history of art. There is no denying the power of Picasso's creative mind, and the effects of his stylistic experimentation in Cubism shaped the artistic movements that followed him. As an artist who would come to influence so many artists himself, Picasso is a pillar in the modern art world with a fascinating life full of inspiration. 
Pablo Picasso: Sylvette
By on 22 Oct 2019
Pablo Picasso, one of the most prolific and well-known artists in history with nearly 50,000 known works, is famed for his recalcitrant invention of Cubism alongside Georges Braque. The artist was also known as it happen for his, often controversial, chronicles with women. Picasso had several muses over the course of his lifetime which appeared in his work. One notable young woman who Picasso chose to immortalize in more than 60 works is Sylvette David.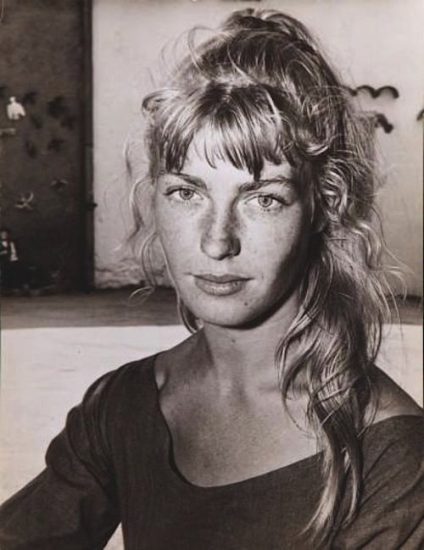 David and Picasso first met in Vallarius in 1954 at an exhibition where her fiancé, Toby Jellinek, was showing. Picasso had one of Jellinek's chairs delivered to his studio where he presented a portrait of the 19-year-old drawn from memory and asked her to pose for him. This meeting would inspire several drawings and sculptures as well as 28 paintings over the course of just a few months.  Life Magazine referred to this interval as his "Ponytail Period," and it imparted instant fame to David. High ponytails fashioned after the artist's depictions of Sylvette gained immense popularity in France during the summer of 1954. One of the most memorable works that likely sparked this development was his Sylvette, 1954. The work features the model from the waist up posed in profile and rendered in the classic Picasso Cubist style with great emphasis placed on the elegance of her polished hairstyle.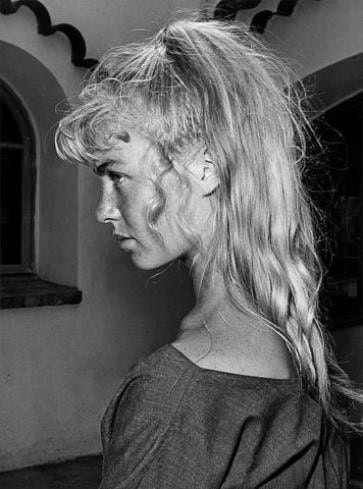 At the time of their meeting, Picasso's personal life was in shambles; at 73, his wife Francoise Gilot had just left him. In his old age he seemed to have found comfort in the shy youthfulness of Sylvette. However, she did not succumb to the charms of the renowned artist and they maintained a purely professional relationship for the duration of their time together. The portraits of Sylvette flamed out after Picasso met his next love, Jacqueline Roque. The women who Picasso claimed as muses are legendary for losing their minds following their respective relationships with the artist. Sylvette, however, survived unscathed and went on to pursue her own artistic career.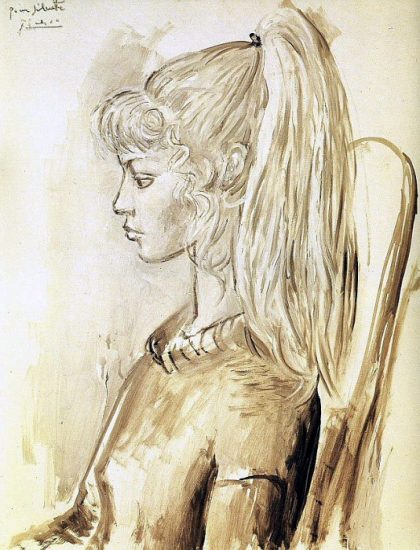 Contemporary critics tend to discount this body of work because of its ephemerality; the high ponytail and the button down coats which Sylvette often sports in Picasso's depictions of her were French trends of the 1950s and therefore, according to some, lack the qualities of notable work in the course of art history. However, the series of works that David modeled for is often regarded as Picasso's only successful attempt at drawing from a model, and the beauty of the work is undeniable. The legacy of the works featuring the 19 year old endures in the work of Sylvette, now known as Lydia Corbett, herself. Though she was able to avoid the so-called madness which so tragically afflicted the other women in Picasso's life, his influence is still clear in her oeuvre today.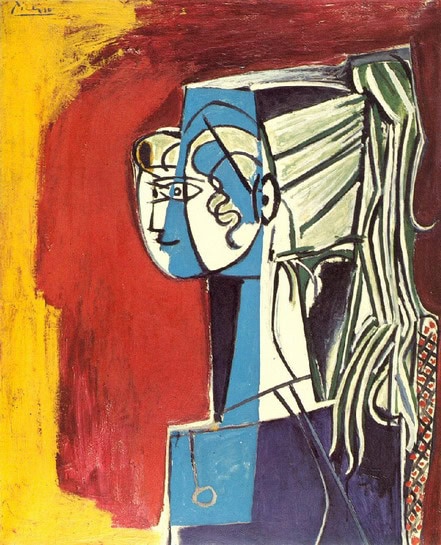 Similar portraits of women by Pablo Picasso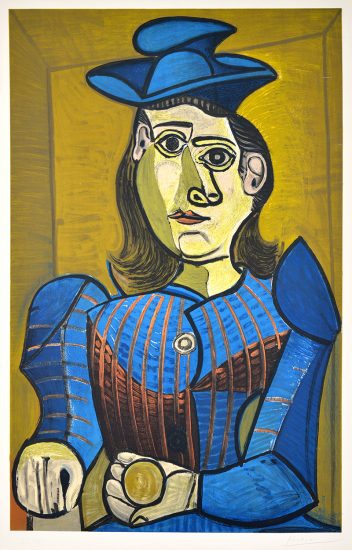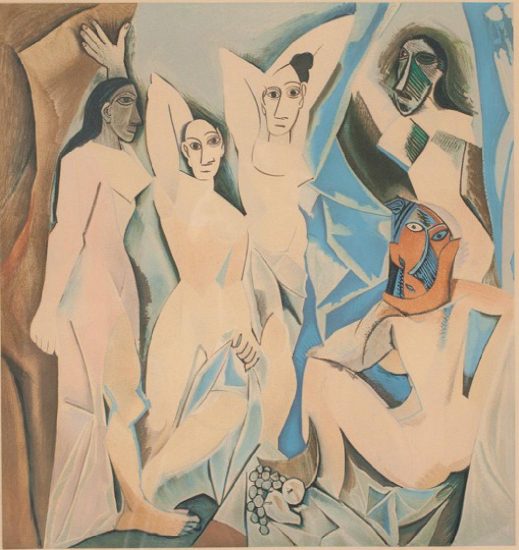 Pablo Picasso's Cubism on the Catwalk: Picasso's Unparalleled Style Inspires Moschino's 2020 Fashion Show
By on 22 Oct 2019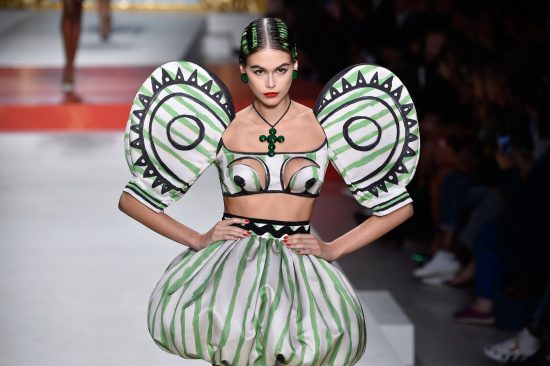 The worlds of fashion and fine art collide in Moschino's spring 2020 Milan fashion show. Milan's fashion week took place on the 17th – 23rd of last month in September. Moschino, the fashion power haus made a tasteful attempt to commemorate the modern master Pablo Picasso ( Málaga, 1881- Mougins, 1973). The show featured supermodels such as Bella Hadid, Joan Smalls, Cara Taylor and more strutting down the catwalk, breathing life into some of Picasso's most recognizable works. The Moschino creative director did not limit himself to one specific moment in Picasso's artistic career, pieces in the show reflect all periods it.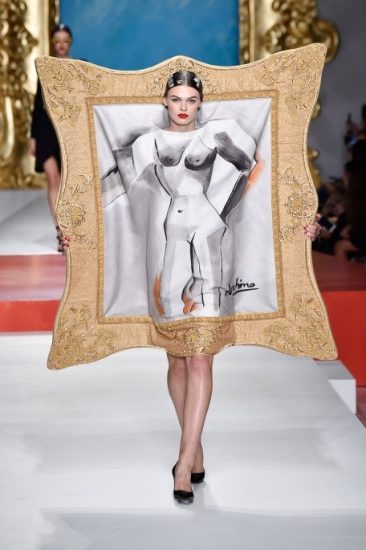 Head creative designer and owner of the Moschino label Jeremy Scott was inspired by Picasso and the muses in his work, he was quoted saying "Muses inspire artists and artists inspire the world." The muses that Scott refers to are the abounding female cameos that function as subjects in many of his paintings, prints, ceramics, etc. Unarguably, Picasso's consistent reference to the female subject alludes to the major role that the feminine had in Picasso's lifetime. The female models in this show would be intended to embody this vision. In preparation for this show, Scott spent a great deal of time researching these women of Picasso's life. He states: "He painted so many portraits of the same women over and over again," Scott adds, "His wives, his lovers, even his daughters. It got me thinking about the Picasso woman."  The women that drew most of his attention were painter Françoise Gilot and surrealist photographer Dora Maar. These women were two among a profuse amount of women featured in the work of Picasso, but what made them special to Scott were their own personal successes as artists and the exemplary way in which Picasso illustrated them. Both Gilot and Maar were illustrated in Picasso's cubist style which seemingly defies reality. Jeremy Scott attempted to emulate this in the garments featured in this spring 2020 show.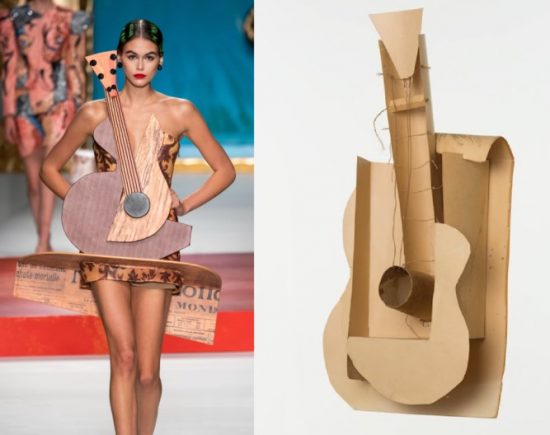 Ensembles from the show defy reality. Symmetry, angles, and shapes are distorted in respect to traditional cubist principles. This fractured and geometric style can be seen worn in one piece that is a rendition of his famous sculptural collage, Guitar (1912-1914). This dress encompasses many of the elements that Picasso utilized in his own collage work. Found materials such as wood linoleum and newspaper clippings as seen in collage works like Au Bon Marché (1913), are represented in this dress. Although impressive, Scott was cautious when creating this line. Many of these garments go against all practicality, making them difficult for the average consumer to wear on a day-to-day basis. To overcome this, the creative team at Moschino fashioned more minimalist elements to these ensembles that would make these designs more accessible. Subtle trouser sets and simple black dresses accompany some of the larger and more extravagant pieces like this wearable painting complete with a frame. This piece was regarded as the highlight of the show, and it is clear why as it brings a new sense of dimensionality to Picasso's work. Scott turns a conventionally two dimensional work of art into something that is three dimensional and can be worn. This wearable frame, Guitar dress and like others in this collection combine all of Picasso's signature cubist elements in a nuanced way that is able to reach a greater audience. This collection is set to release and hit Moschino retailers in Spring of 2020.