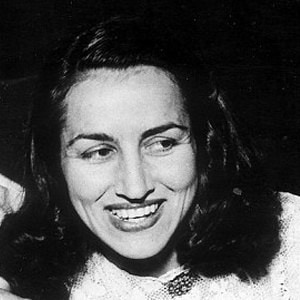 Françoise Gilot was born in 1921 in Paris, France to Emile Gilot and Madeleine Renoult-Gilot and passed away in New York on June 6th 2023 at age 101. Her father was an agronomist and her mother was an artist specializing in watercolors and ceramics. Her father was overbearing and had very different ideas for Françoise's life than she had for herself. At the age of 5 after attending a party at her grandmother's house, Gilot determined that she wanted to be an artist. Her mother Madeleine began tutoring her in watercolors at age 7, and in 1934 Gilot began taking weekly classes with her mother's old art teach, Mlle. Meuge. In this same year, Gilot met Genevieve at her school. Genevieve would play a large role in her early art, as well as being a close and intimate friend to Gilot throughout their adolescence and young adulthood. Gilot set up her first studio in 1938 in her grandmothers attic.
She achieved a BA in Philosophy from Sorbonne, and completed an English degree at Cambridge. In 1939 near the beginning of the war, Gilot was sent by her father to law school in Rennes, where she was pushed to pursue international law. Much of Gilot's early work was destroyed in World War II. In 1940, during a protest, Gilot was one of many placed on a list of hostages that were not allowed to leave the city of Paris and had to report to local authorities every morning. At the time the Germans were very suspicious of French law students, so Gilot left during her second year. In 1941, her father paid for Gilot to be taken off the list, but she could not yet safely resume her studies.
The first meeting between Gilot and Pablo Picasso occurred in 1943, when they were dining next to one another in a restaurant. He approached her table with a bowl of cherries and started talking to Gilot and her friend Genevieve. At the time, Gilot and Genevieve were putting on a show, to which they invited him to. Around this time, Gilot made the final decision to fully embrace her artistic career, which caused her to become estranged from her father. During the next three years Picasso and Gilot saw much of each other as she continued to work on her art and travel.
In 1946, Picasso convinced a reluctant Gilot to move in with him, and they began their romance. She bore him two children: Claude and Paloma. The new family moved to Vallauris in 1948, following the start of Picasso's interest in pottery and ceramics. Gilot and Picasso would split their time between Vallauris and Paris, as they worked on their art and raised their children. One of the reasons that Picasso was attracted to Gilot was because she was his intellectual equal. She became the only woman to leave Picasso in 1953, after enduring his temper for 10 years.
In 1954, Gilot met Luc Simon, an artist, and the two married in 1955. Together they had a daughter, Aurelia, and though they had a happy marriage, eventually they split in 1961, remaining on good terms. During this time, Gilot faced some backlash from ending her relationship with Picasso. An art dealer who used to exhibit her work terminated her contract due to pressure from Picasso, his other client. In 1957 Gilot obtained a new contract with Galerie Coard and continued to create and exhibit her work in Paris. Throughout the mid-1960's her reach grows, and she began to exhibit internationally.
Gilot published Life with Picasso in 1964, which gave an incredible, and overall not glowing, account of her life with the artist. Picasso was outraged and sued three times in an attempt to stop further publishing of the book. He failed in each and eventually admitted defeat to Gilot in the last conversation they ever had.
In 1970 Gilot married Jonas Salk, the creator of the polio vaccine. They had a happy marriage that ended with his abrupt death in 1995. Since then, and during this time, Gilot continued to create her art and exhibit all over the United States and the world. She spent much of her time between La Jolla, where Salk lived, and New York and Paris where she maintained studios. Her vast oeuvre speaks for itself and the incredible life that Gilot has built with her own two hands.
On Tuesday, June 6th 2023 the prolific and acclaimed artist died at the Mount Sinai West Hospital, where she was suffering both lung and heart problems. The artist leaves behind a legacy as a painter for more than half a century, a daughter, and a turbulent relationship and history with Pablo Picasso. "She was an extremely talented artist, and we will be working on her legacy and the incredible paintings and works she is leaving us with," Gilot's daughter, Aurelia Engel said. And for Engel, her mother's key legacy was not only her creativity but her courage, reflected in her art, which was always changing, never staying safe.
"She was not without fear. But she would always confront her fears and jump in the void and take risks, no matter what."
Reference:
The F. Gilot Archives. Accessed October 12, 2016. http://www.francoisegilot.com/frames.html
Kazanjian, Dodie. "Life After Picasso: Françoise Gilot," Vogue, April 27th, 2012. Accessed October 12, 2016. https://www.vogue.com/article/life-after-picasso-franoise-gilot
Lacher, Irene. "A Place of Her Own: Culture: Francoise Gilot, Picasso's former love and Jonas Salk's wife, wants to be known not as the companion of great men, but as their equal," LA Times, March 6th, 1991. Accessed October 12, 2016. http://articles.latimes.com/1991-03-06/news/vw-83_1_francoise-gilot
Press, T. A. (2023, June 7). Françoise Gilot, the famed artist who loved and then left Picasso, is dead at 101. NPR. https://www.npr.org/2023/06/07/1180663349/francoise-gilot-the-famed-artist-who-loved-and-then-left-picasso-is-dead-at-101