In 1946, while visiting the annual pottery exhibition in Vallauris, Pablo Picasso had the good fortune to meet Suzanne and Georges Ramie. The Ramies owned the Madoura workshop, a ceramics studio in Vallauris, where Picasso, who was eager to delve into a new medium, made his first venture into ceramics. He became so enthralled with ceramics that he decided to move to Vallauris to pursue his new passion.
Picasso lived in the small, scenic town of Vallauris from 1948 to 1955. He bought and transformed Les Fournas, a former perfumery in Vallauris, into his studio, where he worked prolifically. Located in the south of France, Vallauris was renowned for its pottery. During his time in Vallauris, Picasso worked extensively, creating many ceramics, sculptures, linocuts, and paintings, including his masterpiece "War & Peace", a diptyque that was installed in the chapel of the Château de Vallauris in 1959. It was also in Vallauris where Picasso first developed a fascination with two mediums: ceramics and linocuts.
Picasso loved the malleability of clay and the fiery firing process, which transformed clay into stunning works of ceramic art. He experimented with varied shapes, forms, textures, enamels, and glazes, innovating the ceramics medium. Picasso's approach was anything but conventional- he would melt clay like bronze, fashion mythical creatures directly in the glaze, and tirelessly decorate plates and dishes with his favorites subjects, such as bullfights, women, owls, goats, fauns, and fish. He incorporated surprising and innovative materials into his craft and invented white paste, which is a ceramic that has not been glazed and decorated with pieces in relief.  These white paste works are amongst the most stunning and desirable Picasso ceramics to date.
Picasso went on to create thousands of ceramics in the Madoura ceramic studio. Incollaboration with Suzanne and Georges Ramie and the skilled ceramicists at the Madoura studio, Picasso shaped plates, dishes, vases, jugs, and other earthenware utensils and then painted and decorated them with enamel and metal oxides. Picasso was particularly fascinated by the use of metal oxides, as their very nature meant that he never quite knew how the end product would look.
Just as Picasso collaborated with master printers to create editions of his printed works, Picasso collaborated with Suzanne and Georges Ramie to create set editions of his ceramic works. Today, these Picasso ceramics are amongst the most valuable and desirable works of Picasso's entire artistic oeuvre. The diversity of form and range of subject matters found within Picasso ceramics lend them a rareness and unique charm that contributes to their increased demand in the art market.
In addition to ceramics, Picasso also became fascinated with the linoleum cut (or linocut) medium while living in Vallauris. Printer Hidalgo Arnera introduced Picasso to the linocut medium, initially suggesting linocuts as a suitable medium for producing posters. However, in his trademark fashion, Picasso pushed the boundaries of the linocut medium, creating astounding linocuts that remain amongst his most renowned and valuable prints to date. While Picasso's first linocuts were used as posters to advertise the bullfights and ceramic exhibitions in Vallauris, he quickly transformed the linocut medium into a unique form of expression unlike anything the world had every seen, predominantly by placing increased emphasis on color and form.
Linoleum cuts (or linocuts) are a type of relief printmaking in which the artist-engraver cuts into a linoleum block to form a design. The remaining negative surface is then inked and printed.  Desirable for their boldly graphic compositions, delightful use of ornamental patterns, expressive treatment of color, and superior handling of line, Picasso linocuts are collectible for their vibrant imagery and as relics of Picasso's cherished time spent in Vallauris.
Picasso was an iconic and important figure in Vallauris' history. He became a freeman of Vallauris and greatly contributed to the renaissance of the Vallauris pottery industry in the 1950s. Picasso also demonstrated his commitment to civic duty by creating linocut posters for Vallauris' annual ceramic fairs and bullfights.
Following Picasso's departure from Vallauris in 1955, Vallauris remained an important part of Picasso's life. He retained fond memories of his time spent living in Vallauris, where his lover Francois Gilot and their children Claude and Paloma Picasso often accompanied him. Picasso would return to Vallauris at later points in his life to revisit the bullfights, exhibitions, and old friends and acquaintances.  In fact, Vallauris was so dear to Picasso that he married his second wife Jacqueline Roque in great secrecy at the Vallauris town hall in 1961.
Picasso's presence in Vallauris shaped the town's history. Following his move there, other artists, such as Victor Brauner and Marc Chagall, rushed to work in the ceramic studios in Vallauris. Today, the Musee National Picasso in Vallauris pays homage to the artistic inspiration and personal happiness that Picasso found in Vallauris.
REFERENCES:
Pablo Picasso: A Family Affair
By on 13 Nov 2018
When Pablo Picasso passed away without a will, he left behind more than 45,000 works which have become the center of personal and financial struggle between his heirs. The artist was survived by 4 children from 3 different women. They are as follows: Paulo (with Olga Khokhlova), Maya (with Marie-Thérèse Walter), and Claude and Paloma (with Francoise Gilot). Paulo, the artist's only legitimate son, passed away in 1975. His children Marina and Bernard Picasso now join Claude, Paloma and Maya as official heirs to the estate.
The heirs at the center of the estate negotiations are Claude and Paloma. The relationship between them with their father has been challenging. Their mother, Francoise Gilot, left Picasso after a ten year affair, and is the only lover to ever leave the artist. In 1964, she published a book titled Life with Picasso which infuriated Picasso and led him to bar Paloma and Claude from his home. Despite this severed relationship, the two children were eventually able to gain shares of the estate through a 1972 law which protected illegitimate offspring.
Since then, Claude Picasso has been named legal administrator of Picasso's estate and is now the head of the Picasso Administration, an organization that manages the licensing of Picasso's name. The administration oversees a huge variety of legal concerns. Each year, an annual report is largely dedicated to court cases that have been settled or are pending.  Given the wide variety of objects (automobiles, pens, lingerie) which have acquired Picasso's name, it is not surprising that the administration is constantly enmeshed in legal battles. Despite their persistence in protecting the artist's name, there still remain hundreds of illegal brands titled "Picasso" around the world. In regards to Picasso's artworks, Claude remains the official authenticator and receives on average almost 1000 requests for authentication annually. The verification process can be complicated, given the scholarship required and the necessity for Claude to view the works in person.
We can only imagine the Picasso Administration will strengthen its authority as the market for Picasso works continues to soar. The range of Picasso collectors has grown exponentially to include regions such as Asia and the Middle East. Just last year, there were 34 Picasso exhibitions in total around the globe. One recent exhibition which generated great excitement was MOMA's Picasso Sculpture. The exhibition was well received for revealing the lesser known aspects of the artist's expansive oeuvre. As such, Picasso's name also retains its value in the commercial art market.  In May, 2015 Picasso's 1955 painting Les Femmes d'Alger (Version "O") was sold by Christie's for the astounding price of $179 million. This marked the record as the most expensive artwork ever sold at auction.
Evidenced by the popular museum exhibitions and the high auction prices, the wealth and renown of Picasso and his family will continue to grow. Given their status within the art world, the family has been incredibly philanthropic. For instance, the majority of the heirs have donated Picasso's works to museums. Several works have also been auctioned in order to support various charities. Recently, it was announced that Picasso's studio in Paris would be transformed into a research and educational center of the arts. This project is headed by the Maya Picasso Foundation for Arts Education and you may find more information here:
http://observer.com/2015/07/picassos-parisian-studio-becomes-a-monument-at-long-last/
Without a doubt, the heirs place their father's legacy and career above personal conflicts. Their contributions will surely provide for the next generation of artists and scholars who will continue to expand our knowledge of the modern master.
More on Pablo Picasso:
Pablo Picasso and his Women, Picasso's artistic style thru the years
Jacqueline Roque Biography
By on 13 Nov 2018
Jacqueline Roque was born in 1927 in Paris, France. Her father left her family when she was relatively young, and her mother passed away when Jacqueline was only 18 years old. She married André Hutin in 1946 and together they had a daughter, Catherine. Their family moved to Africa for some years for Hutin's job, but in 1952 the pair separated and Jacqueline and Catherine moved back to France. At this time, she began work in the Madoura Pottery in Vallauris.
Jacqueline Roque met Pablo Picasso at Madoura in 1952 and began modeling for him. Picasso was then living in the area with Françoise Gilot and their two children, Claude and Paloma. Their relationship was dwindling, and it was not long until Françoise left Picasso for good. Picasso and Jacqueline moved in to his La Californie villa together in 1954, when she was in her late twenties, and him in his early seventies. The love between them was immediate and obvious, as was Jacqueline's devotion to Picasso. Some have had harsh words for her because of how she secluded Picasso from friends and family during the last 20 years of his life, but ultimately one cannot dispute that this was a very productive artistic period for him. Jacqueline continued to be a great muse for him until the end of his life, and there are more depictions of her than of any of Picasso's other lovers. The two were married in 1961 after the death of Olga, Picasso's first wife.
After Françoise Gilot's book Life with Picasso was published, Picasso cut off contact with his children Claude and Pomona – it is unclear how much Jacqueline had to do with this. Picasso's grandchildren have stated that when they went to visit their grandfather, Jacqueline would make them wait a very long time before seeing him. After Picasso died, this animosity did not let up – Jacqueline barred some of his family from his funeral, and battled his children over his estate. Ultimately, they all came to a compromise and the Musée Picasso was established. In 1986, distraught over the death of her husband and lover, Jacqueline committed suicide.
References
Dorment, Richard. "Picasso's Saddest Love," The Telegraph. January 14th, 2004. Accessed October 17th, 2016. http://www.telegraph.co.uk/culture/art/3610082/Picassos-saddest-love.html
Kimmelman, Michael. "Picasso's Family Album," The New York Times. April 28th, 1996. Accessed October 17th, 2016. http://www.nytimes.com/1996/04/28/magazine/picasso-s-family-album.html
Kino, Carol. "Jacqueline Roque: Picasso's Wife, Love & Muse," The Wall Street Journal. September 30th, 2014. Accessed October 17th, 2016. http://www.wsj.com/articles/jacqueline-roque-picassos-wife-love-muse-1412090662
Riding, Alan. "Grandpa Picasso: Terribly Famous, Not Terribly Nice," The New York Times. November 24th, 2001. Accessed October 17th, 2016. http://www.nytimes.com/2001/11/24/books/grandpa-picasso-terribly-famous-not-terribly-nice.html
Walther, Ingo F. (ed). Pablo Picasso: 1881-1973 – Volume II. Cologne: Benedikt Taschen, 1994.
Pablo Picasso's Blue Period (1901-1904)
By on 24 May 2019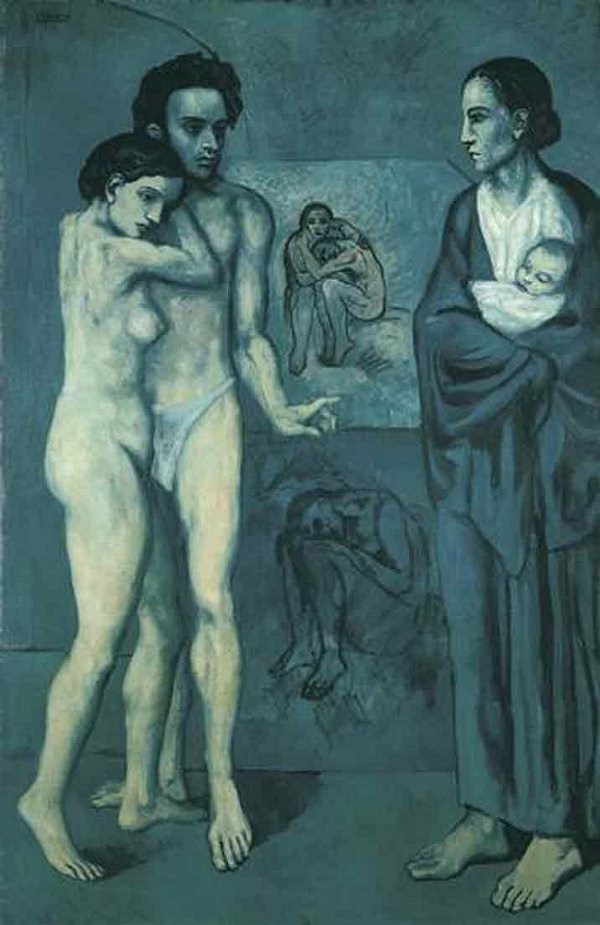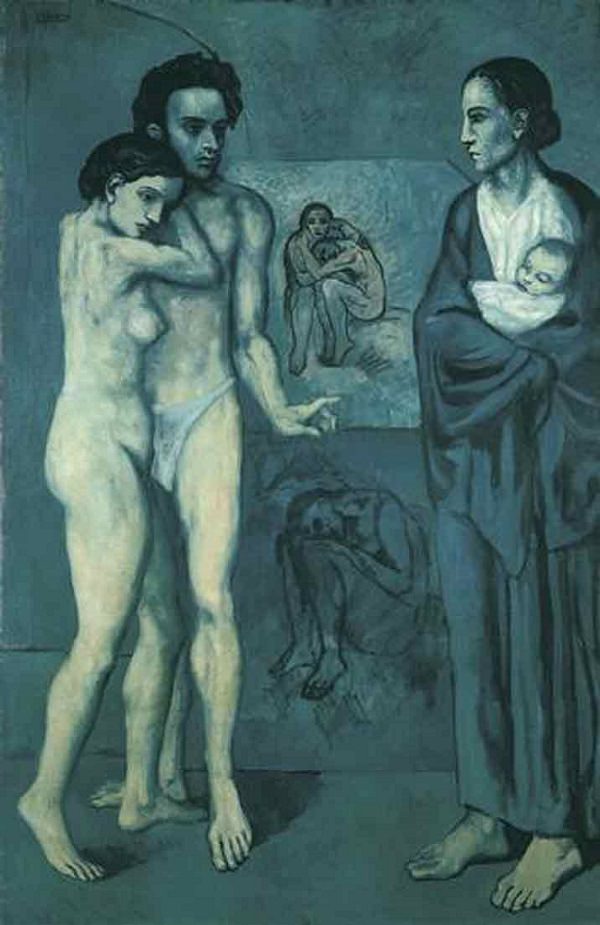 Pablo Picasso, La Vie, 1903.
Pablo Picasso Blue Period (1901-1904) and his Paintings:
Hailed as a defining moment in Pablo Picasso's artistic career, The Blue Period (1901-1904) was inspired by Picasso's own emotional turmoil and financial destitution. Following a journey through Spain and the suicide of his close friend and confidant Carlos Casagemas (1881-1901) in February 1901, Picasso's work took a dramatic turn. Casagemas, a poet, fell victim to unrequited love and ultimately took his own life after attempting to kill his scorned lover. His suicide had a deep and profound affect on Picasso, who was struggling as an unrecognized and poverty-stricken artist living in Paris at the time.
Beginning with several paintings memorializing Casagemas in late 1901, Pablo Picasso's themes grew solemn and dark. He adopted a nearly monochromatic palette of blues and blue greens and began to convey somber scenes of misery and misfortune. The monochromatic use of blue was commonly used in symbolist paintings in Spain and France, where it was often affiliated with the emotions of melancholy and despair, suggesting that Picasso drew inspiration for The Blue Period from his time spent in Spain observing these symbolist works.
"Picasso metaphorically allows his subjects to escape their fate and occupy a utopian state of grace. Some are afflicted with blindness, a physical condition that symbolically suggests the presence of spiritual inner vision."
The Blue Period also directed Picasso's attention to subjects of misfortune: beggars, drunks, prostitutes, and the crippled, hungry, sick, and destitute. However, rather than show the specific circumstances of their misfortune, Picasso elongated his subjects' forms, endowing them with a unique sense of haunting beauty and supernatural grace. As the National Gallery of Art (2014) suggests, by idealizing these figures, "Picasso metaphorically allows his subjects to escape their fate and occupy a utopian state of grace. Some are afflicted with blindness, a physical condition that symbolically suggests the presence of spiritual inner vision."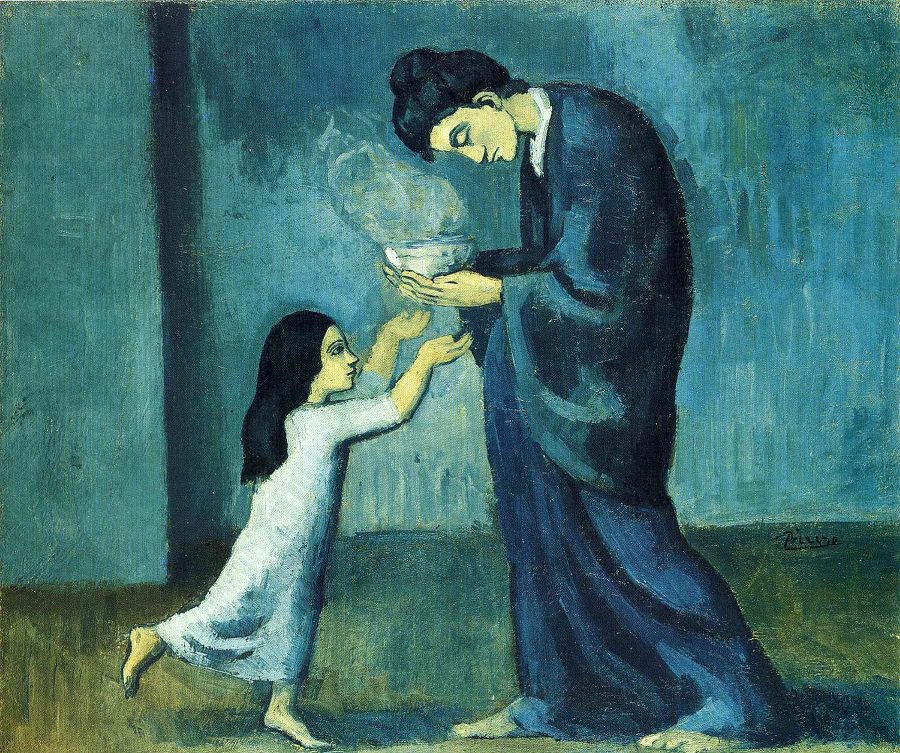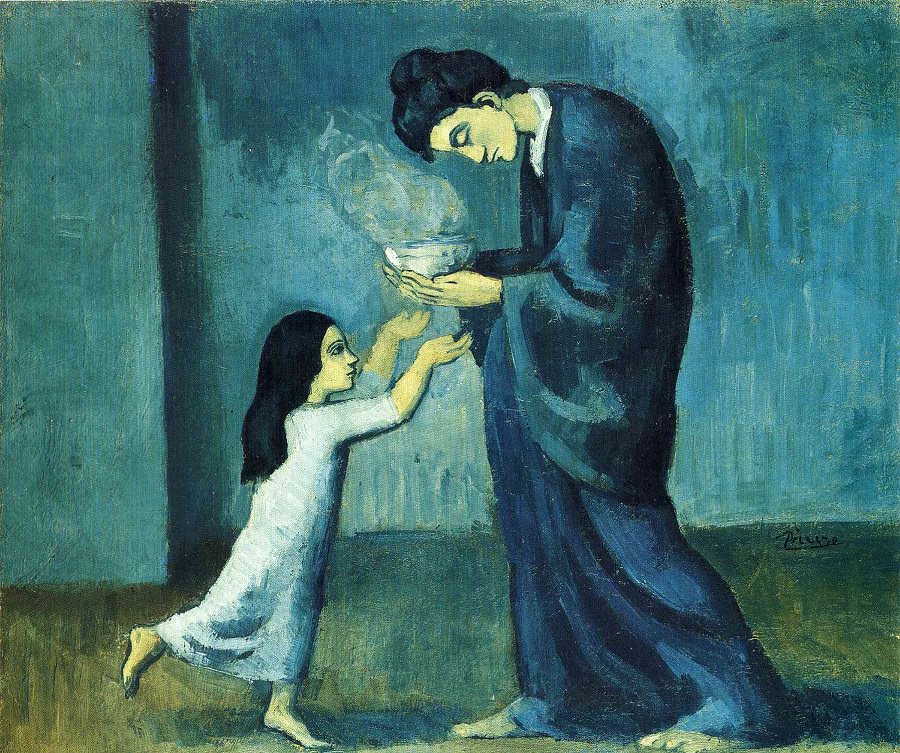 Pablo Picasso, The Soup, 1902.
Throughout the Blue Period, Pablo Picasso produced many works addressing symbolic, philosophical, and humanitarian themes. La Vie, one of Picasso's most iconic and mysterious works, has been interpreted (and disputed) by historians as an allegorical reference to birth, death, and redemption, the responsibilities of daily life, sexual incompatibility, and the struggles behind artistic creativity. A nude couple and a robed woman cradling a baby stand ominously before two paintings that depict figures crouched over in despair. The composition is stilted, the space compressed, the gestures stiff, and the tones predominantly blue – features characteristic of works from Picasso's Blue Period. La Vie began as a self-portrait, but Picasso soon found his own features transforming to those of his lost friend Casagemas (the male figure on the left), perhaps suggesting the very personal nature of this work.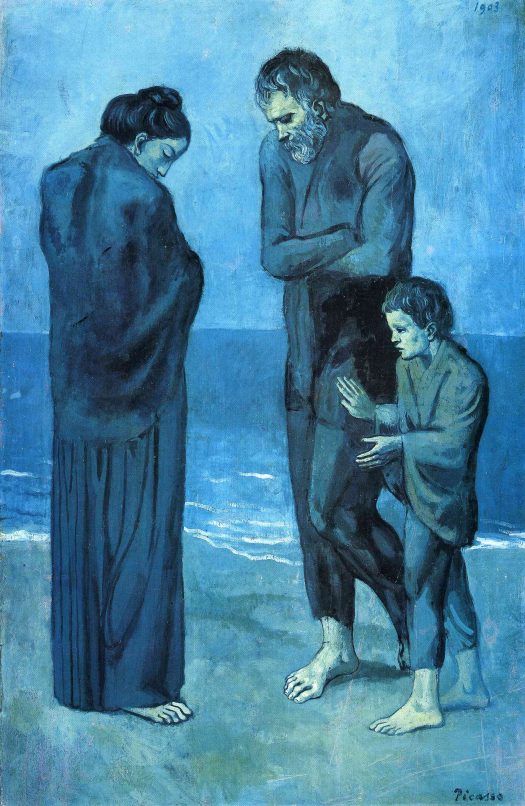 Pablo Picasso, The Tragedy, 1903.
While Picasso worked predominantly as a painter during The Blue Period, he also created phenomenal prints in the style of The Blue Period. These marvelous prints are often created after the image of renowned Picasso paintings, such as The Embrace and The Two Saltimbanques (Harlequin and his Companion). Picasso also incorporated pochoir, or hand-applied watercolor, to the majority of these prints, further contributing a sense of texture and emotion. Picasso's journey into the dark depths of The Blue Period transformed his career as an artist. As a result, these prints, created in the style of The Blue Period, are amongst Picasso's most valuable and desirable prints in today's market. While The Blue Period ultimately defined Picasso as a modern artist, it serves as a reflection of Picasso's own melancholy nature during a difficult period in his life. Furthermore, it highlights Picasso's immense ability as an artist to channel his own misery and hardship into a revolutionary form of artistic expression.
REFERENCES: