Gertrude Stein was born in 1874 to a German-Jewish family that had emigrated to the United States in the 1840's. She was born in Allegheny, Pennsylvania across the river from Pittsburg. When Gertrude was a young child, her family left Pennsylvania and lived for a few years in Vienna and then Paris. They eventually returned to the United States and the family moved to Oakland, California. Following the early deaths of her parents, her eldest brother Michael took over the family business, and Gertrude was sent to live with extended family in Baltimore. Gertrude had always been close to her older brother Leo Stein, and a year after he started school at Harvard, she joined him in Cambridge at Harvard Annex – later this would become Radcliffe College. Gertrude studied philosophy and psychology at Radcliffe, and after graduation she and Leo moved to Baltimore together, where she began her studies in medicine at John Hopkins University. It was during her time there that Gertrude had her first romance with a woman – May Bookstaver.
Leo left Baltimore and moved to Florence in 1901 after the siblings had traveled around Europe for a summer. Gertrude lost much of her interest in medicine at this point, and left Johns Hopkins in 1901 without earning her degree. She continued to travel with Leo in the following years, almost settling down in London, but eventually they decided on Paris. Leo moved first, and Gertrude joined him in the fall of 1903 at 27 rue de Fleurus. At this point Leo had decided to become a painter, and Gertrude a writer. The elder brother Michael, his wife Sarah and son Allan moved to Paris a few months later. They remained in Paris for 30 years and were very successful art collectors, in particular sharing a close friendship and patronage with Henri Matisse.
It is unclear whether Gertrude had an interest in art history before her career as an art collector began, but it is probable that Leo was the catalyst for their art collecting. They were persuaded by a friend to visit Ambroise Vollard at his shop, and bought a Paul Cézanne from him in 1904 – this visit left a great impression on Gertrude. When they later came into some money, they bought many more works from Vollard including some minor works by already acclaimed artists, but also some works by lesser known artists Cézanne, Renoir, and Gauguin.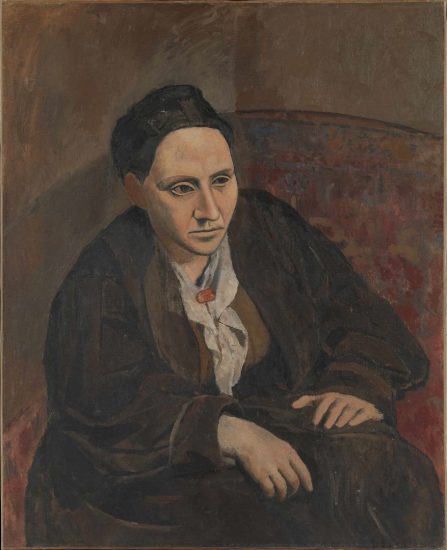 Pablo Picasso Gertrude Stein, 1905-6
It was in 1905 that the Stein's encountered the talents of Henri Matisse and Pablo Picasso. They purchased a Matisse Woman with a Hat from the Salon d'Automne in October. At this time, Matisse and fauvism were not very desired by art collectors – in this, Gertrude was on the forefront. The same year they were introduced to the works of Picasso by notoriously untrustworthy art dealer Clovis Sagot. He suggested that the Steins go see a small show where a Spanish artist – the real deal – was showing some of his work. The Steins ended up being great patrons of Picasso, who was immediately interested in Gertrude. So much so that he painted an uncommissioned portrait of her as a gift in 1906. Gertrude, in return, stuck by Picasso into his Cubist period at a time when many of his other patrons and dealers were becoming less enthused with his art.
Leo and Gertrude cut ties in 1912 and did not see one another again for the remainder of their lives. Gertrude began a lifelong partnership with Alice B. Toklas, after whom her most famous book The Autobiography of Alice B. Toklas is named. The two remained in Europe during World War II despite both being Jewish, and it is thought that this was made possible (along with the safekeeping of their art) by Vichy collaborator Bernard Faÿ. There is much controversy surrounding Gertrude Stein's political leanings as well as her actions during and after World War II – however it seems clear that she was at least a sympathizer of France's pro-Nazi government, if not a collaborator.
Gertrude died in 1946 of stomach cancer following a surgery. Her art was left to her partner Alice B. Toklas.
References
Giroud, Vincent. Picasso and Gertrude Stein. New York: Metropolitan Musuem of Art, 2006.
Greenhouse, Emily. 'Why won't the MET tell the whole truth about Gertrude Stein?' The New Yorker, June 8th 2011, accessed October 7th, 2016 http://www.newyorker.com/culture/culture-desk/why-wont-the-met-tell-the-whole-truth-about-gertrude-stein
Lubow, Arthur. 'An Eye for Genius: The Collections of Gertrude and Leo Stein,' Smithsonian Magazine, January, 2012. Accessed October 7th, 2016 http://www.smithsonianmag.com/arts-culture/an-eye-for-genius-the-collections-of-gertrude-and-leo-stein-6210565/?no-ist