Marc Chagall

Biography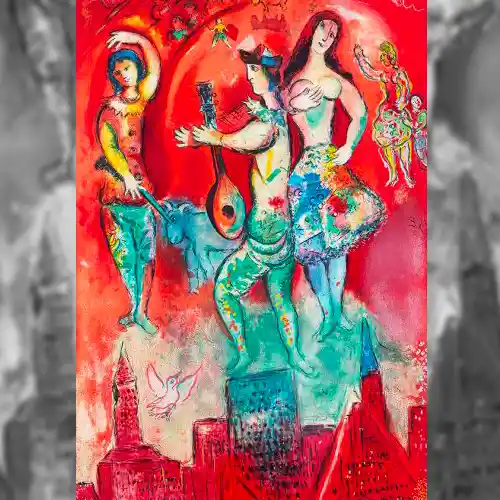 Marc Chagall was born July 7, 1887, in Vitebsk, Belarus. From 1907 to 1910, he studied in Saint Petersburg, at the Imperial Society for the Protection of the Arts and later with Léon Bakst. In 1910, he moved to Paris, where he associated with Guillaume Apollinaire and Robert Delaunay and encountered Fauvism and Cubism. Chagall is known for his colorful and illustrative paintings. He participated in the Salon des Indépendants and the Salon d'Automne in 1912. His first solo show was held in 1914 at Der Sturm gallery in Berlin.
Chagall visited Russia in 1914, and was prevented from returning to Paris by the outbreak of war. He settled in Vitebsk, where he was appointed Commissar for Art in 1918. He founded the Vitebsk Popular Art School and directed it until disagreements with the Suprematists resulted in his resignation in 1920. He moved to Moscow and executed his first stage designs for the State Jewish Chamber Theater there. After a sojourn in Berlin, Chagall returned to Paris in 1923 and met Ambroise Vollard. His first retrospective took place in 1924 at the Galerie Barbazanges-Hodebert, Paris. During the 1930s, he traveled to Palestine, the Netherlands, Spain, Poland, and Italy. In 1933, the Kunsthalle Basel held a major retrospective of Marc Chagall's paintings.
During World War II, Chagall fled to the United States. The Museum of Modern Art, New York, gave him a retrospective in 1946. He settled permanently in France in 1948 and exhibited in Paris, Amsterdam, and London. During 1951, he visited Israel and executed his first sculptures, moving away from his paintings. The following year, the artist traveled in Greece and Italy. During the 1960s, Chagall continued to travel widely, often in association with large-scale commissions he received. Among these were windows for the synagogue of the Hadassah-Hebrew University Medical Center, Jerusalem, installed in 1962; a ceiling for the Paris Opéra, installed in 1964; a window for the United Nations building, New York, installed in 1964; murals for the Metropolitan Opera House, New York, installed in 1967; and windows for the cathedral in Metz, France, installed in 1968. An exhibition of the artist's work from 1967 to 1977 was held at the Musée du Louvre, Paris, in 1977-78, and a major retrospective was held at the Philadelphia Museum of Art in 1985. During his lifetime he also created popular lithographs, such as Maternity, based on his paintings. Chagall died March 28, 1985, in Saint-Paul-de-Vence, France.
"When Matisse dies," Pablo Picasso remarked, "Chagall will be the only painter left who understands what color really is." Picasso claimed he was not a fan of the "flying violins and all the folklore, but his canvases are really painted, not just thrown together." He followed up by saying, "There's never been anybody since Renoir who has the feeling for light that Chagall has."
The Museum of Biblical Art describes The Bible Chagall prints as showing "Chagall's fluid forms, dreamlike sense of space and unique style. In his choice of subject matter, Chagall reveals his reading of the Old Testament in its moments of triumph, sorrow, and prophecy." Chagall paintings often illustrated biblical and mythological stories in a way that showed the viewer the message while remaining visually intriguing. Today Chagall paintings are made more accessible through the plethora of prints the artist created of his paintings.
MARC CHAGALL PRINTS
As an artist who delved into the whimsical, Chagall found that his timing was impeccable when he moved to Paris, which was at the time the centre of the modern art world and abuzz with Cubism. While Cubism was becoming the dominant movement of the time, much of the French art establishment was still under the thumb of older 19th century ideas, which made Chagall's appearance to the art scene feel like a breath of fresh air, his ideas of art as coming from inside, being an outwards projection of one's mind and psychic being that allowed him to incorporate new trends, such as futurism and orphism.
It was during this time that Chagall had his first commercial successes. He became an integral part of what later became known as the Ecole de Paris. Some of his paintings from this period, like Paris Through the Window, show his very successful attempts to fit into his new milieu, while others, like The Birthday, and I and the Village are filled with nostalgia for his old life in Vitebsk. The range of emotive and whimsical figures and motifs in Chagall's work led André Breton to say that he alone had returned metaphor triumphantly to modern painting.
Chagall travelled all over the world as his reputation of a painter and illustrator of high repute grew. Though he was in Berlin for a brief period, he had learned his techniques of engraving while he was there before departing back to Paris in 1923. While in Paris, through his friend Cendrars, he was introduced to the renowned Paris art dealer and publisher Ambroise Vollard who personally facilitated the growth of Vincent van Gogh, Paul Cezanne, Pablo Picasso, and more. Vollard had commissioned Chagall to illustrate Nicolai Gogol's "Les Ames Mortes (Dead Souls)", as well as the French literary classic "Fables" written by Jean de la Fontaine, resulting in an extensive collection of some of Chagall's most evocative works. Chagall also began creating a series of etchings and engravings that illustrated the Bible in 1931 at the behest of Vollard. Chagall created 65 etchings from 1931 to 1939, but the escalation of the Second World War and Vollard's sudden death halted the ambitious commission until 1952. The artist finally completed the extensive undertaking four years later.
Marc Chagall's artwork are steeped in his Jewish heritage, often including memories of his home in Vitebsk, Belarus and in Vitebsk, Belarus and it's folk culture. These subjects are the themes that Chagall always returns to. Some have argued that his painting style after the war was more subdued, melancholy, even hearkening back in time to post-Impressionism, but as ever, his work was entirely, uniquely his own. Chagall, throughout his career, incorporated elements from many schools of modern art, including Cubism, Fauvism, Symbolism, Surrealism, Orphism and Futurism. Ever though, his work revealed deeper levels of a resonant, lyrical emotional aesthetic, of music and culture, of a deep, intrinsic understanding of Jewish heritage.
The Russian master continued to rival the artistic achievement of paint with the technical refinement and emotional charge of lithography. Ironically, Marc Chagall only began to entrust the medium when he was 63 years old, though he is widely-considered to have revolutionized and innovated the practice's color capabilities.