Édouard Manet

Biography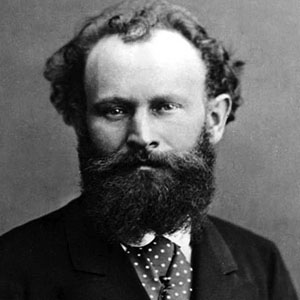 Édouard Manet was born on January 23, 1832, in Paris. While studying with Thomas Couture from 1850 to 1856, he drew at the Académie Suisse and copied the Old Masters at the Musée du Louvre. After he left Couture's studio, Manet traveled extensively in Europe, visiting Belgium, the Netherlands, Germany, Austria, and Italy. In 1859 he was rejected by the official Paris Salon, although Eugène Delacroix intervened on his behalf. In 1861, Edouard Manet paintings were accepted by the Salon and received favorable press, and he began exhibiting at the Galerie Martinet in Paris. During the early 1860s his friendships with Charles Baudelaire and Edgar Degas began. The three paintings Manet sent to the Salon of 1863, including Le Déjeuner sur l'herbe, were relegated to the Salon des Refusés, where they attracted the attention of the critic Théophile Thoré.
In 1865 Manet's Olympia and Christ Mocked were greeted with great hostility when shown at the Salon. That year the painter traveled to Spain, where he met Théodore Duret. He became a friend of Emile Zola in 1866, when the writer defended him in a controversial article for the periodical L'Evènement. In 1867 Zola published a longer article on Manet, who that year exhibited his work in an independent pavilion at the Paris World's Fair. The artist spent the first of several summers in Boulogne at this time. In 1868 two of his works were accepted by the Salon but were not shown to advantage.
The dealer Paul Durand-Ruel began buying his work in 1872. That same year The Battle of the Kearsarge and the Alabama was shown at the Salon, and Manet traveled to the Netherlands for the second time. The poet Stéphane Mallarmé, who met the artist in 1873, wrote articles about him in 1874 and 1876 and remained a close lifelong friend. Manet declined to show with the Impressionists in their first exhibition in 1874. That summer he worked at Gennevilliers and Argenteuil with Claude Monet and the following year he visited Venice. In 1876 he exhibited Olympia and two paintings rejected that year by the Salon at his own studio. From 1879 to 1882 Manet participated annually at the Salon. In 1880 he was given a solo exhibition at Georges Charpentier's new gallery, La Vie Moderne, Paris. In 1881 Manet, then ailing, was decorated with the Légion d'Honneur. He died on April 30, 1883, in Paris. A memorial exhibition of his work took place at the Ecole des Beaux-Arts the following year.