Berthe Morisot

Biography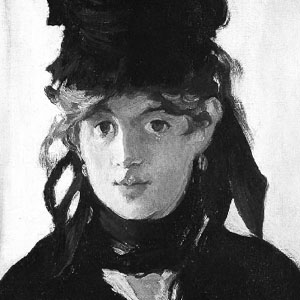 Berthe Morisot (French, 1841–1895)
Browse Berthe Morisot Catalogue Raisonnés Online.
Berthe Morisot came from a well-educated, conservative and cultured family; she and her sister, Edma, were first taught to draw by their father, a monarchist and senior civil servant. As children she and her sister moved wherever their father's career took them, finally settling in Passy in 1852. Five years later Berthe and Edma took their first formal artistic instruction from a minor academic portraitist and history painter, Geoffroy-Alphonse Chocarne, later studying with the noted Lyons artist, Joseph Guichard. It was Corot, however, with whom Berthe Morisot studied from 1862-68, who influenced her first landscapes, advising her to work en plein air in the forest at Fontainebleau where she also met Daubigny and Guillemet. In 1868 Henri Fantin-Latour introduced her to Edouard Manet, who was to be the most profound influence on her career and whose painterly technique the young Morisot adopted with enthusiasm. Manet asked Morisot to pose for Le Balcon, the first of many of Manet's canvases in which she would appear; their association led to the Morisot and Manet families becoming friends. She met Manet's younger brother, Eugéne, and the pair married, having one daughter, Julie, together. At the time Eugéne was also an artist, however in an unusual move for the time, decided to set aside his own career in order for Morisot to further her own. They shared a happy and companionable marriage until his death in 1892.
Morisot exhibited in her first Salon de Paris in 1864. She participated in 6 subsequent exhibitions until she joined the ranks of the Impressionists who were rejected from the Salon. Morisot excelled as an Impressionist, choosing to focus on every day and domestic subject matter, often drawing on her friends and family as models. Her life and career were cut short by an early death in 1895. While other contemporaries continued to work into the 20th century, Morisot did not join them, perhaps contributing to the lack of knowledge about the excellent Impressionist. In recent year, her works are once more gaining the appreciation they deserve.