David Hockney

Biography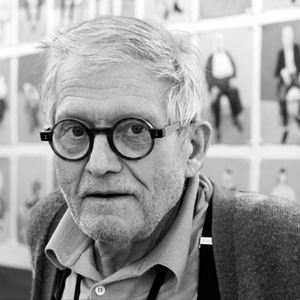 David Hockney, a renowned British artist, is celebrated for his distinctive style, technical innovation, and profound impact on contemporary art. With a career spanning over six decades, Hockney has explored a wide range of mediums, from painting and drawing to photography and digital art. In this article, we will delve into the life and artistic biography of David Hockney, examine his value in the art world, and highlight some of his most important and influential artworks.
Life and Background:
One of five children, David Hockney was born on July 9, 1937, in Bradford, England, where he lived there until 1953 when he began his studies at the Bradford School of Art, where he received traditional art training. After graduating in 1957, he became a conscientious objector and worked as a hospital orderly for his National Service. When his service was done, in 1959, he began his studies at the Royal College of Art, London.
During that time, he showed his art in the Young Contemporaries exhibition at the RBA Galleries and began to gain critical acclaim for his work, which was often lighthearted. Soon a leading Pop artist, although he himself rejected the label, he turned to more traditional representations with a focus on painting portraits. Moving to the United States in the 1960's, he embraced his homosexuality, with his artwork exhibiting homo-erotic content. Besides portraits and homosexuality, another one of his favorite themes from his time in the United States was the swimming pool, which was more a display of his love for Los Angeles.
Artistic Development and Significance:
Hockney rose to prominence in the 1960s, becoming a leading figure in the British Pop Art movement. His early works incorporated elements of popular culture and explored themes of consumerism and mass media. Hockney's style evolved over time, encompassing various periods, including his iconic swimming pool paintings, landscapes, portraiture, and experimentation with digital technology.
Value in the Art World:
David Hockney holds significant value in the art world, both commercially and artistically. His works have achieved record-breaking prices at auctions, reflecting the demand and appreciation for his art. Hockney's innovative use of color, composition, and perspective, coupled with his ability to capture the essence of a subject, have contributed to his enduring popularity among collectors and art enthusiasts worldwide.
Artistic Biography and Important Artworks:
"A Bigger Splash" (1967): This iconic painting is part of Hockney's series depicting California swimming pools. It showcases his ability to capture light, space, and the essence of a scene with his distinctive style. "A Bigger Splash" has become one of Hockney's most recognizable and celebrated works.
"Portrait of an Artist (Pool with Two Figures)" (1972): This monumental painting combines elements of portraiture and landscape, featuring a figure standing on a poolside ledge while another swims below. It explores themes of longing, desire, and the complexities of human relationships. The painting's composition, scale, and emotional depth exemplify Hockney's mastery of form and storytelling.
"Pearblossom Hwy., 11-18th April 1986" (1986): Created using a collage technique, this artwork presents a composite view of a California desert highway. Hockney assembled hundreds of photographs to capture multiple perspectives, highlighting his experimentation with photography and his interest in fragmented narratives.
"The Arrival of Spring in Woldgate, East Yorkshire" series (2011): In this body of work, Hockney explores the changing seasons and the beauty of nature in his native Yorkshire. These vibrant and expansive landscapes were created using a combination of traditional painting techniques and digital technology, showcasing Hockney's embrace of new artistic possibilities.
"82 Portraits and 1 Still-Life" (2016): This ambitious series consists of 82 portraits, each painted in Hockney's signature vibrant style. The collection reflects Hockney's fascination with the human face and his exploration of capturing the essence of the sitter through color and composition.
Throughout his career, David Hockney has continuously pushed artistic boundaries and embraced new technologies. From his early Pop Art influences to his exploration of digital art and iPad drawings, Hockney's artistic trajectory