David Hockney Catalogue Raisonné
You have reached the end of the best results we have for you.
Why David Hockney?
Always grounded in his skill as draughtsman and an immaculate graphic sensibility, David Hockney's work in painting is known to explore complex issues of sexuality and postmodernism through a lens of brilliant color and escapist imagery. An interdisciplinary artist and leading name in British Pop, Hockney utilizes each medium to facilitate his artistic inquiries, his work in photography which investigated perspective, while his acclaimed prints navigate visual narrative with stylized finesse.
Have one to sell? Sell David Hockney fine art with us
Sell David Hockney artwork with us. We will research its value and popularity for you.
David Hockney

Biography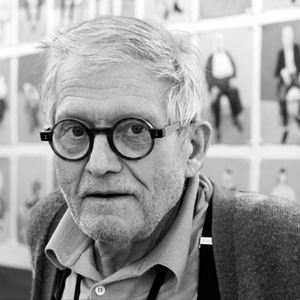 One of five children, David Hockney was born in 1937 in Bradford, Yorkshire. He lived there until 1953 when he began his studies at the Bradford School of Art, where he received traditional art training. After graduating in 1957, he became a conscientious objector and worked as a hospital orderly for his National Service. When his service was done, in 1959, he began his studies at the Royal College of Art, London. During that time he showed his art in the Young Contemporaries exhibition at the RBA Galleries and began to gain critical acclaim for his work, which was often lighthearted. Soon a leading Pop artist, although he himself rejected the label, he turned to more traditional representations with a focus on painting portraits. Moving to the United States in the 1960's, he embraced his homosexuality, with his artwork exhibiting homo-erotic content. Besides portraits and homosexuality, another one of his favorite themes from his time in the United States was the swimming pool, which was more a display of his love for Los Angeles. A brilliant painter, draughtsman, printmaker, photographer, designer, and writer, Hockney is considered one of the most influential British artists of the 20th century. Currently residing in Kensington, London his artwork for the past few decades has been derived from Popular Art and culture that is coupled with his love of photography and a pre-occupation with light and economy of technique that results in a frank, honest, and humorous realism in his work. Hockney's work has always been distinctive and versatile, whether through his realistic and serious portraits or his exotic landscapes. He has established a clean and flat style of simple compositions in clear bright colors that emulate his role model, Pablo Picasso, in his demonstration of original thinking and creative freedom.
© Masterworks Fine Art Gallery. All rights reserved. Privacy Policy. Our gallery is located in Silicon Valley's Palo Alto of the San Francisco Bay Area, California, USA.