The Prado Museum, or officially known as the Museo Nacional del Prado, is notably considered to be one of the greatest art museums in the world and continues to maintain its status as one of the worlds most visited sites. Located in Central Madrid, it hosts one of the world's finest collections of European art, dating back from the 12th century to the early 20th, which were based on the former Spanish Royal Collection when it was originally founded in 1819, as well as the most concentrated and dedicated collection of Spanish art. The works of Francisco Goya, El Greco, Peter Paul Rubens, and Diego Velázquez are a few of the highlighted artists housed here, with Goya's works being the most extensively represented. Velázquez's works were also known and responsible for bringing many of the museum's collection of Italian masters to Spain.
The Prado is part of the Golden Triangle of Art, with the Thyssen-Bornemisza Museum, their collection focusing on the historical through contemporary art, and the Museo Reina Sofía (Museo Nacional Centro de Arte Reina Sofía), which houses 20th century modern art. The collection currently has 8,200 drawings, 7,600 paintings, 4,800 prints, and 1,000 sculptures, this not including many other works of art and historical documents.
Most excitingly, the Prado is welcoming the return of Picasso within their walls, exhibiting Buste de Femme (Bust of a Woman) c.1943. The last time Picasso had adorned their walls was in 2015 from the exhibition Ten Picassos from the Kunstmuseum Basel, and prior to that in 2011-2012. Picasso's Bust of a Woman has been generously loaned to the Prado Museum for 5 years by the Aramont Art Collection to the American Friends of the Prado Museum and is currently on display in a gallery devoted to the works of El Greco, along with Velázquez's The Buffoon Calabacillas c.1639. Keeping in mind that both artists heavily influenced the works of Picasso, it is clear that the museum wanted to create a dialog between these three artists together to help define not only Velazquez and Goya's works, but to define a subtle timeline of the ways Picasso was influenced.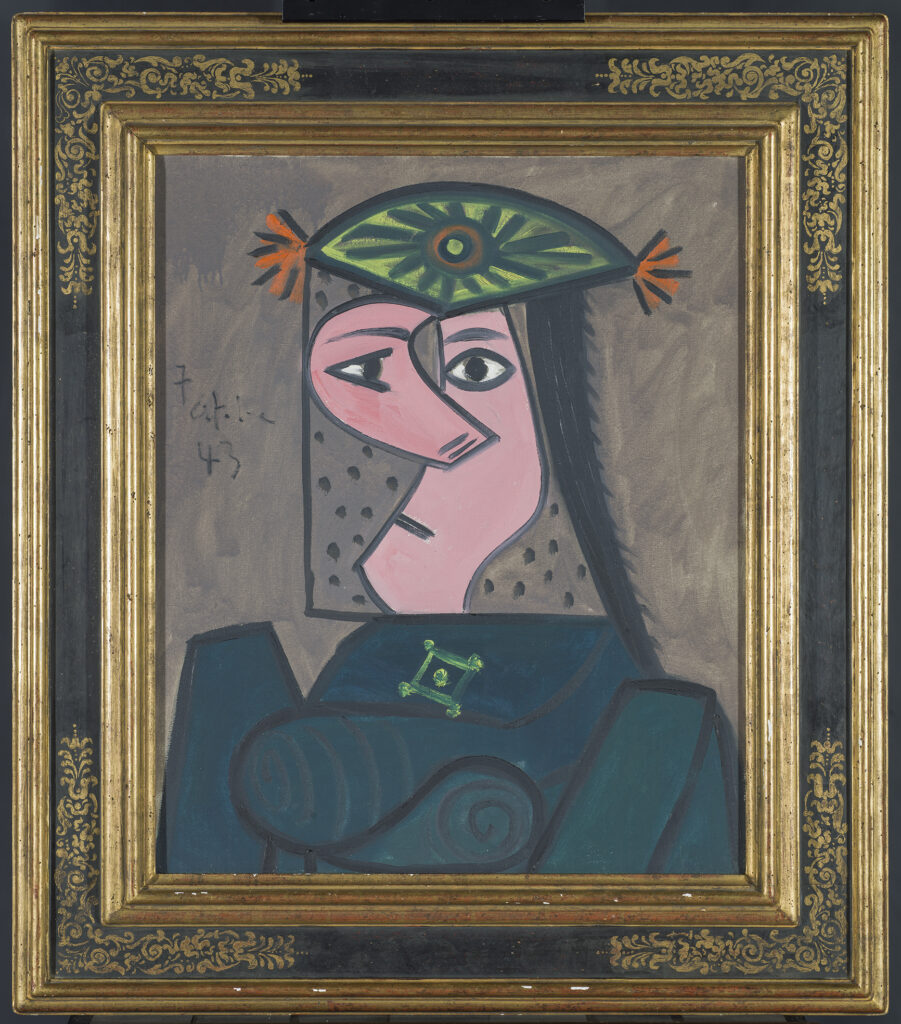 Buste de Femme 43 (Bust of a Woman), as detailed by the Prado, is an exemplary example of Picasso's response to the violence of World War II. During this period, he would distort many features of his female images in a radical manner and Bust of a Woman is not exempt from these facial disfigurements. Painted in a single day on October 7th, 1943, he applied rapid, confident brushstrokes to bring to life the bust of this woman; in cubist fashion, half of her face is in profile, one eye tepidly looking to the side, the worry and tension uniquely described. Wide-eyed, she stares directly forward with her other eye, seeming apprehensive, the tension palpable. The brushstrokes in the background are messy and confused, allowing us to empathize with the emotions simmering beneath the surface. In contrast, Picasso has painted her in shades of blues and greens for her clothes, bright orange ornaments hanging from the sides that catch the eye immediately, along with the orange circular ornament in the middle of her hat. The resonance of the background tones and the resolute presence of her feminine features divulge her deep understanding and knowledge of the Spanish and their pictorial traditions.
Javier Solana, Chairman of the Board, stated "American Friends' actions are certainly great news for Spain and all those who visit our country attracted by our artistic and cultural heritage. A painting from one of our greatest artistic geniuses which up to now had been in a United States' private collection will be displayed in public for all of those who love Picasso's work, our museums and culture. The Arango Montull Family's and American Friends' generosity is helping enrich Spanish cultural heritage."
The news has created a stir as it opens a new panorama of Spanish art for the museum. Prior to today, Picasso's date of birth, 1881, had acted as a cut off between the Prado and Reina Sofía Museum because in 1955 a royal decree stated that artworks of artists born before 1881 go to Prado while those who came after '81 would go to the Reina Sofía.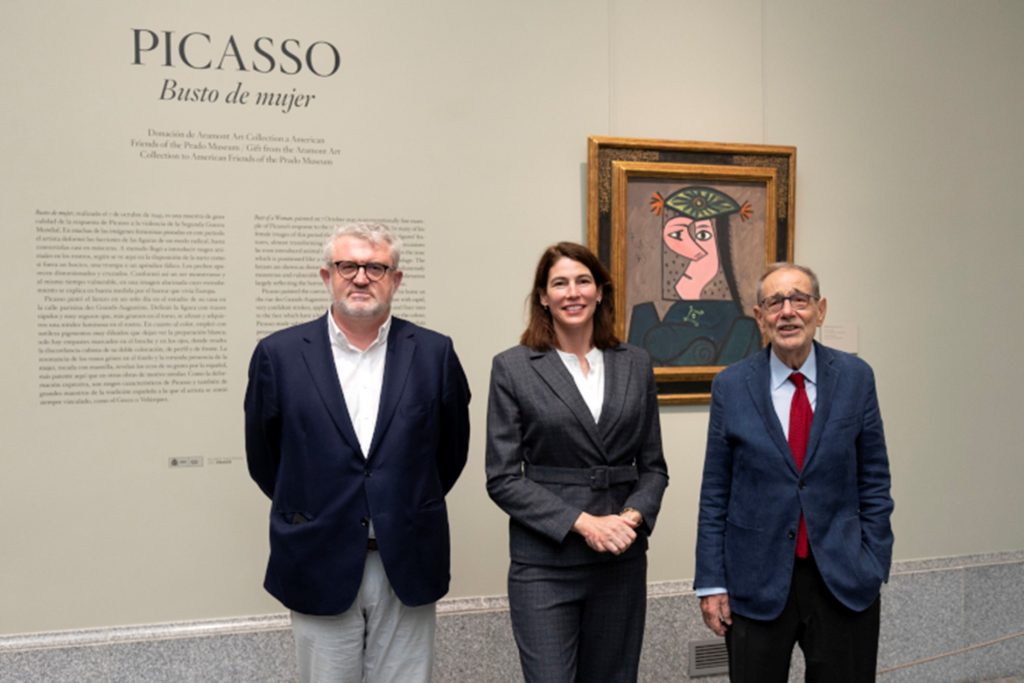 Van Gogh Identified in Background of Toulouse-Lautrec Drawing
By Claire Nichols on 05 Feb 2021
A recent discovery, made by a senior researcher at the Van Gogh Museum, has identified Van Gogh as one of the previously unidentified background figures in Henri Toulouse-Lautrec's The Refrain of the Louis XIII-style Chair at the Cabaret of Aristide Bruant (1886), a drawing that depicts a boisterous night at Le Mirliton, a cabaret at Montmartre in Paris. This discovery sheds light on the Parisian nightlife that engaged and inspired many of the major artists of that period and the friendship between Henri Toulouse-Lautrec and Vincent Van Gogh, two of the most influential figures of the 19th century.
Henri Toulouse-Lautrec was a student in the studio of the artist Fernand Cormon during a divided period in the French art world. Though the art world was split into two camps—academic painters, such as Cormon, and an Impressionist movement—Cormon did little to discourage his students from exploring the world outside of his atelier. It was in Cormon's studio where Toulouse-Lautrec would meet the Dutch painter Vincent Van Gogh. Van Gogh, who was 11 years his elder, lived only five minutes from Toulouse-Lautrec, making it easy for the two to run in the same circles, attending the same lessons and running in the same social circles.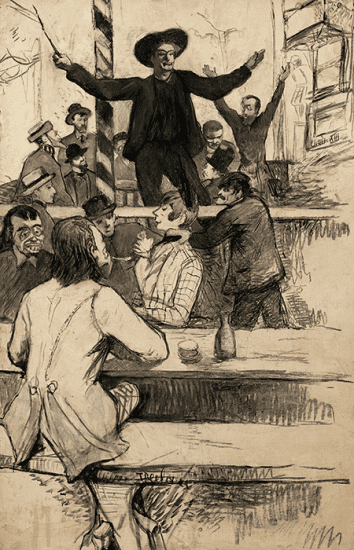 Toulouse-Lautrec spent his days working in the studio and his nights experiencing Parisian nightlife, especially dance halls and bars around Montmartre. With his penchant for these types of outings, it is hardly a surprise that he would strike up a friendship with Van Gogh. Van Gogh was well-known for his alcohol consumption; when describing his after-work activities, Paul Signac stated that "the absinthes and brandies would follow each other in quick succession." It is, then, also not surprising that Van Gogh makes an appearance in this particular Toulouse-Lautrec drawing, which depicts the cabaret run by the singer Aristide Bruant at its height of activity on a particularly rowdy night. Though relatively unarticulated, the figure in the upper left corner of the drawing bears an unmistakable resemblance to Van Gogh, sporting the same beard and mustache, as well as a tuft of hair peeking out from his hat. Van Gogh is shown seated next to Toulouse-Lautrec himself, and the two are surrounded by fellow artists such as Louis Anquetin. The drawing positions Toulouse-Lautrec and Van Gogh as regular fixtures in these kinds of Parisian antics, supporting accounts of both of their respective affinities for spending nights out on the town
This is not the only time that Toulouse-Lautrec depicted his friend—a 1887 portrait of Van Gogh by Toulouse-Lautrec depicts him with a glass of absinthe on a quiet night out—but generally speaking, it is rare to encounter a likenesses of Van Gogh that is not a self-portrait. Beyond his appearances in his work, it is clear that Van Gogh had an influence on Toulouse-Lautrec's style, encouraging him to use more Impressionistic strokes and colors. It is also clear that Toulouse-Lautrec was a great supporter of Van Gogh's career. The two would often visit each other's studios to show each other their work and show in the same exhibitions. Toulouse-Lautrec defended Van Gogh against his critics on multiple occasions, going so far as to challenge a painter to a duel after he criticized Van Gogh's work at an exhibition (luckily for everyone involved, the painter would apologize before a duel became necessary). 
The Refrain of the Louis XIII-style Chair at the Cabaret of Aristide Bruant acts as wonderful visual documentation of the artistic and social exchanges that defined the development of French art in the late 19th century, driven by exposure to the sometimes wild and boisterous Parisian nightlife. It also spotlights a fierce friendship between two outstanding artists who have come to represent some of the best artwork not only of the Impressionist and Post-Impressionist movement, but arguably of all of art history. 
February and March Online Exhibition
By Rod Ubillus on 06 Feb 2021