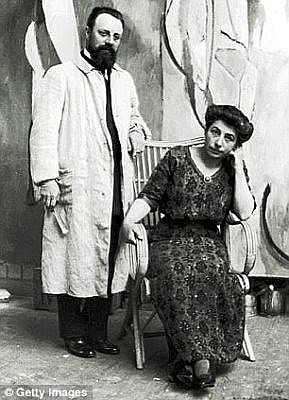 Not much is known about Amélie Matisse's young life, except that her parents were part of a political, free, and forward thinking circle. She married the struggling Parisian artist Henri Matisse in 1898.
Amélie Matisse, born Amélie Parayre, grew up in Beauzelle and Paris the daughter of Armand and Catherine Parayre. Not much is known about her young life, except that her parents were part of a political free and forward thinking circle. Her father Armand was a school teacher turned director of the activist newspaper Avenir de Seine et Marne. They were champions of a free, equal France. Amélie met Henri Matisse in 1897 when they incidentally sat next to one another at a wedding in Paris. They were married a short while later in 1898. Amélie opened a hat shop on rue de Chateaudun in 1899 and the couple, along with Matisse's daughter Marguerite from a previous relationship, moved into a small apartment just down the street. Though loving, their relationship was also one of practical symbiosis. Amélie understood that, while loved intensely by her husband, she would also come second to his painting. She accepted and thrived on this, working hard to make sure that Matisse had the tools he needed to find success.
They were very poor in the early years of their marriage, with Matisse a struggling artist. Their two sons, Jean and Pierre, were born in 1899 and 1900 respectively.  In 1902 Amélie's parents were struck by financial scandal deriving from the fraud of their employer. This incident made Amélie suspicious of the world, a trend which followed her for the rest of her life. Amélie was so engaged in Matisse's career, that she acted like a wife and personal manager to the artist. Their relationship began to falter when Matisse sought more independence, including finding an art dealer of his own named Sergei Shchukin. This coincided with a move into a larger home in Issy-les-Moulineaux, where Matisse was able to be more absent and alone than in the studio homes they had shared before. The lack of dependence on Amélie was difficult for her.
This was exacerbated when, in 1939, Amélie felt her role in the creative process being overtaken by Lydia Delectorskaya, who had been hired as an assistant for Matisse, but in recent years was more of a model and intellectual and creative partner to Matisse. Amélie, feeling that her role in Matisse's life was threatened, asked him to choose between the two. Though he picked his wife, they were separated by the end of the year.
Not much is known about the later years of Amélie's life, but in 1944 she was arrested and jailed for 6 months for working with resistance. Amélie died in 1958 and is buried in the same plot as Matisse.
References
'Biography,' Henri-Matisse.net. Accessed November 18, 2016. https://www.musee-matisse-nice.org/en/
Hodges, Michael. 'A daughter tortured by Nazis. A besotted, suicidal muse. His own cancer and chronic depression: The unbelievable story of Henri Matisse,' The Daily Mail. March 29, 2004. Accessed November 18, 2016. http://www.dailymail.co.uk/home/event/article-2590862/Henri-Matisse-Guns-Girls-Gestapo-The-wild-final-years-Henri-Matisse.html
Russell, John. Matisse: Father & Son. New York: Henry N. Abrams, 1999.
Schjeldahl, Peter. 'Art as Life: The Matisse we never knew,' The New Yorker. August 29, 2005. Accessed November 18, 2016. http://www.newyorker.com/magazine/2005/08/29/art-as-life
Tuchman, Phyllis. 'I Shall Always Love Painting More,' The Washington Post. September 25, 2005. Accessed November 18, 2016. https://www.washingtonpost.com/wp-dyn/content/article/2005/09/22/AR2005092200996.html