Yayoi Kusama

Biography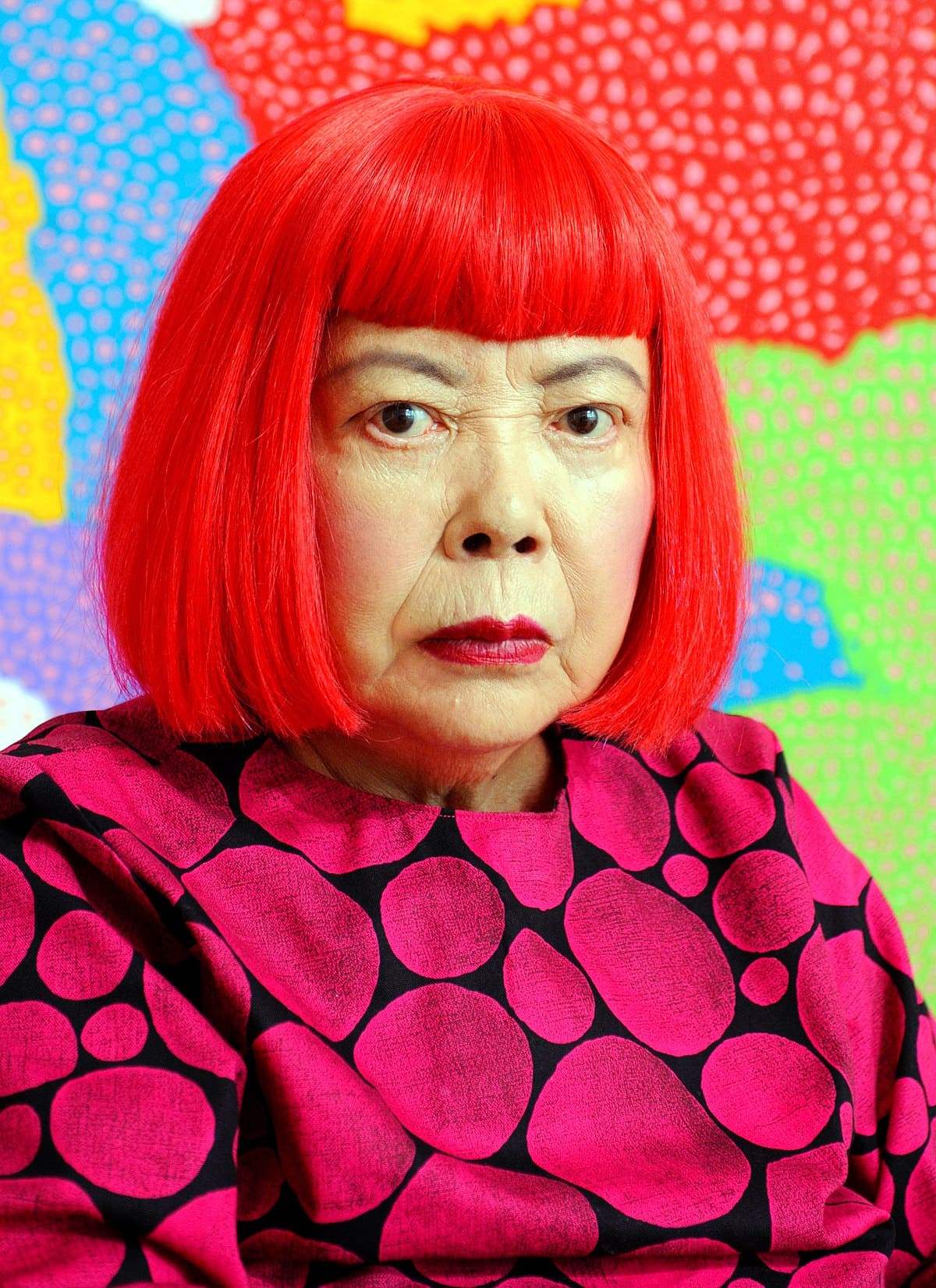 Born in Matsumoto, Nagano, Japan, on March 22nd, 1929, Yayoi Kusama is one of the most well-known contemporary Japanese artists around the world today. Kusama's art spans many mediums, including painting, performance, film, fashion, poetry, fiction, but she mainly works in sculpture and installation. Based mostly in conceptual art, Kusama explores themes of feminism, pop art, abstract expressionism, minimalism, Art Brut, and surrealism. Much of her work delves into her world view, exploring psychological and sexual subjects as well as her mental illness.
Yayoi Kusama describes seeing vivid hallucinations of light flashes, auras or fields of dots as early as ten years old. She also describes seeing flowers that would speak to her, patterns in fabrics that she stared at would come to life, multiply and engulf her. This process of engulfing she calls "self-obliteration," and would become an important influence on her art throughout her life. Kusama cites smooth white stones that covered the riverbed near her family home as a cause for her fascination with polka dots which became an integral part of her artwork.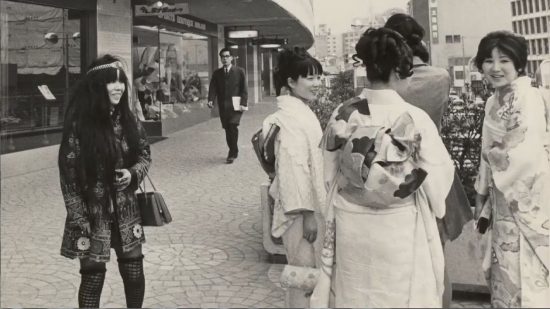 Kusama moved to New York City in 1958 after studying nihonga, traditional Japanese painting, at the Kyoto School of Arts and Crafts. She was frustrated with the experience of being a woman in Japan, stating she considered Japanese society "too small, too servile, too feudalistic, and too scornful of women" (Frank, HuffPost). She was interested in the American Abstract impressionism and she became part of the pop-art movement and the hippie counterculture that dominated the art scene in New York throughout the 1960s. In the later years of the decade, Kusama gained notoriety for her series of "happenings" that featured naked people who were painted with brightly colored polka dots.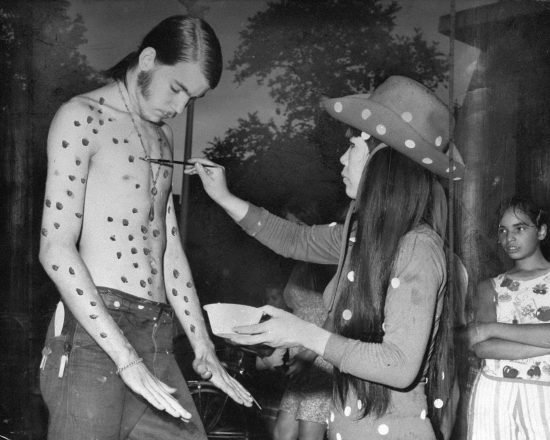 In 1963, Kusama began creating her series of Mirror/Infinity rooms. The rooms are created through the use of walls lined with mirrored glass and scores of various illuminated hanging objects, from neon-colored balls and little colored lights to larger hanging lanterns and glowing pumpkins. The viewer stands on a small platform and the effect creates a feeling of infinity as the objects are reflected a million times over in the mirrors. Throughout the rest of the 1960s, Kusama was extremely productive, landing in the hospital multiple times from overworking herself. Her work was plagiarized by many male artists in New York City during this time, who gained fame while she remained relatively unknown. This combined with financial stress and insecurity led her to attempt suicide. Kusama would later attempt again after facing severe shame from her family for her nudity in her art and lifestyle.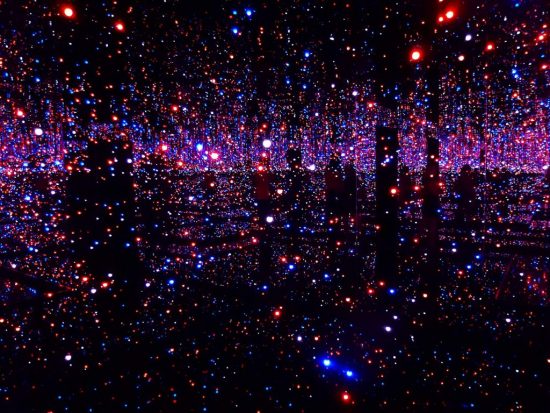 Kusama returned to Japan in 1973, where she voluntarily checked herself into a hospital for the mentally ill in Tokyo. She still lives there today by choice. Her studio is a short distance from the hospital and this is where she continues to work in a variety of artistic mediums, as well as exploring her literary career through novels, poetry and an autobiography. Kusama has long been considered one of Japan's most important living artists and it is clear when looking at Kusama's monumental and influential oeuvre why. She is an artist who is unapologetically original and exploratory who creates larger than life installations that immerse the viewer in her fantastic creative vision.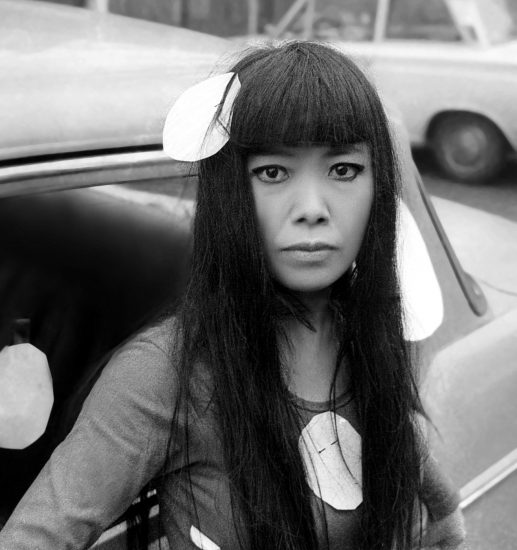 Kusama's work has been exhibited in museums and private institutions around the world, including the Venice Biennale, a major retrospective in four museums Scandinavia, the Broad Museum, the Whitney, the Museum of Modern Art New York, and in 2017 the Yayoi Kusama Museum opened in Tokyo, Japan.
Bibliography:
Frank, Priscilla (9 February 2017). "Japanese Artist Yayoi Kusama Is About To Make 2017 Infinitely Better". HuffPost. Retrieved 11 March 2017.