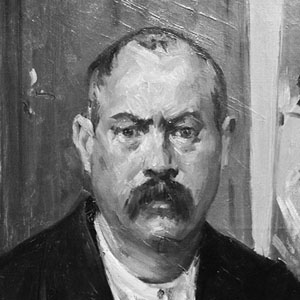 Lovis Corinth was born an entire generation earlier than many artists who are now considered his contemporaries. He is often labeled as a German Impressionist but he never considered himself one. He also did not see himself as an Expressionist. He was especially influenced by Rembrandt and Rubens.
Corinth showed an early talent for drawing and attended the Munich Academy in 1880 which rivaled Paris as the avant-garde art center in Europe at the time. There he was influenced by Courbet and the Barbizon school as they were interpreted by Munich artists, Wilhelm Leibl and Otto Trubner. He then traveled to Paris where he studied under William-Adolphe Bouguereau at the Academie Julian. In 1891, Corinth returned to Munich but in 1892, he abandoned the Munich Academy and joined the very first Secession. In 1894, he joined the Free Association and in 1899, he exhibited in an exhibition organized by the Berlin Secession. These nine Munich years were not his most productive. Corinth was perhaps better known for his ability to drink large amounts of red wine and champagne.
In 1900, he moved to Berlin where he had a one-man exhibition at the famous gallery owned by Paul Cassirer. In 1902 at the age of 43, he opened a School of Painting for Women and married his first student, Charlotte Berend, who was some 20 years younger than him. Charlotte was his youthful muse, spiritual partner and mother of his two children. She had a profound influence on him and family life became a major theme in his art during this time.
In 1911, he suffered a stroke and was partially paralyzed on his left side. With the help of his wife, a year later he was back to work with his right hand. It was during this time that landscapes became a significant part of his oeuvre. From 1915-1925, he was elected President of the Berlin Secession. In 1925, he traveled to Holland to look at his favorite Dutch masters. While Corinth was in Holland, he caught pneumonia and died in Zanvoort.
Corinth explored many print techniques. Drypoint and lithography were his favorites. He created his first Corinth etching in 1891 and his first Corinth lithograph in 1894. In 1919, he experimented with the woodcut medium but only made 11. Like Picasso, Corinth was quite prolific and in the last fifteen years of his life. He produced more than 900 graphic works including 60 self-portraits. The landscapes he created between 1919-1925 are perhaps the most desirable images of his entire graphic oeuvre.
When Hitler rose to power in 1933, Corinth's early works were left undisturbed but those works executed after his stroke were considered "Degenerate."