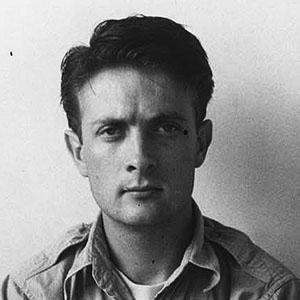 Kenneth Noland was born in Asheville, North Carolina, the son of Harry Caswell Noland (1896–1975), a pathologist, and his wife, Bessie (1897–1980).  Noland was an American painter of the Abstract Expressionist school. He was one of the first to use the technique of staining the canvas with thinned paints and of deploying his colours in concentric rings and parallels, shaped and proportioned in relation to the shape of the canvas.
A veteran of World War II, Noland studied art at Black Mountain College in his home state of North Carolina under the G.I. Bill.  He studied with Ilya Bolotowsky, a professor who introduced him to Neo-plasticism and the work of Piet Mondrian.  Noland also studied Bauhaus theory and color under Josef Albers and became interested in Paul Klee, specifically his sensitivity to color.
Noland then studied with the French sculptor Ossip Zadkine in Paris from 1948-49 He presented his first one-man show there in 1949. He and Morris Louis, influenced by the work of Helen Frankenthaler, worked together on the technique of staining with thinned paints. This method presented pure, saturated colour as an integral part of the canvas. Most of his paintings fall into one of four categories: circles or targets, stripes, chevrons, and shaped canvases.  In 1964 he was included in the exhibition Post-Painterly Abstraction, curated by Clement Greenberg, which traveled the country and helped to firmly establish Color Field painting as an important new movement in the contemporary art of the 1960s. Noland pioneered the shaped canvas initially with a series of symmetrical and asymmetrical diamonds or chevrons. In these paintings, the edges of the canvas become as structurally important as the center. During the 1970s and 1980s his shaped canvases were highly irregular and asymmetrical. These resulted in increasingly complex structures of highly sophisticated and controlled color and surface integrity.
Noland taught at the Institute of Contemporary Arts (1950–52) and at Catholic University (1951–60), both in Washington, D.C., and at Bennington (Vt.) College in 1968. His work has been exhibited internationally, and permanent collections of his paintings are housed at the Museum of Modern Art in New York City, the Tate Gallery of London, and the Zürich Kunsthaus.  He died on January 5, 2010 of kidney cancer in his home of Port Clyde, Maine.