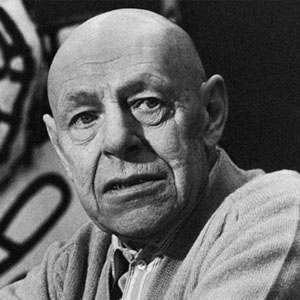 Jean Dubuffet (French, 1901–1985)
Born in Le Havre in 1901 to a wealthy family of wine merchants, Jean Dubuffet took a winding path towards the life of an artist. In 1918 Dubuffet moved to Paris where he attended the Académie Julian for 6 months. He did not find the academic life to his taste, and instead he worked independently, developing an interested in other subjects and traveling to Italy and Brazil. Dubuffet stopped painting in 1924 and entered the wine trade, also marrying in 1925. After almost 10 years of successfully working in the family business, Dubuffet tried his hand at painting again in 1933. This brief period was quickly followed by almost 10 more years of wine business before he seriously began to paint in 1942. Dubuffet was primarily interested in primitive or "naïve" art – particularly that done by children or the mentally ill. In addition to this interested in less technically sophisticated art, Dubuffet pushed boundaries in the realm of medium as well, preferring to use many different and uncommon materials in his paintings such as cement, tar, leaves and more. The usage of such materials led to his interest in sculpture. Dubuffet held his first one man exhibition in 1945. This show was not well received as 'art', which was entirely the intent. Dubuffet's more important contribution is the development of Art Brut. Art Brut, translating to 'raw art' is created outside the bounds of what one might consider fine art. In general it dismisses perspective and aims for a more direct illustration of space, which leads to a more two dimensional feel.
Dubuffet was well received in America, partially due to the exposure that he gained from being included in Pierre Matisse's shows. Exhibiting alongside greats such as Picasso and Braque, Dubuffet made his mark on the American art scene.