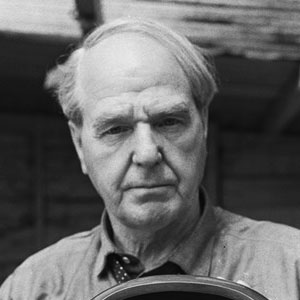 British sculptor known for his large, semiabstract sculptures of the human figure. Henry Moore is considered the most prominent British sculptor of the 20th century, and his work had a strong influence on contemporary figural sculpture.
Moore was born in Castleford, Yorkshire, on July 30, 1898. From 1919 to 1925 he studied at the Leeds School of Art and the Royal College of Art in London. His early works, executed in the 1920s, show the influences of pre-Columbian art of the Americas, the massive figures of the Italian Renaissance artists Masaccio and Michelangelo, and the streamlined shapes of the Romanian-born French sculptor Constantin Brancusi. In the 1930s, the work of Pablo Picasso and of contemporary abstract artists were strong influences; many of Moore's works of that period are highly abstract, consisting of simplified, rounded pieces carved from wood, with numerous indentations and holes often spanned with veils of thin metal wires. The most important and lasting influence on Moore's work, however, was the world of nature. "The human figure," he later wrote, "is what interests me most deeply, but I have found principles of form and rhythm from the study of natural objects, such as pebbles, rocks, bones, trees, plants."
In his mature works, beginning with Reclining Figure (1936, City Art Gallery, Wakefield, England), Moore employed swelling shapes, undulating extensions, and rounded indentations that mirror natural forms. His favored themes include mother-and-child and family groups, fallen warriors, and, most characteristically, the reclining human figure, which he continued to depict throughout his career, working in wood, stone, and—after 1950—in bronze, and later in marble. These works range from the realistic—such as Draped Reclining Figure (1953, Time-Life Building, London), a massive Henry Moore sculpture of a woman reclining on her elbows—to the abstract—such as Internal and External Forms (1954, Albright-Knox Gallery, Buffalo, New York), a large, rounded bronze sculpture pierced by a hollow interior containing a second abstract metal form.
Unlike Moore's usually preparatory sketches for his sculpture, a series of drawings of Londoners huddled in tube stations during World War II air raids stand on their own as works of art. These so-called shelter drawings (1940 ff.) poignantly express the impact of war on defenseless civilians. One of the largest collections of Henry Moore sculptures, drawings, and prints is owned by the Art Gallery of Ontario, Toronto.
Among his major public commissions are outdoor sculptures for the UNESCO headquarters in Paris (1958); Lincoln Center of the Performing Arts, New York City (1965); the City Hall of Toronto, Ontario (1966); and the East Building of the National Gallery of Art, Washington, D.C. (1978). Moore died in Much Hadham, England, August 31, 1986.