Georges Braque

Biography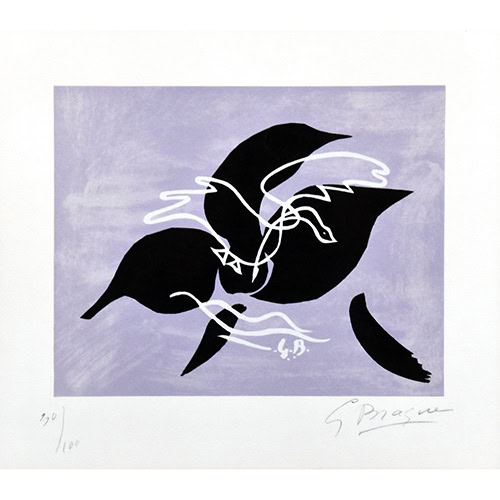 Georges Braque was born 1882, in Argenteuil-sur-Seine, France. He grew up in Le Havre and studied evenings at the Ecole des Beaux-Arts from about 1897 to 1899. He left for Paris to study under a master decorator and received his craftsman certificate in 1901. From 1902 to 1904 he painted at the Académie Humbert in Paris, where he met Marie Laurencin and Francis Picabia. By 1906, Braque's work was no longer Impressionist but Fauve in style and after spending that summer in Antwerp, he showed his Fauve work the following year in the Salon des Indépendants in Paris.
His first solo show was at Daniel-Henri Kahnweiler's gallery in 1908 and in 1909, Pablo Picasso and Braque worked together in developing Cubism. By 1911, their styles were extremely similar and in 1912 they started to incorporate collage elements into their paintings and to experiment with the papier collé (pasted paper) technique. Their artistic collaboration lasted until 1914 when Braque left to serve in the French army during World War I and was subsequently wounded.
After World War I Braque's work changed and became freer and less schematic. In 1922 he did an exhibition at the Salon d'Automne in Paris where his fame continued to grow. By the end of the decade, he had returned to a more realistic interpretation of nature, although certain aspects of Braque's Cubism always remained present in his work. His first important retrospective took place in 1933 at the Kunsthalle Basel, and he won First Prize at the Carnegie International, Pittsburgh, in 1937.
During World War II, Braque remained in Paris. His paintings at that time, primarily still lifes and interiors, became more somber. In addition to paintings, he also made etchings, lithographs, engravings, prints and sculpture. From the late 1940s, he treated various recurring themes, such as birds, ateliers, landscapes, and seascapes. In 1954, he designed stained-glass windows for the church of Varengeville. During the last few years of his life, he continued to paint, make lithographs, and design jewelry, dying in 1963 in Paris.
BRAQUE COLLAGES
In 1912, Braque and fellow cubist Pablo Picasso began experimenting with new possibilities for cubism. Together they invented a technique titled papier collés in which a collage was made by adhering paper to a flat mount. Unlike other works in the collage medium, papier collés signify the exclusive use of paper rather than non-paper components. Braque took a step even further by adhering cut-up advertisements onto the canvas. The first work using this technique was Fruit Dish and Glass, 1912. For Fruit Dish and Glass, Braque was inspired after purchasing a roll of faux bois paper that resembled oak paneling. Braque first cut the paper and began to organize the strips into various compositions. What ensued is a beautiful and textural visual puzzle. A similar work, titled Bottle, Glass , and Pipe (Violette de Parme), 1914 is currently in the collection of the Metropolitan Museum in New York. His collage technique has also inspired artists like Henri Matisse.
BRAQUE PAINTINGS
Georges Braque's painting style is best characterized by its ability to constantly evolve. His earliest works tended towards Impressionism. However, in 1905 he adopted the Fauvist style after meeting Henri Matisse. The Fauves painted in bright colors in order to illicit emotional responses, earning them the title that translates to mean "beasts". An example of Braque's painting within this genre is his famous Landscape at La Ciotat, 1907 at the MOMA in New York. Nevertheless, his venture into Fauvism was short lived and in 1908 he began to show new interest in geometry and flattened perspectives. In 1909, his friendship with Picasso led to the development of Cubism. During this period, they painted side by side, producing paintings with monochromatic colors and interlacing forms. For the two artists, the summer of 1911 was exceptionally productive. They painted together in the French Pyrenees, producing paintings that were almost impossible to distinguish from each other. His best known paintings from this period are his still lifes Violin and Candlestick, 1910 and Man with a Guitar, 1911. Both paintings are held in the collections of MOMA. His paintings are regularly valued millions at auction, with the record amount earning$9.5 million in 1986.
BRAQUE PRINTS
Braque began creating prints as early as 1907. The first series from this period were the ten Cubist prints, modeled after his paintings. These prints are increasingly rare, few collectors have been able to reconstruct the series in its entirety. In these earlier stages of his printmaking, Braque mainly practiced etching. However, he ventured into lithography in 1921, creating his first lithograph Nature morte III (Verre et Fruits) , 1921. He became quite adept with the medium and clearly favored creating images of still life. These early lithographs exemplified Braque's painterly approach to printmaking. Braque became even more involved with printmaking in the 1930s. During this time, his subjects were influenced heavily by surrealism and automatism. A prime example of this period is La Théogonie d' Hesiode (Hesido's Theogony), 1932. The prints of this volume were commissioned by Ambroise Vollard, and represented a milestone for both the artist and for the practice of printmaking. Braque continued to make illustrated books. In 1962, he worked with renowned printmaker Aldo Crommelynck on a series of etchings and aquatints to accompany a book of poems titled L'ordre des oiseaux. By the last decade of his life, Braque had created 300 compositions, of which nearly 200 were for illustrated books. His prints are fully documented within the catalogue raisonné Braque: The Complete Graphics by Dora Vallier.
BRAQUE LITHOGRAPHY
Braque first came upon lithography in 1921. The medium fascinated him as it was less demanding as a technique than etching. Lithography was also more alike to painting, especially in its chromatic possibilities. Despite their similarities, Braque did not copy his lithographs after his paintings. Instead, he chose to only extract the subject matter and the format from his paintings. His most dedicated period to lithograph lasted from 1945 to the end of his life. His later lithographs showcase deliberately thick strokes which tended towards visual intensity rather than accuracy. For some of his lithographs in the Lettera Amorosa, 1963 suite, as many as 13 colors were layered in succession.