Fernand Léger Catalogue Raisonné
You have reached the end of the best results we have for you.
Why Fernand Léger?
Fernand Léger's unique Cubism contains its own populist vocabulary. The French artist's monumental figures speak to everyone; his strong color work and graphic sensibility, from cubism to still life, characterize these Léger lithographs, and ceramics.
Have one to sell? Sell Fernand Léger fine art with us
Sell Fernand Léger artwork with us. We will research its value and popularity for you.
Fernand Léger

Biography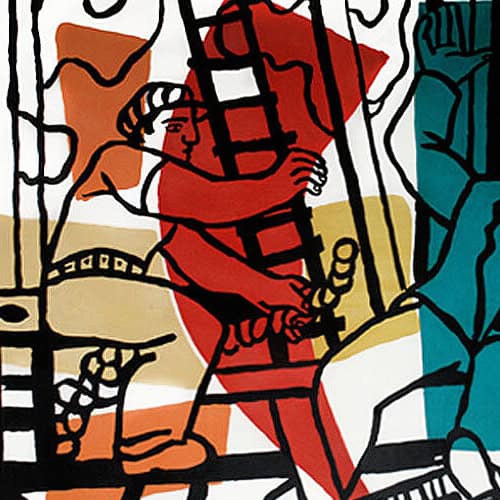 French painter and designer. From c.1909 Fernand Léger participated in the Cubist movement. He is generally considered one of its major masters but his curvilinear and tubular forms (he was for a time called a 'tubist') contrasted with the fragmented forms preferred by Picasso and Braque. The First World War, during which he was gassed whilst serving as a stretcher-bearer, had a profound effect on Léger. His contact with men of different social classes and different walks of life came as a revelation: 'I was abruptly thrust into a reality which was both blinding and new,' he said. Henceforward he made it his ambition to create an art which should be accessible to all ranks of modem society.
In 1920 he met Le Corbusier and Ozenfant and in the early 1920s he was associated with their Purist movement. Fernand Léger's paintings were static, with the precise and polished facture of machinery, and he had a fondness for including representations of mechanical parts.During the late 1920s and 1930s he also painted single objects isolated in space and sometimes blown up to gigantic size, In the inter-war years he expanded his range beyond easel painting, with murals and designs for the theatre and cinema. He was also busy as a teacher, notably at his own school, the Academie de I'Art Contemporain, and he traveled widely, making three visits to the USA in the 1930s. The connections he had made there stood him in good stead when he lived in America. During the Second World War he lived in the USA, teaching at Yale University, and at Mills College, California. Acrobats and cyclists were favorite subjects in his paintings of this time. From his return to France in 1945 his painting reflected more prominently his political interest in the working classes. But its static, monumental style remained, with flat, unmodulated colours, heavy black contours, and a continuing concern with the contrast between cylindrical and rectilinear forms. in his later career Fernand Léger worked much on large decorative commissions, notably the windows and tapestries for the church at Audincourt (1951). Many honours came to him late in life, and a museum dedicated to him opened at Biot in France in 1957. In the catalogue of the exhibition Léger and Purist Paris' (Tate Gallery, London, 1970), John Golding wrote of Léger: 'No other major twentieth-century artist was to react to, and to reflect, such a wide range of artistic currents and movements . . . And yet he was to remain supremely independent as an artistic personality. Never at any moment in his career could he be described as a follower ... But his originality lay basically in his ability to adapt the ideas and to a certain extent even the visual discoveries of others to his own ends.' He saw the poetic value that lies in the clear delineation of everyday objects, the in trinsic beauty of modem machinery and the things which are mass-produced by machinery, and he favoured proletarian subjects, depicting them with the same clarity and precision as the themes taken from machine culture.
© Masterworks Fine Art Gallery. All rights reserved. Privacy Policy. Our gallery is located in Silicon Valley's Palo Alto of the San Francisco Bay Area, California, USA.