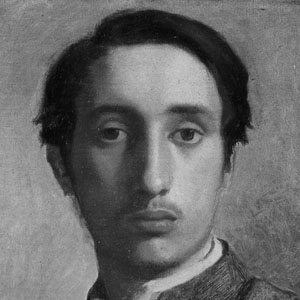 Edgar Degas (French, 1834–1917)
French painter and sculptor, one of the outstanding figures of Impressionism. Edgar Degas exhibited at seven out of the eight Impressionist exhibitions, but he stood somewhat aloof from the other members of the group and his work was Impressionist only in certain limited aspects. Like the other Impressionists, Degas aimed to give the suggestion of spontaneous and unplanned scenes and a feeling of movement, and like them, he was influenced by photography (he often cut off figures in the manner of a snapshot) and by Japanese color prints (he imitated their use of unfamiliar viewpoints). However, he had little interest in landscape (he did not paint out of doors) and therefore did not share the Impressionist concern for rendering the effects of changing light and atmosphere. The appearance of spontaneity and accidental effects in his work was an appearance only; in reality his pictures were carefully composed. He said that 'Even when working from nature, one has to compose' and that 'No art was ever less spontaneous than mine'.
Degas always worked much in pastel and when his sight began to fail in the 1880s his preference for this medium increased. He also began modeling in wax at this time, and during the 1890s -- as his sight worsened -- he devoted himself increasingly to sculpture, his favorite subjects being horses in action, women at their toilet, and nude dancers. These figures were cast in bronze after his death. For the last 20 years of his life Degas was virtually blind and led a reclusive life. He was a formidable personality and his complete devotion to his art made him seem cold and aloof (as far as is known, he never had any kind of romantic involvement). His genius compelled universal respect among other artists. Degas drawings and sculptures continue to be exhibited around the world. However, Renoir ranked him above Rodin as a sculptor, and in 1883 Camille Pissarro wrote that he was 'certainly the greatest artist of our epoch'. He was the first of the Impressionist group to achieve recognition and his reputation as one of the giants of 19th-century art has endured undiminished. His influence on 20th-century art has been rich and varied-on artists whom he knew personally, such as Sickert, and on later admirers. He was a superlative draughtsman and his work has appealed greatly to other outstanding draughtsmen, such as Hockney and Picasso. His mastery of pastel has been an inspiration to Kitaj.
Chilvers, Osborne, and Farr, The Oxford Dictionary of Art, Oxford University Press, Oxford, New York, 1997. p. 154
Why Edgar Degas?
Edgar Degas, painter of modern life in 19th century France, depicts dancers in tutus and jockeys mounted on horseback. His oil paintings, sculptures, drawings, and lithographs are celebrated for their realism and for their impressionistic style.
Related News