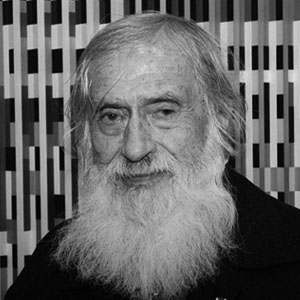 Yaacov Agam is a truly unique, creative force in the world of art. His works transcend traditional artistic boundaries, propelling him into the forefront of a new art aesthetic. Art critics and art historians in museums and institutions throughout the world have acclaimed him for his inventive, talented genius, bestowing upon him numerous awards and honors. Agam is certainly among the world's foremost artists, and he is already recognized as influential and important in the history of art.
The son of an Orthodox Rabbi, scholar and writer, Yaacov Agam was born on May 11, 1928 in Rishon Letzion, Israel. As a child, he began to draw, despite religious proscription against visual expression. Agam's family recognized his artistic ability and, in 1946, he entered the Bezalel Academy of Arts and Design in Jerusalem. Studying with Mordecai Ardon, a former student at the Weimar Bauhaus, he discovered the differences between other cultures which stress the afterlife and the Hebrew culture which emphasizes the present. Because Judaism believes life is dynamic and ever-changing, Agam determined that static paintings were inadequate to express the constantly occurring changes which surround us.
In 1950, upon Ardores recommendation, Agam went to Zurich to study with Johannes Itten at the Kunstgewerbeschule. There, he met Frank Lloyd Wright and Siegfried Giedion, whose ideas on the element of time in art and architecture impressed him. In 1951, Agam moved to Paris, where a number of world-famous Surrealist artists living in France were the first to discover and encourage him. His first one-man exhibition held at Galerie Craven, Paris in 1953, featured kinetic and transformable paintings which invited spectator participation. The show was a critical success and attracted considerable attention in art circles. He is still living in Paris and continues to produce works, currently holding the title of the highest-selling Israeli artist.
Signed original prints created by this Op Art artist are affectionately called Yaacov Agam agamographs.