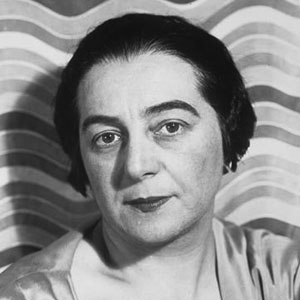 Sonia Delaunay (French/Ukrainian, 1885–1979)
Sonia Delaunay was born as Sarah Stern on November 14, 1885 in a small Ukrainian town called Gradizhsk. She was separated from both her father and her mother at the age of five when she was adopted by her wealthy, Jewish uncle Henri Terk, a powerful lawyer in St. Petersburg. Henri Terk renamed her Sonia Terk and offered her a life of social prominence and higher education.
At age 16, she was enrolled in one of St. Petersburg's most respected secondary schools, where an art teacher acknowledged her talent. Delaunay was sent to Germany to study further and soon entered the Karlsruhe Academy of Fine Arts where she studied from 1903-1905. After school, she moved to Paris, the center of arts and entertainment, where she quickly took up an active social life. In Paris, Delaunay met Wilhem Uhde, a prominent art dealer and collector. They were married on December 5, 1908 but soon divorced in 1910 when Sonia fell in love with and married Robert Delaunay, a fellow artist. Often living in the shadow of her husband, Delaunay's career took off after his death in 1941. She was the first living female artist to have a retrospective exhibition at the Louvre, Paris in 1964, and in 1975, she was officially named an officer of the French Legion of Honor.