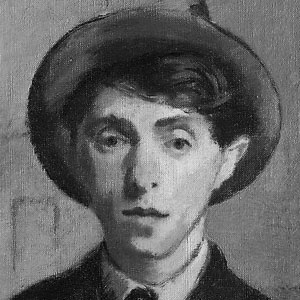 Also considered an American Scene Painter, Raphael Soyer excelled in paintings and prints which depicted men and women in everyday, commonplace settings.  He was able to evoke a sentiment so characteristic of his time through the expressions, settings, and actions within his works.  Born in Russia during the oppression, his family emigrated to the Bronx in 1912 where Soyer derived most of his early cultural influences for his future canvases and drawings.
Coming from a large, Jewish, and intellectual family, Soyer underwent his academic career in and around New York during the 1920s where he gathered most of his inspiration amidst the depression-era working class and immigrant urban sprawl.  His renditions were considered to be genuine, heartfelt works of mostly his friends and family, using a combination of quick, successive strokes and organic uses of color and light.  His style emerged to include eye-opening studies of the hard-working, average, American, encapsulating struggle, grief, and the grace of defeat.  He deviated from making overtly political commentaries through his works, rather, he focused on the emotions surrounding the socio-economic plight that many immigrant Americans felt during the Great Depression and just before WWII.
By the 1930s, Soyer began showing at exhibitions held at The Whitney Museum of American Art, The Carnegie Institute, and the Art Institute of Chicago.  Dubbed the "dean of American realists" by the New York Times, he ventured into teaching and writing, co-founding the magazine, Reality and also publishing several books including Diary of an Artist (New Republic Books, 1977), Raphael Soyer: Self-Revealment: A Memoir (Random House, 1969), and Homage to Thomas Eakins, etc. (Thomas Yoseloff, 1966).  Soyer died in New York in 1987.