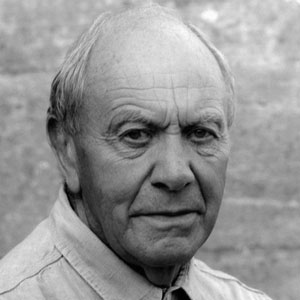 Lynn Chadwick was born in London in 1914. He attended the Merchant Taylor's School, and after taking his School Certificate stayed on to study drawing, watercolour and oil painting. He was then sent to Vouvray to study French. From 1933 to 1939 he trained and worked as an architectural draughtsman in London.
In 1940-41 he worked as a farm labourer and then volunteered for the Fleet Air Arm, becoming a pilot and gaining a commission. After the war he returned to his work with the architect Rodney Thomas, specialising in exhibition design. His early sculptural works took the form of mobiles, which he began to make in 1947, having moved from London to Gloucestershire. A mobile constructed from aluminium and balsa wood was shown at the Aluminium Development Stand at the Builders' Trades Exhibition that year. At this time, and until 1954, he produced textile, furniture and architectural designs.
Chadwick's first one-man exhibition was held at the Gimpel Fils Gallery, London, in 1950, the first of many exhibitions world-wide. These have included the XXVIII Venice Biennale of 1956 where he won the International Sculpture Prize, one of many awards and accolades, including the CBE in 1964. Early in his career he worked occasionally to commission, but less as he became established.
His approach to making sculpture is based in construction rather than modelling. Chadwick first makes a linear armature or skeleton before building on a solid skin. The work might be unique or made to a predetermined edition by casting or fabrication. Chadwick has created a permanent exhibition of his work at his Gloucestershire home, Lypiatt Park, and also a foundry, Pangolin, which casts not only his sculpture but also work for many other artists.