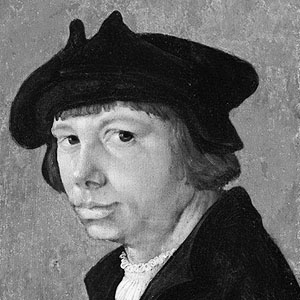 This highly influential and under-appreciated Old Master engraver Lucas Van Leyden was born into a modest Dutch family in the late 15th century; there are arguments to his birthdate - some scholars believe it to have been as early as 1489, but most agree on 1494.  His father was a Mannerist painter, his mother was a daughter of a local organist; together they encouraged Lucas's creative and artistic upbringing, allowing him to work late into the night with a myriad of tools, including charcoal, crayons, pens, and paint brushes.  One of his earliest works date to 1508, a print titled The Drunkenness of Mohammed which he created in his early teens.  Roughly a decade later, he fled Leyden during the town's horrific bout of floods and plagues.  In the early 1520s, the artist settled in Antwerp with his new bride, Lysbeth van Boschhuysen.  Here, he met fellow Master, Albrecht Dürer.  Young Lucas left an impression on Dürer as he notes in his diary that Lucas "was a quite small man, a native of Leyden" (Lavalleye 8).
As Lucas steadily perfected his engraved technique, he sought inspiration during his travels throughout the Netherlands, including stops in towns like Zeeland, Flanders, Ghent, and Malines.  Accompanied by friend and painter, Jean Gossart, their journey was a creative one.  Lucas was highly regarded in the societies which he visited, having been documented as a well-dressed, expensive dresser with a studied grace and elegance.  Unfortunately, this period marked a decline in his health, as he was known to work well into the night – a trait he had since he was a child.  Also known to have been a workaholic, scholars suggest he had suffered from a severe case of tuberculosis, often bedridden and feverish.  He died at the age of 39 back in his home town of Leyden in 1533.
J. Lavalleye (1967) esteems van Leyden as "a master, tireless and endowed with a rich creative imagination, an engraver of rare originality and incomparable technique" (7).  His engravings range from the secular to the pastoral, the religious to the hedonistic, but all share a common link of innovative composition with exquisite detail and shading while remaining true to his classically Dutch style.  Having been influenced by the Italian Renaissance and Mannerism, one can see the progression and establishment of his style, particularly on his copper engravings and even some of his books.