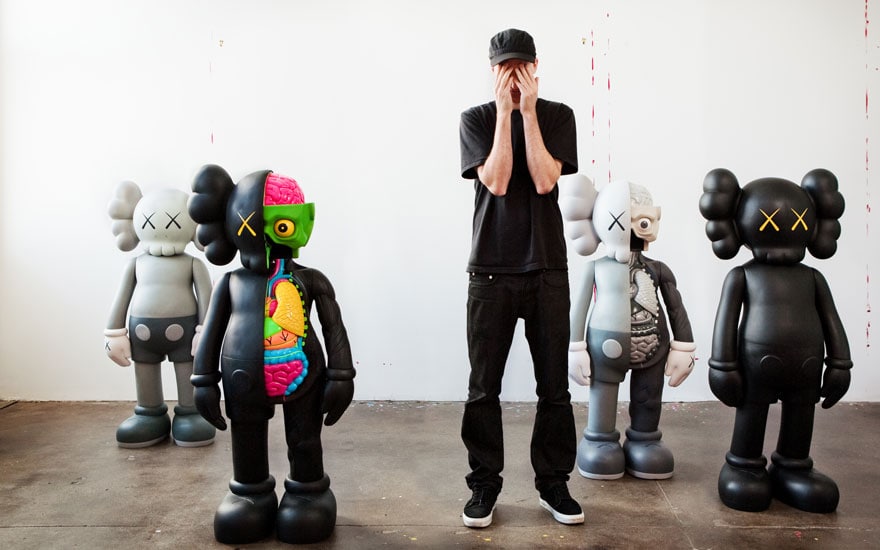 Born in 1974 in Jersey City, New Jersey, Brian Donnelly, known professionally as KAWS, is a multi-faceted New York-based artist. KAWS began his career as a graffiti artist in Jersey City and in the early 1990s moved to New York to pursue a formal education in the arts. In 1996 he earned a Bachelor in Fine Art, with an emphasis in illustration, from the School of Visual Arts. That same year, he began working as a freelance animator for The Walt Disney Company, where he contributed to some of its best-known films, including 101 Dalmatians, Daria and Doug. This impressive start led him onto a successful career path and recognition as one of the most renowned contemporary artists, exhibiting in internationally acclaimed museums and galleries.
Donnelly chose the moniker KAWS because he liked the way the letters looked together. As well as being established in the graffiti art world, the name is distinguished within the fine art world. In the late 1990s, KAWS began designing and producing limited edition vinyl toys, which became an instant hit in the global toy-collecting community. More recently, KAWS has designed toys and clothing for prominent companies such as Original Fake, Undercover, Kung Faux, Comme des Garcons, Vans and Nike. KAWS worked with Nike and Uniqlo in 2017 to produce clothing items inspired by his unique and distinctly recognizable iconography inspired by his fascination of the cartoon world.
Art critics have consistently compared KAWS to historic masters Jean-Michel Basquiat and Keith Haring, whose careers also began on the street. KAWS' thoughtful interplay with imagery associated with consumer products and global brands also lead art critics to compare him to Andy Warhol and Jeff Koons. Similar to these artists, KAWS challenges the distinction of 'high' and 'low' art, and blurs the lines between commercial and fine art. KAWS iconic "XX" signature has its roots in his early street art period and continues to distinguish him as a cultural pop phenomenon. In his signature style, KAWS has reworked many popular television and cartoon icons including characters from The Simpsons, Mickey Mouse, the Smurfs, the Michelin Man and SpongeBob SquarePants. In doing so, KAWS has become famous for subverting iconic cartoon figures to demonstrate a thoughtful interplay between consumerism and cultural value.
KAWS' aesthetic employs a sophisticated and playful humor that has caught the attention of dealers, collectors, galleries, auction houses and museums in the international art world. KAWS has had solo exhibitions in museums including the Pennsylvania Academy of Fine Art, High Museum of Art in Atlanta, the Modern Art Museum in Atlanta and the Yuz Museum of Shanghai. Additional solo exhibitions have taken place at Galerie Perrotin in New York and at the Honor Fraser Gallery in Los Angeles, California. His work can be found in the collections of the High Museum of Art, the Modern Art Museum and the Rosenblum Collection in Paris and included in group exhibitions in Paris, London, Berlin and Tokyo. Currently, the Brooklyn Museum of Art is organizing a major survey of the artist's work to open in 2021. KAWS has entered the secondary market as a living artist and sold works through the major auction houses, including Sotheby's, Christie's and Phillips. In his most recent triumph, a work titled The Kaws Album 2005, sold for a staggering $14.7 million at Sotheby's, breaking his previous record of $2.7 million for a work sold in 2018.
KAWS is without a doubt an artist to keep an eye on. His popularity even caused the website of the Museum of Modern Art in New York to crash when it announced the release of his limited edition toys. His unconventional beginning as a street artist allows him to skillfully straddle the art and design worlds in works including murals, paintings, prints and sculptures. His meteoric rise in the art market and his mass appeal among key players in the arts offer a window into where contemporary art is headed.