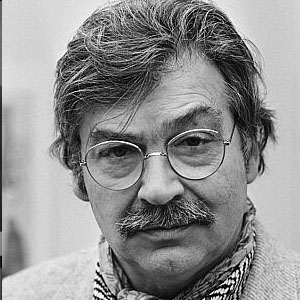 Karel Appel (Dutch, 1921–2006)
A Dutch painter, sculptor, and poet, born in Amsterdam, Karel Appel started painting at the age of fourteen and studied at the Rijksakademie in Amsterdam in the 1940s. He had his first show in Groningen in 1946 and his early work was influenced by Picasso, Matisse, and Dubuffet. In 1948, with longtime friends Corneille and Constant, he founded the experimental group and magazine Reflex, and soon thereafter helped found the CoBrA movement. Based on the unifying doctrine of complete freedom of color and form, the CoBrA movement had antipathy towards Surrealism as well as a common interest in Marxism and modernism.
In 1949, Appel participated with the other CoBrA artists at an exhibition in the Stedelijk Museum in Amsterdam which generated a huge scandal and many objections in the press and public. The new art of the CoBrA-group was not popular in the Netherlands and as a result, Appel moved to Paris in 1950 and truly developed his international reputation. His subject matter was both broad-ranging and powerful, with a wide appeal. Continually developing his skills, on a trip to the United States in 1957, he was introduced to Action Painting (where paint is spontaneously dribbled, splashed or smeared onto the canvas, rather than being carefully applied) and this freedom from standards ushered in a new period for Appel as his work became more dynamic. Apart from being a painter and lithographer, he also created polychrome sculptures, stained-glass windows, mural paintings, and poetry.