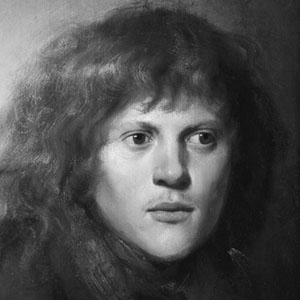 Born in Holland, Jan Lievens is most often compared with his contemporary Rembrandt. The two lived parallel lives for much of their careers, but Lievens' remarkable work is often overshadowed by Rembrandts – though in recent years this has begun to change with more exhibitions paying attention to Lievens' oeuvre. Lievens, the son of a tapestry worker, apprenticed for a local painter at age 8. At 10, the young Lievens traveled to Amsterdam to train with Pieter Lastman. He remained there for two years, after which he returned home as a working painter. Early in his career, Leivens seemed to follow Caravaggio more than Laster, using exaggerated expressions and dramatic lighting in his works.
Leivens and Rembrandt were close friends throughout the 1620's, sometimes even collaborating. It is known that they would share models, and occasionally model for one another, and it is speculated that the pair perhaps shared a studio in Leiden in the early days of their careers.
Lievens is best known for his work in life-size portraiture. Lievens would often weave in a historicizing element into his work, painting the sitter into a scene from antiquity or the bible. Between 1632 and 1644 Lievens spent time working in England and Antwerp, and while there he was introduced to the works of Van Dyck and Rubens. These painters influenced Lievens' own work, lightening his palette and inspiring him to adopt a more Baroque style. Lievens met Susanna Colijns de Nole in Antwerp and soon after married her. The couple had a son, Jan Andrea. Shortly after returning in Holland in 1644, Susanna died. Lievens married Cornelia de Bray in 1648. Lievens remained in demand as a painter, but due to poor money handling, he died very in debt. In general Lievens is known for his ability to assimilate to new styles, unlike Rembrandt who staunchly remained for his career. This assimilation can make his style harder to trace overtime and perhaps explains why Lievens fell into obscurity while Rembrandt has maintained his fame.