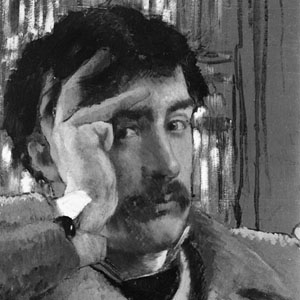 Born on October 15th, 1836, James Tissot was famous for his portraits. Son of Marcel Tissot, a drapery merchant, and Marie Durand who designed hats for the family business, Tissot moved to Paris at age 19 to study art. Once there he enrolled in the Ecole des Beaux-Arts. Like many students of the time, Tissot was partially trained by the solitary studies he did at the Louvre copying the masterpieces. During this time he met other famous contemporaries such as James Whistler, Eduoard Manet and Edgar Degas. In 1859 Tissot had the honor to exhibit at the Salon where he submitted five paintings.
Tissot fought in the Frano-German War from 1870-81, joining the Paris Commune, a socialist party. After the war, Tissot moved to Paris and settled in St. John's Wood. It is unclear whether he was fleeing after making radical political associations, or whether it was due to better opportunities. He lived there for around 10 years, moving back to Paris in 1882. In 1885, Tissot had a mystical experience and became dedicated to illustrating the life of Christ. He traveled many times to the Holy Land and made around 350 watercolors of New Testament material.
Famous for his portraits, particularly of the upper class, Tissot was an expert at detailing clothing. It is thought that this is the influence of his mother's profession of hat making, as well as being around the garment business as a child. Though this dominated the beginning of his career, more religious images filled the latter portion.