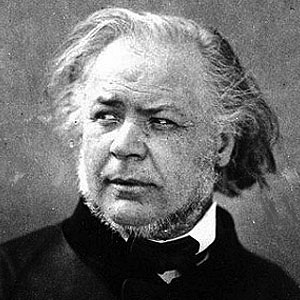 Considered one of the most prolific printmakers during the 19th century, Honoré Daumier was also heralded as a French caricaturist, sculptor, and painter.  Born in Marseille, Daumier moved to Paris when he was 8 to follow the literary aspirations of his father, Jean-Baptiste Louis Daumier.  Even at this young age, Daumier showed interest in the arts and became an understudy to a friend of his father's, Alexandre Lenoir.  Lenoir dappled in archaeology and art history and intensely captured Daumier's fascination and curiosity.
Your browser may not support display of this image.By 1822, he entered the Académie Suisse to pursue the arts and eventually worked for lithographer and publisher, Belliard.  From here, he was also contracted by music publishers to create various prints featuring a variety of musical instruments.  Beyond printmaking, Daumier also ventured into the world of caricature arts and political satire.  He was very involved and highly recognized in the Parisian political scene during the mid-1800s for his interesting take on the major figures and rulers of his time.
In addition to his print lithography and political cartoons, Daumier was known to herald a painting movement known as naturalism which featured his subjects in lush, "natural" landscapes.  He also painted secular scenes and those inspired from the Bible, including Christ & His Apostles (currently at the Rijksmuseum, Amsterdam).  His sculptures were also well-known and prolific, having often used unbaked clay as his medium to create fragmented musical instruments.
Toward his later years, Daumier became fascinated by the story of Don Quixote having consumed many of his paintings during this period.  He died in 1879.  Twenty-one years later, an exhibition of his works went on display at the famous École des Beaux Arts in Paris.  Today, Daumier's œuvres can be found in public collections all over the world, including the Louvre (Paris), the Metropolitan Museum of Art (New York), and the Getty Center (Los Angeles).