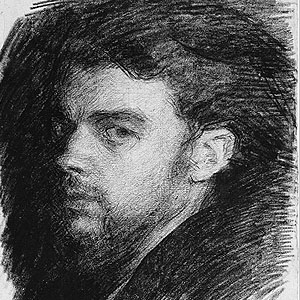 As the son of a painter, Fantin-Latour began his artistic training early.  In 1850, he entered the studio of Lecoq de Boisbaudran and later studied with Courbet as well as at the Ecole des Beaux-Arts.  He also worked as a copyist at the Louvre, selling mainly to American and English clients, and there met Whistler and Charlotte Dubourge, later his wife.  In 1859, Whistler invited him to England, where he befriended Edwin Edwards, who later became and remained his patron.  In the same year his three entries were rejected by the Salon, and in 1863 he exhibited at the Salon des Refusés and became acquainted with Manet and his circle.  He lived an increasingly secluded life in Paris, except for his trip to Bayreuth in 1876 to attend the first performance of Wagner's Ring des Nibelungen. Characteristic Fantin-Latour paintings include: Still Life (1866; Washington, D.C., Nat. Gall.); Portrait of Manet (1867; Chicago, Art Inst.); and A Studio in the Batignolles Quarter (1870; Louvre).
A friend and contemporary of the impressionists, Fantin-Latour never shared their artistic viewpoint but perpetuated both the realist and romantic attitudes of the earlier generation.  Among his works the best known are the group portraits, which provide a rich gallery of prominent personalities, including artists (Manet, Renoir, Whistler), writers (Baudelaire, Verlaine, Rimbaud, Zola), and musicians (Chabrier, d'Indy).  To these carefully arranged but realistically perceived groups may be added Fantin's many still lifes, similarly notable for their almost Whistlerian spareness and elegance of color and composition.  However, many of Fantin-Latour's paintings (as well as his numerous lithographs and pastels) were inspired by imaginative themes and presented in a hazy, muted style that is closer to the symbolist milieu of G. Moreau and Redon than to that of his impressionist contemporaries.  He was especially stimulated by the program music of Schumann and Berlioz and, above all, by the Nordic mythologies of Wagner.
Encyclopedia of World Art. (New York: McGraw Hill, 1961). s.v. "Fantin-Latour, Henri." Page 358.