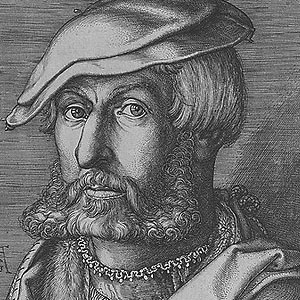 Presumably born in 1502 in Paderborn, the home of his parents Herman and Katherine Trippenmeker, Heinrich Aldegrever established himself permanently in nearby Soest around 1525. There he entered the painters' guild between 1526-27, and became a citizen of the city in 1530. His first engravings date to 1527 and are signed with a monogram "AG", resembling closely that of Albrecht Dürer. This leads many scholars, such as van Mander, to believe that Aldegrever had worked in Dürer's shop in Nuremberg. However nothing is known about where he acquired his delicate and minute, yet somewhat hard style except that he did travel for some time.
In 1531, influenced by the Protestant Reformation, Aldegrever became a Lutheran and because of the lack of church commissions he devoted most of his time to portrait painting and printmaking. Aldegrever's created some 290 engravings and woodcuts, chiefly from his own designs, as well as was perhaps goldsmith. It is certain that he made at least three silver seats and a signet ring for Duke Wilhelm of Cleves. Although Aldegrever was not a member of the goldsmiths' guild, he apparently taught this craft to his son, Christoph. Aldegrever may also have been a stained-glass painter. Stained-glass windows in Soest (Patroclimilnster) and Conches (Sainte-Foy) have been attributed to Aldegrever; although the latter, which bears his name, may simply be after one of his engravings (B. 252).
In 1531 Aldegrever is mentioned as a cojuror of the Patrocli Shooting Guild, and he participated in the institution of the Reformation in Soest in the same year. 1537 he is mentioned by the satirist Daniel von Soest as having portrayed the judge Johan van Holte and his beloved posing in the nude, according to their wishes. About this time Aldegrever engraved his famous portraits of the Anabaptist leaders Jan van Leyden and Bernhard Knipperdolling (B. 182, B. 183), and in 1540 he engraved portraits of Luther and Melanchthon (B. 184, 185).
Between 1541 and 1549 his activity is uncertain, and he produced no dated engravings, but between 1549 and 1555 he issued his series of the Labors of Hercules (B. 83-95), the Seven Virtues and Seven Deadly Sins (B. 117-123, 124-130), and his remarkable Biblical series treating the stories of Dives and Lazarus (B. 44-48, cat. 37), the Good Samaritan (B. 40-43, Cat. 35), Susannah (B. 30-33), and Lot (B. 14-17).
Aldegrever died between 1555, the last year in which he dated an engraving, and 1561, when his son is recorded as saying that his father had been a capable stained-glass and panel painter. Van Mander reports that Aldegrever was buried very humbly, and that he was only awarded a tombstone (carrying his name and monogram) posthumously, at the behest of an artist from Monster who came seeking Aldegrever only to discover that he had died.
Sources: Allgemeines Kunstlerlexikon 1: 928-32; TbiemeBecker 1: 240-243; Mander, Scbdderboeck, 227-227v; Zschelletzschky, Das graphiscbe Werk Heinrick Aldegrevers, 5-11.