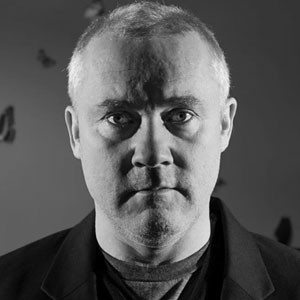 Damien Hirst is an English conceptual artist and entrepreneur born on 1965 in Bristol, England. He studied for a BA in Fine Art at Goldsmiths College from 1986 to 1989. Since then, he has become an internationally renowned artist who was awarded the prestigious Turner Award 1995. Since then, he has earned recognition as United Kingdom's wealthiest artist.
The most prominent themes of his works revolve around death, rebirth, immortality and beauty. Like the French artist Marcel Duchamp, he utilizes ready-made objects to question the nature of art. While at university, he curated 'Freeze', a group exhibition which became a launching point for his career. At this exhibition, he debuted his widely recognized spot paintings.
In 1991, Damien Hirst began his work on 'Natural History', easily his most prominent series. In this series, he preserved various animals in minimalist steel and glass tanks filled with formaldehyde solution. Within this series was the work The Physical Impossibility of Death in the Mind of Someone Living which contained a 14 foot tiger shark immersed in formaldehyde. It conjured a visceral reminder of the fragility of life and is considered the iconic work of British art in the 1990s. The work was also unveiled at the Saatchi Gallery, a testament to his then close relationship with collector Charles Saatchi.
Hirst's later works include the spin paintings which were rendered by spin machines to create colorful circular paintings. The spin paintings are noted for their bright colors and their unique forms and lines. Later on in his career, he would procure much more extravagant and controversial works. An example of such is For the Love of God from 2007 in which he recreated a human skull in platinum, adorned with 8,601 diamonds. This elaborate work eventually received the highest paid price for a single work by a living artist. It serves as a prominent reminder of one's mortality and the connection between art and money.
Since 1987, more than 80 solo Damien Hirst exhibitions have taken place internationally. He has truly established an iconic status in British art. Hirst currently lives and works in London, Gloucestershire and Devon.