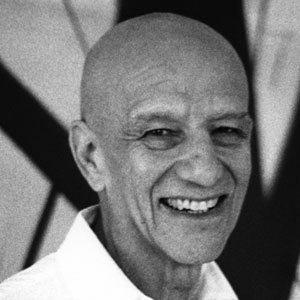 Alex Katz (American, born 1927)
One of the most recognized and widely-exhibited artists of his generation, Alex Katz was born in 1927 in Brooklyn, New York. Studying at the Cooper Union School in New York from 1946 to 1949 Katz left for the Skowhegan School of Painting and Sculpture in Skowhegan, Maine. It was here that he was exposed to painting from life, which would prove pivotal in his development as a painter and remains a staple of his practices today. Katz has admitted to destroying a thousand paintings during his first ten years as a painter in order to find his style. Since the 1950's, he worked to create art more freely in the sense that he tried to paint "faster than [he] can think." Every year from early June to mid-September since 1954, Katz has moved from his SoHo loft to a 19th-century clapboard farmhouse in Lincolnville, Maine. Coming into his own style of expression, his paintings are defined by their flatness of color and form, their economy of line, and their cool but seductive emotional detachment; with a key source of inspiration being the woodcuts produced by Japanese artist Kitagawa Utamaro. From 1954 to 1960, Katz made a number of small collages of still lifes, Maine landscapes, and small figures. It was during this time that Katz began exhibiting his work, and since then has produced a celebrated body of work that includes paintings, drawings, sculpture, and prints. Taking inspiration from various aspects of mid-century American culture and society, including television, film, and advertising, over his storied career he has established himself as a preeminent painter of modern life. Utilizing characteristically wide brushstrokes, large swathes of color, and refined compositions, he is most often associated with the Pop Art movement even though his creations predate it.
Why Alex Katz?
With a visual langauge of stylized flats in amplified colors, Alex Katz sought inspiration from Japanese woodcuts and American culture to create his distinctive portraits and landscapes. His bold and simple paintings are noted as precursors to the Pop Art movement, Katz career includes a prolific oeuvre in printmaking, his prints adhering to the artist's unremitting style that characterized the subjects and spaces he immortalized.