Sam Francis was born and raised in California and had multiple studios across the state, but the artist spent a considerable part of his career abroad. With studios in Paris, Tokyo, Bern, Mexico City, and New York, his work was influenced by his connections around the globe. His time in all of these places impacted his artistic output, but perhaps none as importantly as Tokyo. Francis formed both artistic and personal connections while in Japan, first traveling there in 1957 and returning to Tokyo in the 1960s, that would create an East-West cultural dialogue that would impact both his work and emerging artistic movements in Japan, including the Gutai and Mono-ha movements.
When Francis arrived in Japan, his approach to painting instantly appealed to collectors, artists, and art-lovers. His dynamic abstract works shared an aesthetic and philosophical logic with Japanese forms; Francis's tendency toward sweeping lines paired with a great deal of white space was reminiscent of traditional Japanese landscape paintings, and his loose brushwork recalled the "hatsuboku" (flung, or splashed, ink) style, which emphasizes undefined forms and splattered ink. This common ground allowed him to easily slip into dialogue with Japanese artists across time periods. Comparisons were often drawn between his work and traditional Japanese landscapes. His 1957 work Japan Line, for example, exhibits splattered colors and a large amount of white ground, allowing the canvas' single zig-zagging line to guide the viewer's eyes. Its diagonal axis creates an impression of depth and distance, furthering a connection to the style of traditional landscape painting.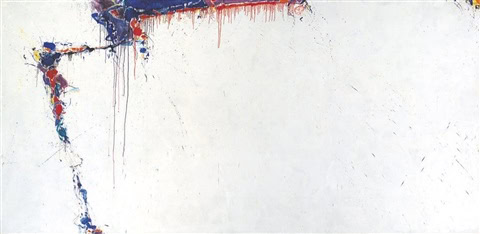 Contemporary artists, poets, and critics engaged with and advocated for Francis's work, strengthening his relationship to not only Japanese artistic forms, but to avant-garde Japanese artistic circles.
The importance of negative space came naturally to Francis, who was artfully working patches of bare canvas into even his early works. The strength of his relationship to the Japanese concept of "ma" was equally natural to the artist. "Ma," translated as "gap," "space," or "pause," stems from a Japanese emphasis on totality, explored through the relationship between form and non-form. Rather than viewing negative space as an unimportant or secondary aspect of an artwork's composition, "ma" considers empty space just as highly as the rest of the work. Empty space is seen as the space necessary to give energy and power to the brushstrokes and what guides the viewer through a work or a scene. Exploring "ma" and its compositional possibilities pushed Francis to experiment with negative space in new ways. One of his most radical uses of negative space came in his Edge paintings, created in the 1960s, which centered the white void, pushing brushstrokes and colors to the edges of the canvas. The white space dominates the work and confronts the viewer, while the surrounding active brushwork activates the white space, questioning the traditional Western relationship between figure and ground. 
In the 1970s, his use of "ma" became less extreme, but he never lost sight of the tension between positive and negative space. Following the Edge series, Francis's compositions were less sparse, moving onto series such as his Matrix series, whose compositions were plotted around grid formations. Splitting the surface into squares mirrored the Edge series, as the center of each square was, for the most part, left blank, all of the color still relegated to the peripheries. In his more organically inclined works, the blank spaces were still championed, often serving as the connecting force for his free-floating forms. Even in his densest compositions, Francis was sure to never cover his surface, hints of white giving a viewer's eyes a chance to rest and a bit of guidance while darting through an array of colors. 
Francis's treatment of negative space, either allowing it to dominate a work or to envelop his other forms, became his oeuvre's distinctive feature. Francis created over 1,000 artworks during his time in Japan, making his Tokyo studio one of his most prolific locales (second only to his native California). His lyrical brushwork and vivacious colors seated him firmly within an American and European wave of Abstract Expressionism, but what makes Francis's work stand out amongst this crowd is his application of Japanese influences. 
Van Gogh Identified in Background of Toulouse-Lautrec Drawing
By Claire Nichols on 05 Feb 2021
A recent discovery, made by a senior researcher at the Van Gogh Museum, has identified Van Gogh as one of the previously unidentified background figures in Henri Toulouse-Lautrec's The Refrain of the Louis XIII-style Chair at the Cabaret of Aristide Bruant (1886), a drawing that depicts a boisterous night at Le Mirliton, a cabaret at Montmartre in Paris. This discovery sheds light on the Parisian nightlife that engaged and inspired many of the major artists of that period and the friendship between Henri Toulouse-Lautrec and Vincent Van Gogh, two of the most influential figures of the 19th century.
Henri Toulouse-Lautrec was a student in the studio of the artist Fernand Cormon during a divided period in the French art world. Though the art world was split into two camps—academic painters, such as Cormon, and an Impressionist movement—Cormon did little to discourage his students from exploring the world outside of his atelier. It was in Cormon's studio where Toulouse-Lautrec would meet the Dutch painter Vincent Van Gogh. Van Gogh, who was 11 years his elder, lived only five minutes from Toulouse-Lautrec, making it easy for the two to run in the same circles, attending the same lessons and running in the same social circles.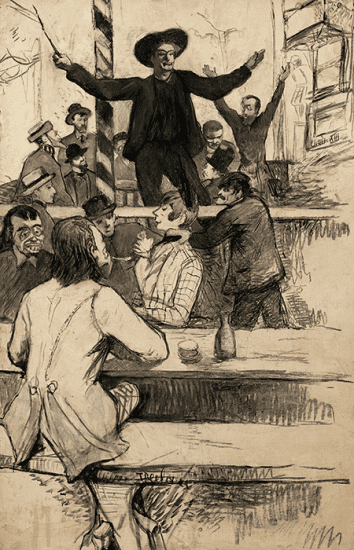 Toulouse-Lautrec spent his days working in the studio and his nights experiencing Parisian nightlife, especially dance halls and bars around Montmartre. With his penchant for these types of outings, it is hardly a surprise that he would strike up a friendship with Van Gogh. Van Gogh was well-known for his alcohol consumption; when describing his after-work activities, Paul Signac stated that "the absinthes and brandies would follow each other in quick succession." It is, then, also not surprising that Van Gogh makes an appearance in this particular Toulouse-Lautrec drawing, which depicts the cabaret run by the singer Aristide Bruant at its height of activity on a particularly rowdy night. Though relatively unarticulated, the figure in the upper left corner of the drawing bears an unmistakable resemblance to Van Gogh, sporting the same beard and mustache, as well as a tuft of hair peeking out from his hat. Van Gogh is shown seated next to Toulouse-Lautrec himself, and the two are surrounded by fellow artists such as Louis Anquetin. The drawing positions Toulouse-Lautrec and Van Gogh as regular fixtures in these kinds of Parisian antics, supporting accounts of both of their respective affinities for spending nights out on the town
This is not the only time that Toulouse-Lautrec depicted his friend—a 1887 portrait of Van Gogh by Toulouse-Lautrec depicts him with a glass of absinthe on a quiet night out—but generally speaking, it is rare to encounter a likenesses of Van Gogh that is not a self-portrait. Beyond his appearances in his work, it is clear that Van Gogh had an influence on Toulouse-Lautrec's style, encouraging him to use more Impressionistic strokes and colors. It is also clear that Toulouse-Lautrec was a great supporter of Van Gogh's career. The two would often visit each other's studios to show each other their work and show in the same exhibitions. Toulouse-Lautrec defended Van Gogh against his critics on multiple occasions, going so far as to challenge a painter to a duel after he criticized Van Gogh's work at an exhibition (luckily for everyone involved, the painter would apologize before a duel became necessary). 
The Refrain of the Louis XIII-style Chair at the Cabaret of Aristide Bruant acts as wonderful visual documentation of the artistic and social exchanges that defined the development of French art in the late 19th century, driven by exposure to the sometimes wild and boisterous Parisian nightlife. It also spotlights a fierce friendship between two outstanding artists who have come to represent some of the best artwork not only of the Impressionist and Post-Impressionist movement, but arguably of all of art history. 
Separating and Reuniting Sam Francis's Basel Triptych
By Claire Nichols on 30 Mar 2021
The Abstract Expressionist artist Sam Francis was working and living in Paris when he created the Basel Mural at the request of Arnold Rüdlinger, the then-director of the Kunsthalle Basel. Completed between 1956-58, Basel Mural was an expansive and impactful triptych. A single panel spanned almost 20 feet and was almost 13 feet tall. Inspired by Monet's monumental lily pad paintings, Francis aimed to create a work that could be equally immersive. The complete work was mesmerizing, exploding with bright blues, deep oranges, and stunning yellows. Thin, transparent layers of oil paint and loose composition are hallmarks of Francis's distinctly painterly style, and the Basel murals are a phenomenal representation of Francis's specific form of action painting on a large scale and wonderful aptitude for color.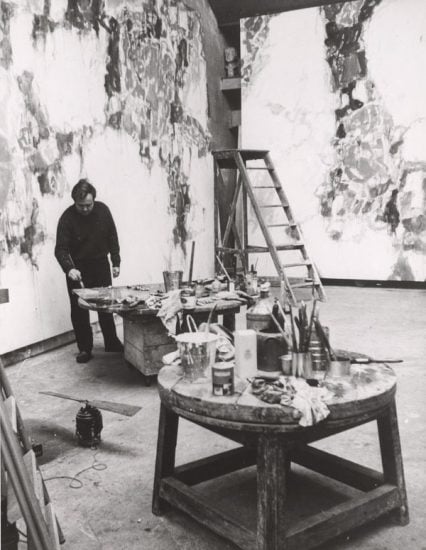 The Basel triptych lived in the Kunsthalle Basel's stairwell between 1958 and 1964. When the Swiss institution did not purchase the work after its six year tenure, the three panels were separated. The central panel, Basel Mural II, went to Amsterdam's Stedelijk Museum,where it still resides today, and the two flanking panels would head to the United States. 
Unfortunately, only one of the Basel murals survived its journey. Though it is uncertain exactly how, the two panels that made their way to the United States suffered extensive water damage either while in transit or in storage. Francis was able to repair Basel I, which he then donated to the Pasadena Art Museum (now the Norton Simon Museum). Basel III, on the other hand, was beyond repair. To salvage the work, Francis cut out the damaged sections of canvas and restretched the remaining pieces into four separate, smaller paintings, each of them representative of a particular moment within the larger work. Two of these newly created panels would be gifted to Betty Freeman, who pushed for Francis to salvage Basel III, and the other would remain in the artist's possession.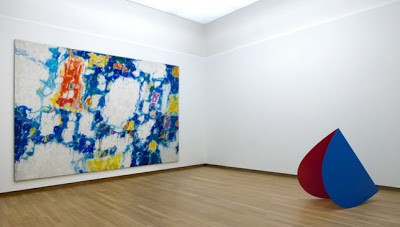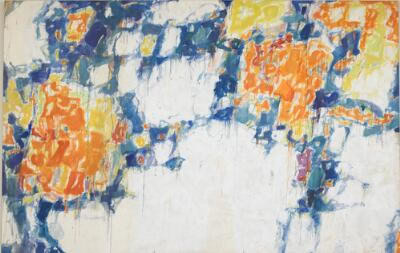 Upon Francis's death in 1994, the works were donated to institutions that would preserve the influential artist's legacy. In 2009, the Sam Francis estate donated the remaining two panels of Basel III to the Norton Simon Museum where it joined Basel I, which Francis himself donated decades ago. Though the triptych will never be complete again, the reunion of Basel I and the remaining portions of Basel III at the Norton Simon was a long awaited moment. All three works now hang together and stand as a triumphant partial reinstallment of the original work and testament to the artist's initial vision for the set of paintings.