Roy Lichtenstein

Biography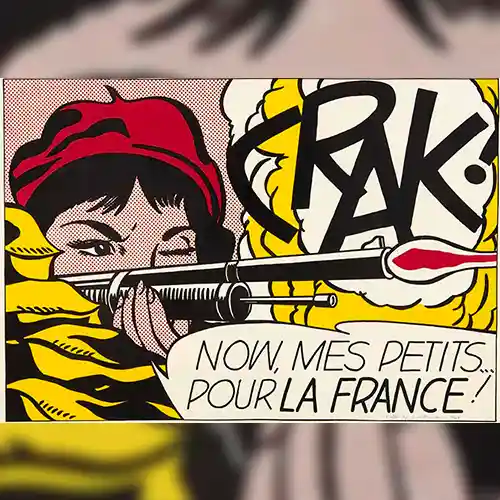 New York-born American pop art painter and sculptor Roy Lichtenstein studied under Reginald Marsh at the Art Students' League (1939), served in the Army, then completed an MFA degree at Ohio State University in 1949. While painting in Cleveland (1951-7) he worked as a freelance designer, then taught at the State College in Oswego after moving to New York. Later he instructed at Rutgers University in New Jersey, Lichtenstein worked in a non-figurative Abstract Expressionist mode before 1957; then he began to use loosely handled cartoon images from bubble-gum wrappers, also re Interpreting paintings of the old West by Frederick Remington and others. His changeover to stylistic preoccupations with vulgar cartoon or pulp-magazine images, and to commercial subject matter and techniques, was complete by 1961. Conscious of the 'happenings' initiated in the early 1960s by Claes Oldenburg, Jim Dine and his Rutgers colleague Allan Kaprow, Lichtenstein shared their concern with making art from the materials and products of the industrial environment. He was particularly interested in the lack of sensitivity in mass-produced, often perishable images and merchandizing art, which prompted him to mimic such aspects of the public landscape in his own work. Rejecting the personal and romantic subjectivism of the Abstract Expressionists, Lichtenstein substituted the conventions of a crass contemporary art form, creating a kind of instant nostalgia.
Comicstrip characters are extracted from their narrative context, blown up in size and reproduced with the same typographic screen techniques (Ben Day dots) or prints with which they were printed, thus becoming an emblematic parody of the original (Good Morning, Darling, 1964, New York, Leo Castelli Gallery). But the simulation is not meant to bear a message of social commentary, ironic as it may seem, just as the Pop subject matter dictates the use of a commercial technique for an aesthetic end, the message itself becomes an aesthetic one.
In his reproductions of corny popular romance characters, travel-poster vulgarizations of Classical ruins (Temple of Apollo, 1964, Pasadena, California, s Coll. Mr. and Mrs. Robert A. Rowan), comic-book s war heroes, advertising fragments (Girl with Ball, 1961, New York, Coll. Philip Johnson) or stylized landscapes, Lichtenstein contrasts what is already a s travesty of emotion, scene or object with his unemotionally banal rendition.
Roy Lichtenstein prints and paintings oversimplify and extract from the artifacts of mass culture, creating new psychological overtones that reveal, but do not directly comment upon, the sensibility of an era. Roy Lichtenstein's techniques also use the discredited styles and mannerisms of earlier periods, such as his paintings, prints and sculptures (1967-8) based on the once popular 1930s 'modern', a corrupt and ornamental version of Cubism. Modern Painting With, Yellow Interweave (1968, Leo Castelli Gallery) and the curved brass or chrome, tinted glass and marble slabs of his elegant sculptures evoke the taste and style of that period. The subjects of Lichtenstein's 'Pop' paintings, ceramics, sculptures and posters are quoted from an anonymous idiom; with selective mechanical methods he transforms this source material into a personal style offering new sensations and terms for viewing and understanding art.
According to ARTnews, "Alexander Calder's 25-foot-high sculpture Red Stabile (1971); Sky Gate, New York (1978), a painted-wood relief by Louise Nevelson; Joan Miró's World Trade Center Tapestry (1974); and a painting by Roy Lichtenstein from his "Entablature" series of the 1970s. Roy Lichtenstein's 30-foot-tall Modern Head, which stands in the shadow of the World Financial Center, was covered in soot and debris but is still intact."
LICHTENSTEIN PAINTINGS
Roy Fox Lichtenstein's painting career began as a Studio Arts student at Ohio State University in 1940. Though his studies were briefly interrupted due to the Second World War, he resumed in 1946, studying under Hoyt L. Sherman who would be one of his greatest influences. During this period, Lichtenstein also began working on one of his first series. These initial paintings were based on mythology and folklore, often poking fun at medieval knights, kings and maidens. He usually painted them in styles that paid tribute to earlier art. Arguably, this is also when he began developing his tongue in cheek style. In 1951, Lichtenstein celebrated his first solo exhibition at the Carlebach Gallery in New York. Lichtenstein began experimenting with different styles in the late 50s and early 60s. In 1957, he was painting in an abstract expressionist style, often incorporating hidden images of cartoon characters like Mickey Mouse and Bugs Bunny in his abstract paintings. Thus began his progression into the 1960s, possibly Lichtenstein's most exciting period. In 1960, Lichtenstein began teaching at Rutgers and began creating his first pop paintings using cartoon images. He employed the use of Ben Day Dots to replicate the look of commercial printing. The best known painting during this time is Look Mickey, 1961. By the mid-1960's Lichtenstein used mainly oil and magna for his works such as Drowning Girl, 1963. Currently, the painting is on display at the MOMA in New York. The artist's most influential painting is Whaam!, 1963, one of the earliest examples of Pop art. In 2015, one of Lichtenstein's comic book-style paintings of a nurse sold for $95.4 million at Christie's, setting an auction record for the artist.
LICHTENSTEIN PRINTS
In addition to paintings, Lichtenstein also created over 300 prints, most in screen printing. Devoting himself earlier than any other major artist of his time to the trade, Lichtenstein's printmaking began with his first prints in 1948. By 1950, he would add screen print and etching to his body of work. Most of his prints were made in collaboration with the Gemini G.E.L., Tyler Graphics Ltd. His prints are comprehensively catalogued and described in the catalogue raisonné The Prints of Roy Lichtenstein by Mary Lee Corlett.
LICHTENSTEIN LITHOGRAPHS
Lithography has appeared prominently throughout Lichtenstein's career. He created his first lithograph in 1948 as a student at Ohio State University. In 1956, he created his first proto-Pop lithograph titled Ten Dollar Bill (Ten Dollars), 1956. This artwork is considered one of the best artistic depictions of currency. In 1963, he and his studio assistants used lithographic rubbing crayon on finished paintings to create larger and more uniform Ben Day dots. A few years later, he created his famous lithograph Explosion, 1967 which shares all the hallmarks (flat primary colors, Ben Day dots, schematic drawing) of his early painting style. In 1969, Lichtenstein published his first serial prints, seven Haystack and six Rouen Cathedral lithographs, at Gemini G.E.L. in Los Angeles.